Michigan Football vs Illinois: Important Takeaways from the Wolverines Win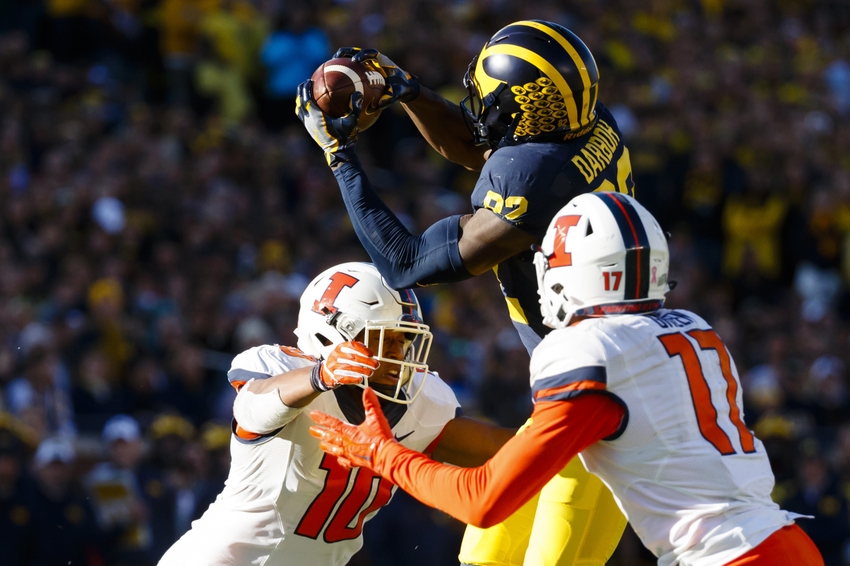 Michigan football beat Illinois 41-8 Saturday at the Big House, here are three important takeaways from the Wolverines win.
The Michigan football team was off last week. But despite not playing for 14 days, the Wolverines showed no sign of rust and easily dispatched of Illinois 41-8 at the Big House.
Against a clearly inferior opponent, Michigan football dominated. The Wolverines defense bullied the Fighting Illini and the offense ran the ball, seemingly at will.
It wasn't quite the blowout that the Rutgers game turned into. But with a 31-0 lead at halftime, the outcome was decided quickly.
Head coach Jim Harbaugh, never afraid to be unconventional, ran a fake punt up 34 points in the fourth quarter and it's become a trending topic.
It's too bad because there are a number of other talking points, well worth paying attention to. One, is that the running game for the Wolverines continues to dominate — another is how Wilton Speight continues to take his game to the next level.
Young players stepped up and took advantage of early opportunities, with the score still in doubt and delivered with flying colors.
Jabrill Peppers may not have had a splash play, but he was solid as ever on defense and helped limit Illinois to just six first downs.
At some point, maybe the Wolverines will get a challenge. Many thought it would come next week with Michigan State, but the way this team is playing, who knows if the Spartans can hang.
One thing I do know, the Wolverines are getting better and each week and look on a mission to prove that they are the best team in the country.
With that said, here are three takeaways from Michigan's victory.
Higdon breaks out
As if Michigan football didn't have enough good running backs, Karan Higdon gave us a glimpse of just how could he can be Saturday in the Wolverines 33-point romp over Illinois.
Higdon finished the game with eight carries for 106 yards and a score, with the touchdown coming on a dynamic 41-yard run in the fourth quarter.
This is how 7-0 sounds…

Today's best @UMichFootball @IMGAudio calls: https://t.co/k9CwkT9Goq #GoBlue

— Jim Brandstatter (@brandymancan) October 22, 2016
With De'Veon Smith, Chris Evans, Ty Issac, Hidgon and now Drake Johnson, the Wolverines depth at running back is ridiculous.
Smith may be the starter, but at this point, it's really in name only. The Wolverines are going to feed the ball to all their backs this season and ride the hot hand.
After picking up 28 first downs rushing against Illinois, it seems like a good strategy.
And even though UM has three seniors, with Higdon and Evans, along with Kareem Walker, the backfield has a bright, bright future.
Wilton Speight continues to get better
For anyone that doubted if Harbaugh made the right call in making Speight his starting quarterback, there can be no doubt anymore.
Yes, Speight still has a ways to go before he can be considered an elite college quarterback, but in truth, he's well on his way. You could already argue he's one of the best in the Big Ten.
Saturday, he took another step in that direction against the Figthing Illini.
From start to finish, Speight was in complete control. He completed 16-of-23 passes for 253 yards and tossed two touchdowns. He averaged nearly 12 yards per attempt and did a great job of getting youngsters like Tyrone Wheatley Jr. and Eddie McDoom involved.
Speight continues to be productive on third down and with 13 touchdown passes compared to just three interceptions, it's hard to think of what more the redshirt sophomore could do for the Wolverines offense.
Obviously, his season will be judge by how he plays against Ohio State, Iowa and Michigan State. But as far as I'm concerned, you have to be impressed with what he's done so far.
Jabrill Peppers didn't help his Heisman hopes
Don't get me wrong, Peppers played well against Illinois. He returned two kicks for 58 yards and had two tackles on defense. However, his day lacked splash plays.
Offensively, the Wolverines tried to get Peppers involved early and the Illini were ready for it. You kept hoping he would make a big play, it just never came to fruition.
On the offensive end, he ran the ball five times for nine yards. He also caught one pass for five. Defensively, he was solid, but again, didn't do anything that made you step back and say wow.
Certainly, he's still right in the Heisman hunt, but if his campaign is going to keep gaining momentum, he's going to keep making the highlight-reel plays that have become commonplace for the junior this season.
At the end of the day, when Michigan football dominates like it did, it's hard to find any negatives. And even in terms of Peppers, he deserves credit for helping to limit Illinois to just 172 total yards.
As long as he doesn't have many more games like this and makes big plays in the biggest games, he could win the thing.
Yet, at least for one day, Peppers campaign probably suffered a little bit of a setback. Knowing him and the fact Michigan won by 33 points and are 7-0, I doubt he cares.
Peppers is all about winning and I guarantee the only thing on his mind right now — is beating Michigan State.
This article originally appeared on