Michigan Football vs Illinois: 3 Predictions for the Wolverines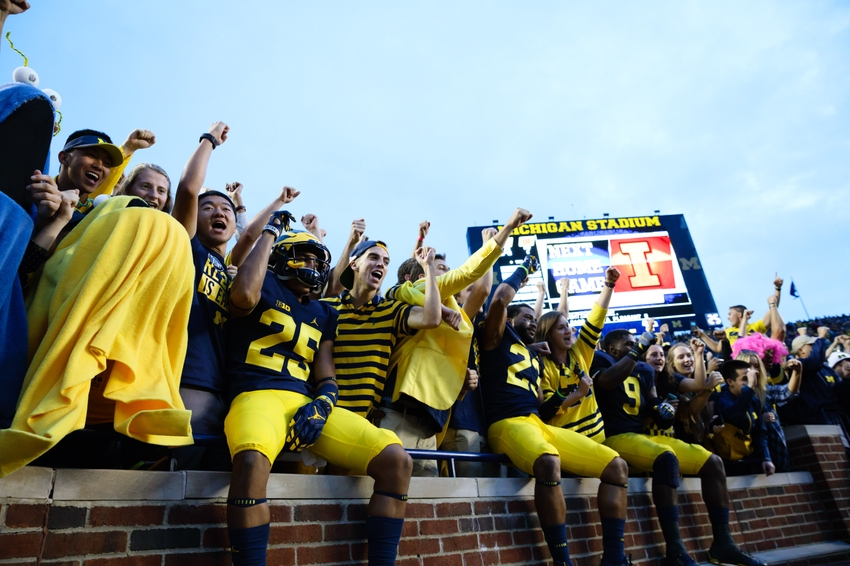 Michigan football is off the bye week and the Wolverines will take on the Illinois Fighting Illini this week. Here are three predictions.
The Michigan football team may be a heavy favorite this weekend, as they welcome Illinois to the Big House. The Wolverines are 6-0 and ranked third in the latest AP poll.
Because of their ranking, stature and week off to get healthy, Michigan football should easily roll through Illinois. But, college football is unpredictable, so here are three things that will happen when the Wolverines and Illini meet.
Michigan football will win, but it won't be as bad as Rutgers:
Illinois football may have claim as the worst program in the Big Ten. Darrell Hazell, who was just fired mid-season at Purdue, had managed just three B1G victories. Two of those were against the Illini, both on the road. Illinois knows that it has a problem and has brought in a splashy name to try to plug the hole that formed dating back to the end of the Ron Turner era.
Illinois has been to just five bowl games this century, or one every half decade. It will not be a fast rebuilding process and there should be obvious doubts as to whether Lovie Smith is the right man. Harbaugh being an exception, most NFL coaches do not master the college game. Lovie Smith has a feather in his cap of overachieving with a young Tampa Bay Buccaneers team last season and helping turn Jameis Winston into a young NFL QB to watch.
Defenses come around first in the season and, given Smith's coaching history with the Chicago Bears, it is not surprising his defense is improving. In Week Two it gave up 48 points to North Carolina. Nebraska and Purdue each got to 30. Rutgers last week got seven.
Michigan will score but they will not cruise through the second half running the same play eight times with backups. Illinois won't buckle to the Wolverines like a beat up Nittany Lion team or the Scarlet Knights.
The Wolverines' defense will dominate:
The Illini offense is a mess. It averaged just 13 ppg against ranked Western Michigan and Nebraska. Half of those points came in one quarter against the Huskers in what was possibly Nebraska's worst quarter of the season.
Michigan Football Has More Legit Wins Than You Think
Illinois beat Rutgers but had a measly 10 first downs compared to 23 for the Scarlet Knights. Backup QB Chayce Crouch was an uninspiring 6-14 for 92 yards. He had a TD but also had an INT.
The Illini beat Rutgers by ripping off big plays on the ground. They are the definition of a one-dimensional offense. Don Brown and Michigan's stout defense have to be licking their lips. Illinois probably manages a first down before the 4th quarter but that is not a given.
More red meat promotions:
Ruth's Chris, a famous national steak house chain, made headlines out of its Ann Arbor location last week. The restaurant began a promotion which offered a discount Monday-Thursday of the following week equal to the Wolverines winning point differential. Luckily for Ruth's Chris, the offer is capped at 50%.
That didn't stop patrons from booking every table last week to take advantage of the deal. Jim Harbaugh even made his way there to enjoy steaks with a side of milk.
Hungry Wolverine fans should expect a similar discount this week. Huzzah for the meat and potatoes guys.
This article originally appeared on