Michigan Football vs. Colorado: Important Takeaways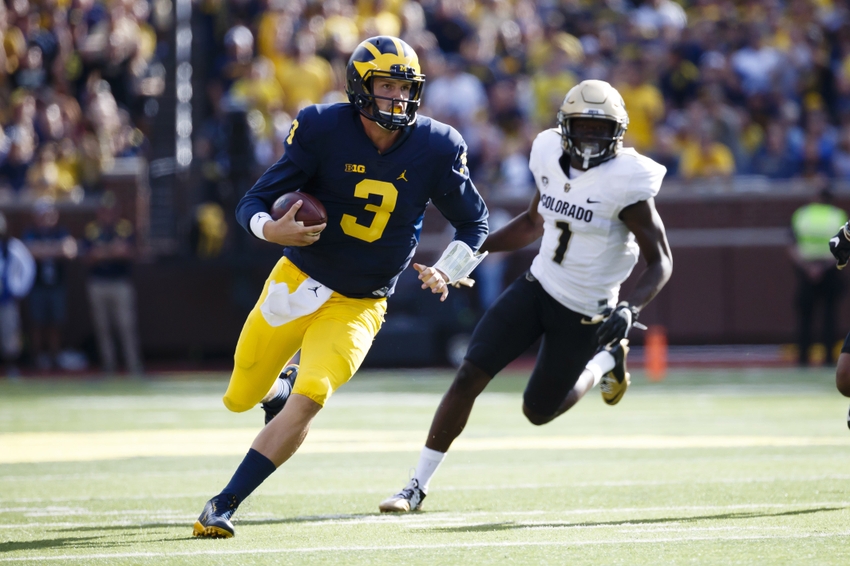 It started off looking like Colorado might give Michigan football a heartbreaking loss, but the Wolverines proved they can respond to adversity.
After Colorado cornerback Chidobe Awuzie lit up Wilton Speight, forcing a fumble that the Buffaloes returned for a touchdown, it looked like a 14-0 deficit that had Michigan football absolutely buried.
That's how the whole first quarter felt. Speight couldn't get anything going through the air, success was sporadic at best on the ground, and the Wolverines' secondary was being lit on fire by Colorado quarterback Sefo Liufau.
The defense settled down before the offense did, and Colorado didn't put points on the board in the second quarter. Meanwhile Speight and company found a little bit of a groove and erased a 21-7 deficit before halftime. There were a few drives where it certainly felt like Colorado had a chance to inflict long-lasting damage against the Wolverines. It just didn't happen.
The Wolverines struggled moving the ball on the ground in a traditional way for most of the game, forcing them to rely on Jehu Chesson and sometimes Eddie McDoom to win the edge on a jet sweep and pick up yards that way. Eventually Michigan found itself on the ground with De'Veon Smith, and then Ty Isaac, but it took a while.
Rashan Gary had his best game in a Michigan uniform, coming up with four tackles and getting great pressure off the edge. He was a major factor in the Wolverines' defense getting things turned around after a bad start.
Jabrill Peppers finally returned a punt for a touchdown after so many close calls between this season and last. He had 204 all-purpose yards and recorded nine tackles, including a sack, from a multitude of positions on defense.
Michigan can take some punches
Up to this point, all we knew about Michigan was that it could get off to an early lead and bury opponents, and—no offense to either of these teams—that was only against Hawaii and Central Florida.
Michigan Football Shows Vulnerability in 45-28 Win over Colorado
It was pretty well accepted that Colorado would offer a tougher test, but you were off your rocker if you thought the Buffaloes were going to explode for 21 first-quarter points and also hold the Michigan offense scoreless. When the Wolverines finally did climb back into it, it still felt like Colorado had a pretty good grip on the game and wasn't going to go away.
Outscoring Colorado 38-7 in the final three quarters was pretty much the peak of what expectations could have been. The offense finally found a (somewhat) consistent groove; Speight and Jake Butt became better friends than usual as the two hooked up seven times for 87 yards. No other receiver had more than two receptions.
Michigan's defense was helped out immensely by Liufau having to exit the game with an apparent leg injury—his final play was a 70-yard touchdowns pass—but the Wolverines had a beat on him before that point.
The biggest takeaway from this game is that Michigan isn't a team that's rolling over and dying when it takes a big punch—or two, or even three. It instead rallied in all three phases of the game—the Wolverines had a blocked punt returned for a touchdown, and Peppers returned a punt for a touchdown—and escaped with a fairly comfortable win.
Special teams is more important than we thought
When Michigan had two blocked punts and two blocked field goals last week against Central Florida, it was cool, but it wasn't a very big deal; the Wolverines weren't in danger of losing that one. But this week, down 14-0, it was exactly what they needed.
Michael Jocz blocked the punt, and Grant Perry scooped it up and scored. That's three blocked punts in two weeks. Incredible.
That's the kind of thing Michigan may need more of down the road against tougher competition.
That was the most important special teams play of the day, but the most exciting came from Peppers, who took a line drive punt back 54 yards to put the game out of reach. It seems like he gets so close every week, and he was finally able to take it to the house.
That's obviously an element to the game that Peppers can bring in the future, and, just like the blocked punt, it's something the Wolverines may desperately need at some point.
It's not a stretch to say that without special teams, Michigan could have been in a much deeper hole against Colorado, and who knows how the game may have turned out in that case.
Michigan really needs Jourdan Lewis back
One thing became increasingly clear on Saturday against Colorado: For every passing second where the Buffaloes were torching Michigan's secondary, especially down the middle and over the top, we were given a little insight into how serious Jourdan Lewis' injury might be.
Until now it was generally thought that Lewis could play if need be. But if Saturday's game didn't offer any "need be" situations, I'm not sure what the phrase means.
I don't want to speculate and say Lewis is tied up
No In-Editor Preview for 120 Sports Videos
Video Details
ID: 201707342
Source: 120 Sports
with something that's long-term; it was revealed this week that Lewis suffered a minor back injury in August, and coming back from that affected his hamstring and quad.
"He's just fighting through these things right now," said cornerbacks coach Mike Zordich. "He's working hard to get back out there."
Michigan gave up its first passing touchdowns of the season against the Buffaloes. Liufau lit up the Wolverines for 246 yards and three touchdowns, and he didn't even play the full game. Michigan's secondary had held its own in the first two weeks, but Saturday was perhaps a fuller look at what things look like without the best cornerback on the team.
This will become a bigger storyline as Michigan gets ready to enter the conference portion of the schedule.
This article originally appeared on