Michigan Football vs Colorado: 3 Keys for the Wolverines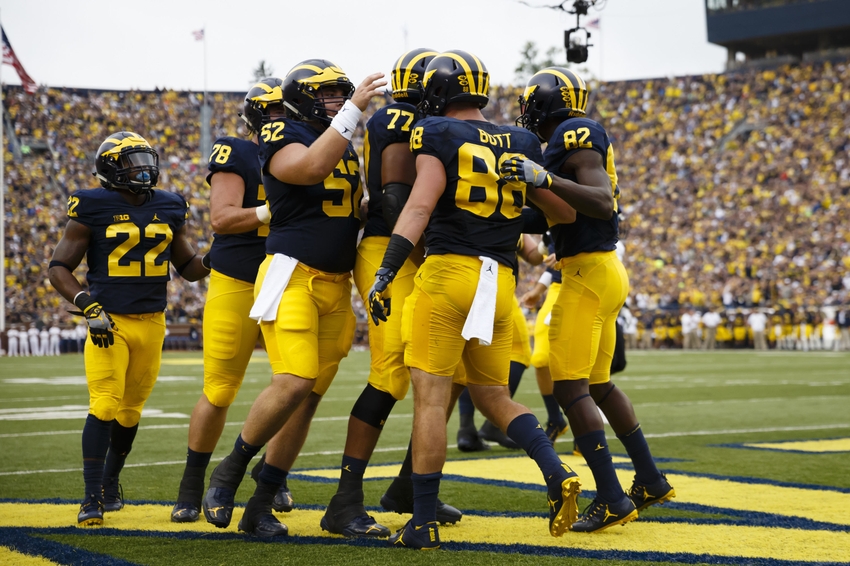 Colorado could provide the first real test of the season for Michigan football, here's a look at three keys for the Wolverines.
The Colorado Buffaloes' week of sick Twitter burns won't bring back the 1994 team that beat Michigan in one of the most gut wrenching games in Michigan football history. Yet, with Colorado coming to town, the competition level for the Wolverines rises this week, albeit not significantly.
The Buffs have been lost in the wilderness for the better part of a decade but first year coach Mike MacIntyre has injected some life into the program with his absurdly fast-paced, air raid-lite, wide-open spread system.
That's not terribly heartening considering the fact that Michigan has been effective against exactly zero spread offenses since the system's inception. This is the program that essentially won Troy Smith a Heisman and cemented the legend of Vince Young because of its utter ineptitude and stubbornness.
Lloyd Carr and Brady Hoke both steadfastly refused to adapt to the spread during their tenures. Hopefully Jim Harbaugh and his staff can stop the trend of pretending that the spread offense isn't a threat just because Michigan is in the Big Ten and plays up north. Something tells me Harbaugh and Don Brown have a better idea of how to handle it.
This has all of the makings of a low risk litmus test type game, but–as we see with Indiana every freaking year–it's tough to stop extreme offenses even if the opposition has inferior talent. I wouldn't worry too much, but there will be things to keep an eye on, especially considering the fact that Ohio State runs a similar offense.
First Down(s)
The first thing you notice when you watch Colorado is a black and gold blur, then you realize that's just the offense humming along at its base tempo, which is a little frightening. Offenses that try to tempo defenses into dust need a steady stream of first downs to maintain pace for a couple of reasons.
The true advantage of playing fast lies in confusing the hell out the opponent. Cut down enough time between plays and you can prevent the defense from changing packages or even getting calls in from the sideline, rendering the defensive coaching staff pretty much useless and forcing a bunch of kids in their early twenties to make adjustments on the fly.
Want your voice heard? Join the GBMWolverine team!
Seems simple enough on paper, but without consistent first downs or second-and-shorts the whole system comes collapsing down pretty quickly (remember Steven Threet?). The Buffaloes will be able to attack the edges of the field with their screen game, which, like Texas Tech, is basically just an aspect of their rushing attack. The key is limiting yardage on those plays because offenses can run anything in the playbook on second and short, not so on second and long.
Limiting first down productivity and getting the defense off the field will also force a weak Colorado defense to spend more time on it.
Jabrill Peppers
This is the game when we'll start to see just how much havoc Jabrill Peppers can wreak. Moving Peppers to linebacker/Destroyer of Worlds this offseason was in preparation for this type of opponent.
Peppers going to have a lot to do on Saturday. Colorado can work inside out or outside in on offense. Sefo Liufao is a big and mobile quarterback that can keep things inside the hashes with his feet effectively while the passing game is mostly composed of screens and shots downfield on the edges.
Even though Peppers has shown he can do just about anything, he can't actually be in two places at the same time. My guess is that he'll spend significant time on the edge to blow up screens and take Colorado out of sync, but that'll mean that someone (Dymonte Thomas? Mike McCray?) has to mark Liufao in the middle of the field in Peppers' absence.
Making things more difficult is the fact that it's looking like Jourdan Lewis will probably sit out again on Saturday. Missing him is going to hurt a little more than usual: Lewis is a sure tackler and has shown that he can get off blocks on screen plays; Delano Hill and Channing Stribling are okay in that regard, but not elite. That means Peppers is going to see more blockers and have to do more work. If Michigan really is ready to actually stop a spread team, Peppers is the key.
Adjustments
We saw major in-game adjustments from the coaching staff last week against UCF, so hopefully they'll be willing to adjust in this contest as well. Power teams have a tendency to be stubborn against fast spread teams. The playbook usually goes something like this: stay conservative, run the ball, keep the passing game within ten yards and in the middle of the field, and take as much time between plays as possible.
Michigan can't forget its strengths on offense, which–at least right now–are getting receivers in space or in one on one situations on the edge. If the box is stacked like it was last week, then don't force the run and let Wilton Speight work.
Wilton Speight (312 yards, 4 TDs) is your B1G Offensive Player of the Week! #GoBlue » https://t.co/fRFyi1hqHt pic.twitter.com/4A1Dvbp8p8

— Michigan Football (@UMichFootball) September 12, 2016
Michigan can win a shootout with Colorado (I don't think they'll have to); to pretend otherwise and overadjust to an idiosyncratic offense would be undeniably Hoke-ian, but something we've seen time and again from this and other power teams. It's time to break the cycle!
With very few exceptions, Harbaugh and his staff have been willing to make whatever adjustments they need to to win, which in this game could be going against common knowledge and airing the ball out.
This article originally appeared on