Michigan Football: Updating Expectations After Win Over Hawaii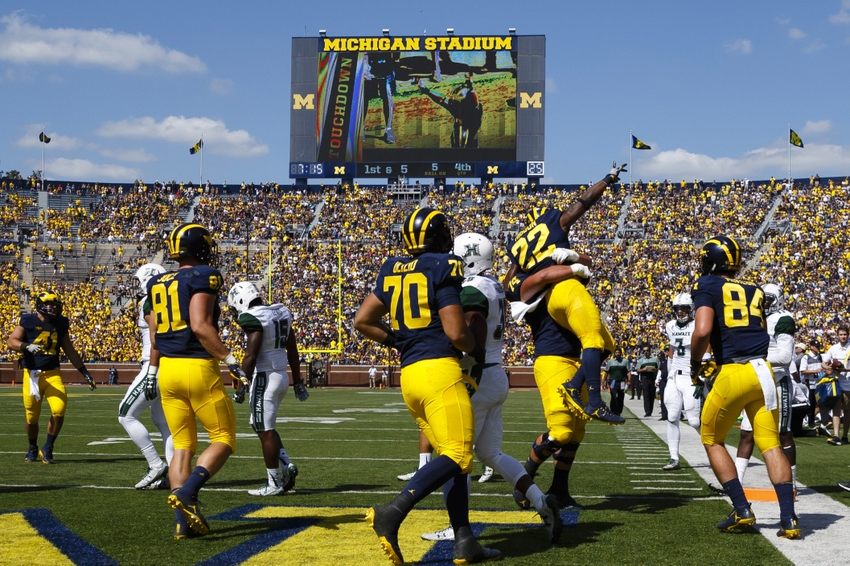 A 60-point win for Michigan football against Hawaii was near perfection. It doesn't mean we should raise expectations for the rest of 2016 though.
There are few things better than a 60-point victory with significant freshman contributions. It is tempting to raise projections for the rest of the year. In truth, though, it is hard for Michigan football to prove anything given the weakness of its non-conference schedule.
Speaking with GBMWolverine editor Tyler Fenwick about expectations for Game 1, the worst possible outcome envisioned for Saturday's game against Hawaii was a pedestrian, but comfortable, 35-14 win. The line, at 40.6 points, was probably as perfect of a script as possible.
It was still (near) perfection against a bad team. Ohio State beat Bowling Green State by 67 for comparison. Both games will be an afterthought once conference play begins. That isn't to say there were no lessons learned. Let's look at both sides of the ball.
On offense Michigan performed nearly identically to Cal the previous week against a common opponent. Cal replaced No. 1 overall pick Jared Goff with a quarterback who completed 70 percent of his passes. Michigan's Wilton Speight debuted as a starter with a similar line, marred only by an interception on the first offensive play from scrimmage.
Thanks to good line play, Cal ran for 5.5 yards per carry. Michigan also dominated up front, especially on jet sweeps and runs designed to go outside the box. Cal put up 51 points, and Michigan 63, with the help of two defensive touchdowns.
The defensive effort was more impressive in that it stifled a Hawaii offense that has talent. Hawaii found no running room for Diocemy Saint Juste and the defensive line owned an experienced front five for the Rainbow Warriors. Linebackers Mike McCray and Jabrill Peppers made tackles early and often, running downhill to the ball unmolested.
A turnover by Speight on Michigan's side of the field resulted in a three-and-out on Hawaii's ensuing possession, showing poise in a quick-change scenario. Hawaii didn't have a first down until late in the second quarter. The secondary picked off both Hawaii quarterbacks, leading to scores, something missing from last year's team too often. It was a sterling effort.
Around the country, other Power 5 conferences had bad weeks. The SEC saw terrible quarterback play, and huge upsets or near upsets were the story. South Alabama beat Mississippi State. Wisconsin was a double-digit underdog but defeated LSU. Arkansas escaped by a point against Louisiana Tech.
Why is that a concern? Namely because only the Big Ten truly impressed this weekend. Wisconsin proved it could shut down a Heisman caliber runner in Leonard Fournette and will be a tough test in Week 5. The Badgers play every contender from the East, adding another degree of difficulty to the schedule.
Nebraska won comfortably against a team it should beat. So did Iowa, Penn State and Indiana. Only Western Michigan proved upset-minded out of the MAC this year, a major difference to years past. Look at Temple's loss to Army and compare that to teams it fielded recently that routinely challenged or beat Penn State.
The Big Ten is once again sucking up the best players in the region and has developed into a gauntlet that's ten teams deep. It stands head and shoulders above mid-majors that had closed the gap in the last decade.
The Big Ten looks deep enough that every team may have two losses by the end of the year, particularly in the East. If it is the best conference in the country, does a two-loss Big Ten member make the College Football Playoff?
From a fan's perspective, the issue is a great one in terms of entertainment. It is something that needs to be taken into account though when discussing Michigan's ceiling in 2016.
This article originally appeared on