Michigan Football: Three Illinois Players to Watch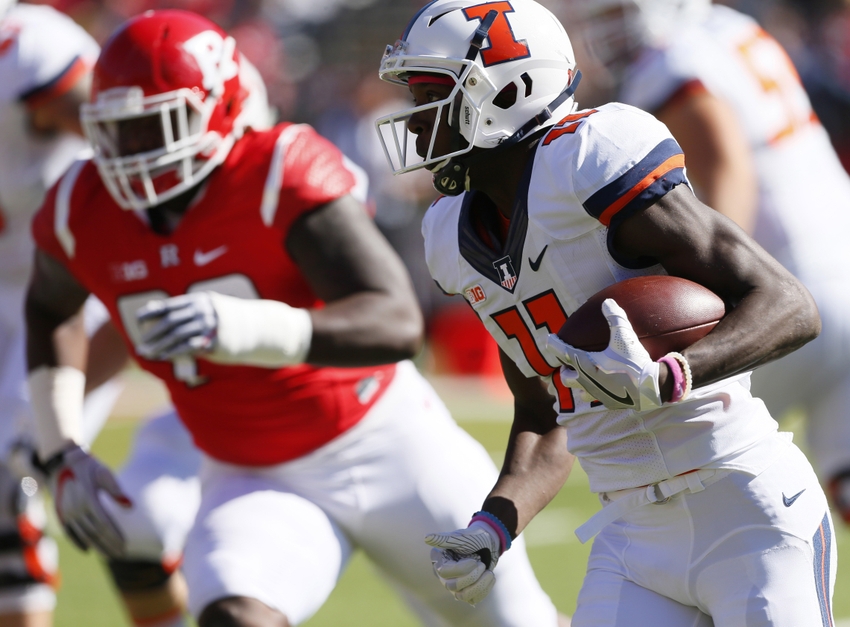 Illinois is a bad football team. Michigan football is a good football team. Still, the Illini have some players that are worth keeping an eye on.
It's homecoming weekend for Michigan football, and if all goes according to plan, the game on Saturday should only add to the excitement.
Illinois comes to town after beating Rutgers 24-7 to bring its record to 2-4, as Michigan wraps up its time off after beating Rutgers 78-0. The Fighting Illini are averaging an even 26 points and under 400 yards a game on offense, while the defense gives up an average of 26.2 points and 388 yards per game; they're No. 82 in overall S&P+. They're not good is what I'm saying.
Still, this is a conference game that kicks off the meat of the schedule, and Illinois has some good players scattered throughout its roster, so here are three such players to keep an eye on.
Dawuane Smoot, DE
Smoot is far and away the best player on the Illinois roster. At 6-foot-3, 255 pounds he's a load on the edge and can get to the quarterback quickly. That's going to be a problem since he'll probably spend most of his day lined up across from Juwann Bushell-Beatty.
Bushell-Beatty hasn't been bad filling in for Grant Newsome, but he still looks very much like a freshman. This is a good game for him to prove that he can be the guy at left tackle moving forward, but it's not going to be a pleasant afternoon either way.
Pro Football Focus ranked Smoot as the No. 20 player in the country before the season started, and even though his numbers don't pop off the stat sheet, he's been really good so far. Smoot's going to get his; it's just a question of how much Bushell-Beatty can slow him down:
It'll be interesting to see how the coaches plan to help Bushell-Beatty and if he can come close to holding his own against one of the best linemen in the Big Ten. I wouldn't be very surprised to see Mason Cole play some LT if things get particularly nasty, but hopefully it doesn't come to that.
Michigan can mitigate much of the damage Smoot can do by running the ball consistently against one of the worst rush defenses in the country. He'll certainly be visible, but hopefully most plays will go away from him.
Reggie Corbin, RB
Corbin missed the 2015 season but has made his way back this year rather effectively, if a bit slowly. He only has 35 carries so far but he's averaging a staggering 9.3 yards per carry. Corbin is a small, shifty runner who has a quick initial burst but not a whole lot of breakaway speed.
Still, he's found ways to get to the second level where he can make defenders miss in the open field.
After some garbage time carries against Murray State in the first game of the season, Corbin didn't touch the ball again until three weeks later against Nebraska, running for 72 yards on nine carries. Since then he's amassed 182 yards on 19 carries, though it's probably worth noting that that production came against Purdue and Rutgers.
I think it'll take a miracle for Illinois to get anything going against the Michigan front seven, but if the Illinois offense ends up being at all productive, it'll be because it finds some space running the ball with Corbin.
Malik Turner, WR
Maybe it's just the Illinois uniform, but wide receiver Malik Turner kind of reminds me of fellow Illini standout Aurrelious Benn. Benn (now with the Jaguars), is 6-foot-2, 220 pounds, and Turner is 6-foot-3, 205 pounds.
They both have decent-but-not-elite speed, but they know how to use their frames to go up and get passes and run precise routes. They both also have good hands:
Benn shredded Michigan during The Dark Years, but I don't see Turner doing that. He is a good receiver that is saddled with a really unfortunate quarterback situation. He might shake loose a couple of times and end up snagging a few downfield passes, but that's going to be a best case scenario for the Illinois offense.
It will, however, be interesting to see how Jourdan Lewis handles someone of Turner's stature in press coverage.
This article originally appeared on