Michigan Football: The Wolverines' Path to CFB Playoff In Pretty Simple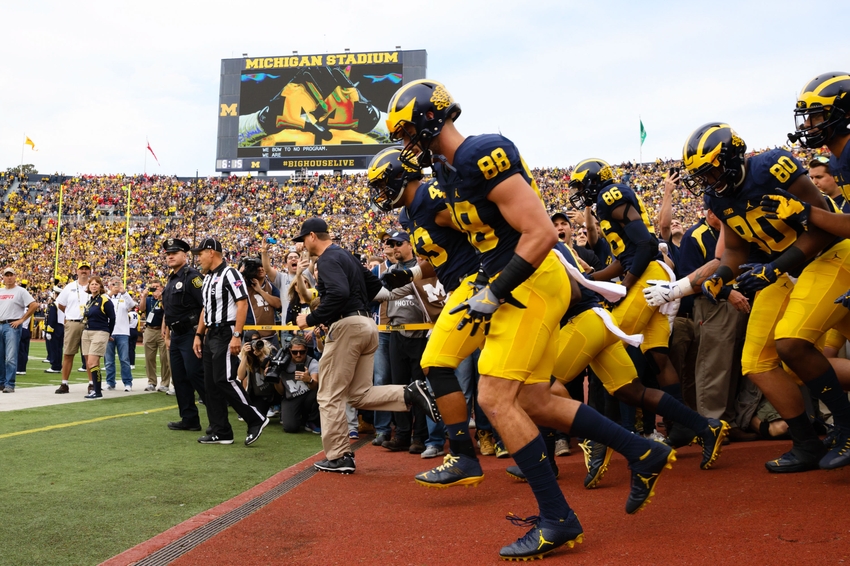 It may seem early, but the release of the first College Football Playoff rankings are just weeks away. And with that in mind, here is a breakdown of the Michigan Football team's path to the playoff.
Let's be honest, the first half of the 2016 season, couldn't have gone any better for Michigan football. Not only are the Wolverines 6-0, they have a clear path to the College Football Playoff.
Now, before all the Ohio State fans out there rip me to shreds — let me clarify a bit.
By clear path, I mean all the Wolverines need to is win four of the next five games, then beat Ohio State and whoever in the Big Ten Championship Game and that's it.
In that scenario, Michigan football would make the top-4 without a doubt.
Certainly, the Wolverines have a ways to go before that showdown in Columbus at season's end. However, after the bye this week, Michigan has a key, five-game stretch, that includes road tests at Michigan State and Iowa.
The Wolverines will also be welcoming Illinois, Maryland and Indiana into the Big House.
Obviously, Michigan football wants to win all of these games. And judging by the 78-0 beat down of Rutgers last weekend, it's clear that head coach Jim Harbaugh and the Wolverines mean business.
But the truth is, Michigan doesn't even need to win all five games to keep its National Title hopes afloat.
The Wolverines already own quality wins over Colorado and Wisconsin. And with a split on the road against the Spartans and Hawkeyes, as well as three home victories, a 10-1 Michigan team would absolutely still be a playoff contender.
The hardest part of this scenario, is definitely upending Ohio State at the end of the season. Whether the Wolverines are unbeaten or have one loss, the Big Game will decided Michigan's fate.
Yet, the comforting thing is that leading up to that epic contest, Michigan can afford to drop a game. After all, every team has an off day.
The Wolverines haven't yet — but chances are they will.
However, because of their blistering start, as long as that bad day doesn't come against the Ohio State, it won't have a lasting impact on the Wolverines playoff chances.
This article originally appeared on