Michigan Football: The Big House Won't Intimidate Hawaii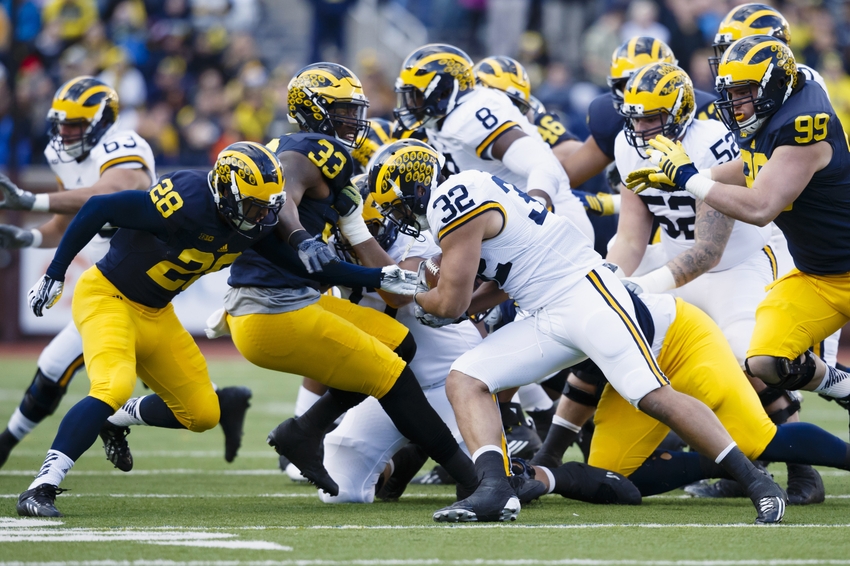 The Hawaii Rainbow Warriors have a lot to worry about preceding their game Saturday against the Michigan football team. But seeing how they react on the big stage isn't one of them.
The Big House is one of the most intimidating stadiums in all of college football. It may not be the loudest, although with the new design, it's gotten louder, but still playing Michigan football on the road is never easy for visiting teams.
Hawaii (0-1), plays in the Mountain West and while there are some legit teams in that conference, the Rainbow Warriors don't play anywhere like where they will play Saturday, when they invade Ann Arbor for the Wolverines' season opener.
More: Five Bold Predictions for Michigan Football in 2016
Yet, one thing that will help prepare Hawaii for playing at the Big House, was the trip the Rainbow Warriors took to Ohio State last season.
Just like this year, Hawaii went on the road for Ohio State's home opener. And just like this year, the Rainbow Warriors found themselves as huge underdogs (Michigan is favored by 41 points).
Yet, Hawaii played the Buckeyes tough. OSU led just 7-0 at the end of the first quarter and 14-0 at the half. The final score was 38-0, but that experience is something the Rainbow Warriors will look to draw on this week.
Check out the post-practice interviews from this morning for #HawaiiFB as the team prepares for No. 7 pic.twitter.com/CkSO52KoL5

— Hawaii Football (@HawaiiFootball) August 31, 2016
"I saw that film," Hawaii head coach Nick Rolovich told local reporters Tuesday. "For me, personally, it's not that big a deal. But for them, it should give them a lot of confidence that they went in and played an incredibly talented Ohio State team and played them incredibly tough. They sent a strong message to the Mountain West when that game was played because that film went around the league, and people said, 'Look at this Hawaii team.' It was typical Hawaii football with toughness and how hard they played. And they weren't scared. That means it's in them."
That experience may not seem like a big deal, but it is. The Michigan football may be really good, but not good enough to just show up and dominate.
This Hawaii team can score. Its quarterback, Ikaika Woosley is solid and coming off a 234-yard game against Cal. The ground game is good too, as Diocemy Saint Juste ran for 118 yards and averaged more then eight yards a carry last week.
In other words, Michigan football can't take this team lightly. Hawaii has talent and its used to the big stage.
The Wolverines should win easily, but what should and what will happen, can be two very different things.
This article originally appeared on