Michigan Football Survives Indiana, Sets up Showdown with Ohio State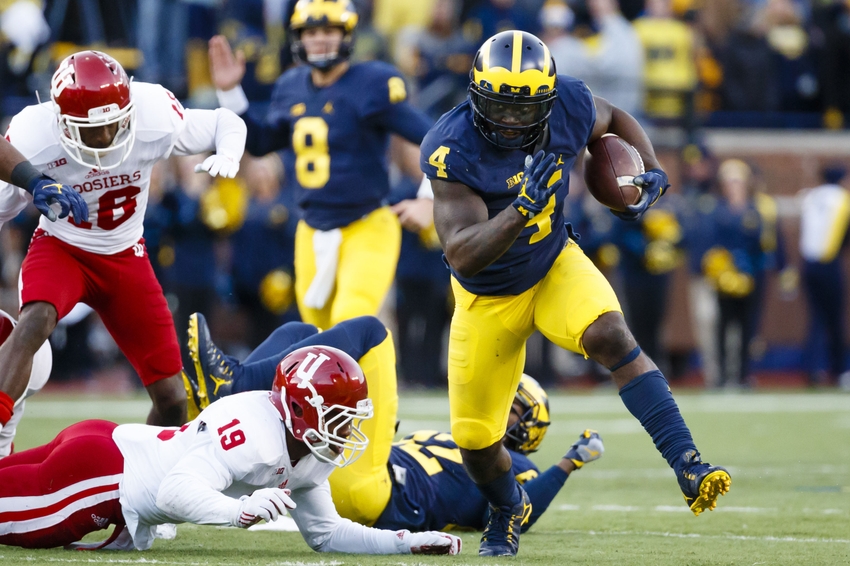 The Michigan football team didn't dominate Indiana. But the Wolverines found a way to win and in November, that's all that matters.
It wasn't pretty or impressive, but it didn't matter for Michigan football. It beat Indiana 20-10 in a game that wasn't for the faint at heart, but sure was important.
Without its starting quarterback and on a cold, windy day, the offense struggled. Wilton Speight missed the game due to injury and John O'korn had some less than stellar moments.
Halfway through the game and for the first time at intermission all year, the Wolverines trailed 7-3.
At one time in the third quarter, Indiana faced a first-and-goal up 7-6, looking to go up eight. The Michigan defense made a stand there. After that, the Wolverines offense found a way.
Resilient. Got the win.

On to a big week.#GoBlue pic.twitter.com/ORoFssLcp0

— Michigan Football (@UMichFootball) November 19, 2016
Facing a third-and-eight in his own territory, O'Korn ripped off a 30-yard run for a first down. A few plays later, De'Veon Smith scored a 34-yard touchdown.
That put Michigan football up 13-10. Shortly after, a 39-yard run by Smith made it 20-10 and in a matter of minutes a four-point deficit, became a double-digit advantage.
De'Veon Smith doing work #GoBlue https://t.co/5R3YsaOM5A

— GBM Wolverine (@GBM_Wolverine) November 19, 2016
Up 10, Michigan played it close to the vest. But the defense, the running game and the offensive line put the game out of reach.
Indiana wouldn't score again and even though Michigan didn't either, it didn't have to.
O'Korn's final numbers weren't great. He was 7-of-16 for 59 yards. But he didn't turn the ball over and his 30-yard run did spark the comeback.
But in the end, the day belonged to Smith, who finished with 158 yards on 23 carries. His conversion of a fourth-and-short with just over three minutes to go, was the final nail in the coffin for Indiana and sealed Michigan's 10th win of the season.
Smith gets the first down on 4th down. That's pretty much it.

— GBM Wolverine (@GBM_Wolverine) November 19, 2016
In the big picture, the No.3 Wolverines did exactly what they needed to — win.
They controlled their own destiny in the race for the Big Ten title and the College Football Playoff. And with second-ranked Ohio State on the horizon, they still do.
Saturday's win over the Hoosiers wasn't something the history books will commemorate, but it was important nonetheless, because it set up the showdown we have been waiting all year to see.
This article originally appeared on