Michigan Football Survives A Low-Scoring Game vs. Wisconsin: Reaction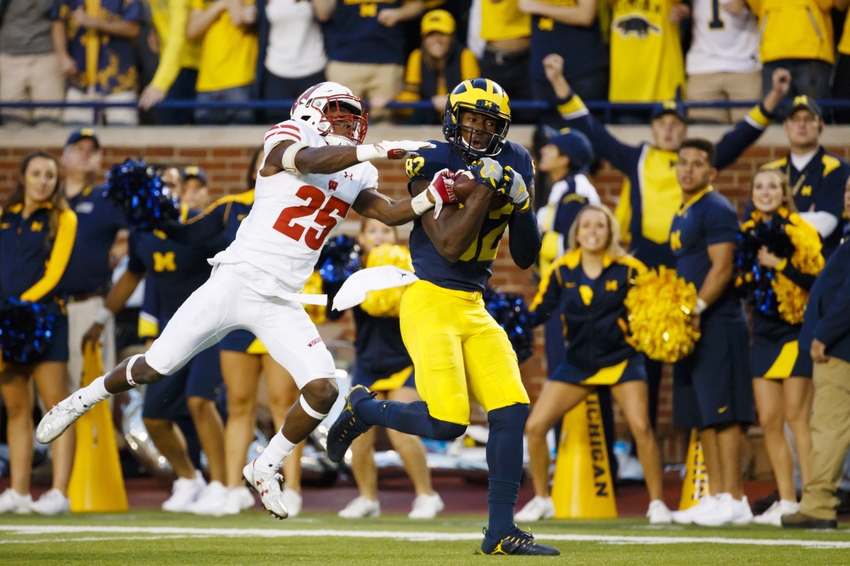 It was a classic defensive struggle in Ann Arbor as Michigan football hung on to beat Wisconsin. It's the Wolverines' first top-10 win under Jim Harbaugh.
Were we doing this thing justice when we predicted Michigan football would be battling Wisconsin in a defensive battle? Off the top of my head I can't think of another descriptor that might accurately sum up what happened on Saturday in the Wolverines' 14-7 win over the Badgers.
Once Wilton Speight found Amara Darboh for a 46-yard touchdown with just under eight minutes to play in the fourth quarter, you got the feeling Wisconsin was out and done.
That's because the Badgers, outside of one successful drive, had done squat against the Michigan defense. Not through the air, and certainly not on the ground. Four turnovers also assisted in the demise of the Wisconsin offense.
Speight wasn't at his best, but he was going against an aggressive defensive front, and his offensive line blew assignments a couple times to put him in harm's way. In all, though, completing 20 of 32 passes for 219 yards and a touchdown isn't a bad line at all. His one interception was the result of a poor throw and a poor decision.
Other than the fact that Michigan's defense suffocated Wisconsin and made this a winnable game, maybe the biggest takeaway from this game is that the Wolverines have a serious kicking problem.
Kenny Allen and Ryan Tice combined to miss all three of their field goal attempts, leaving nine points—a two-possession deficit—on the field. The score should have been more like 23-7, or 20-7 at the least.
Hey, you know who's pretty good on Michigan's defense? Jourdan Lewis, yes. And also Jabrill Peppers. But that big man in the secondary was Channing Stribling, who was huge in coverage for the Wolverines and had two interceptions, including one with 3:24 to play in the fourth.
But back to Lewis—he had the best play of the game.
That was unreal.
I'm sure people will be angry about the ground game performance again, but when you look at De'Veon Smith and Ty Isaac going for a combined 114 yards, it's hard to say they didn't do their jobs. What's more, it was obvious that Michigan was starting to impose its will on the ground in the second half, but penalties were killing those drives.
It's a good win to celebrate—Michigan's first legitimate victory of the season and Harbaugh's first top-10 win with the Wolverines—and 5-0 is the best start to a Michigan season since 2011.
This article originally appeared on