Michigan Football Still Needs that Defining Win over Ohio State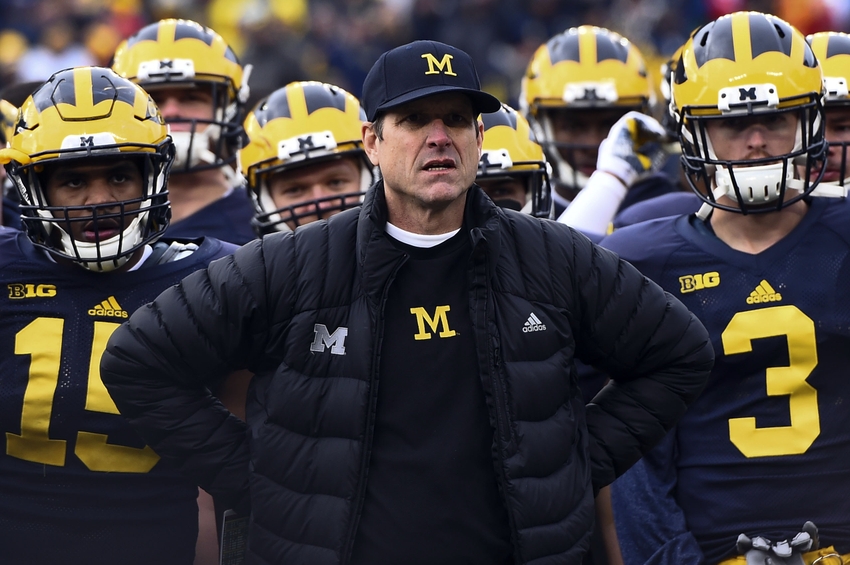 Michigan football will be looking for its biggest win this Saturday, since beating the Buckeyes back in 2003.
For Michigan football, there is only way to return to the National Championship stage and that's to beat Ohio State.
No matter how many games Michigan won this season or what other scenarios happened, we always knew that the Wolverines hopes of making the College Football Playoff would run through Columbus.
And really, Michigan football fans shouldn't want it any other way.
Could you imagine the 1997 National Championship without the dramatic win over Ohio State? That win and the Big Ten title that went with it, meant as much as the Rose Bowl and the No.1 ranking in the AP Poll at season's end.
Sure, had Michigan beaten Iowa, it could have possibly made the playoffs without beating OSU, but it wouldn't have tasted nearly as sweet.
The playoff is a reward for beating the Buckeyes, which right now, should be the program's ultimate goal.
Because if Michigan football can beat Ohio State year in and year out, like the Buckeyes have done for the last decade plus, it can own the Big Ten. It can carve out a a permanent spot on the national scene.
That's what this game is about, both this year and beyond.
Key Big Ten Games Week 12: Effect on the Conference
There is no denying, it's been a great year for the Wolverines. They have won 10 games and been ranked in the top-5 almost all season.
Even with a loss Saturday, Michigan stands a strong chance of playing in the Rose Bowl, or at least in another New Year's Six game.
This program, is on the rise. Jim Harbaugh is one of the best head coaches in the country and Michigan football has resources that are rivaled by few others.
But none of it will matter, until Michigan beats Ohio State, especially in the games that really matter, like the one this Saturday.
It was great when Brady Hoke and UM knocked off the Buckeyes in the pre-Urban Meyer era. But that OSU team stunk and in the end, the win won't be remembered as significant.
The last consequential win for Michigan football over Ohio State came in 2003. When John Navarre, Braylon Edwards and Chris Perry led the Wolverines to the victory and the Big Ten championship.
That win was special. It was significant and it was way too long ago.
Oh, how I have longed to relive those days or the days of 1997, 1996, 1995 or 1993. Every single one of those wins either propelled Michigan to new heights or ruined a promising season for Ohio State.
Those are the kinds of wins that matter in this rivalry, that turn the tide.
Michigan football has a chance to score a victory like that Saturday. One that would be extra satisfactory, considering it would keep UM's title hopes alive, while simultaneously ending Ohio State's.
Michigan fans have been waiting 13 years for a win like that. Now, hopefully, they just need to wait a few more days.
This article originally appeared on