Michigan Football Shows Vulnerability in 45-28 Win over Colorado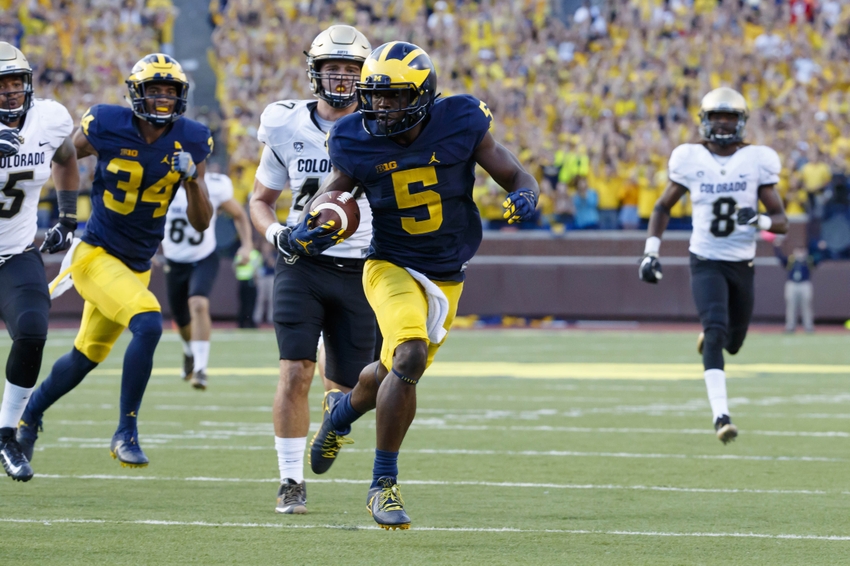 The Michigan football team put together a strong comeback in a 45-28 win over Colorado Saturday, but the Wolverines also showed some of their weaknesses.
The Michigan football team did a lot of good things, but also did some not good things in a 45-28 win over Colorado in the Big House Saturday.
The Wolverines spotted the Buffaloes 14 points after Colorado scored on its opening possession and after picking up and returning a Wilton Speight fumble for a touchdown.
Trailing 14-0, Michigan started making plays, first on special teams. A blocked punt was returned for a touchdown by Grant Perry and another blocked punt, helped set up the team's second touchdown, which came on a 17-yard run by Jehu Chesson.
Late in the half, the Wolverines grabbed their first lead when Amara Darboh took a screen pass from Wilton Speight and turned it into a 45-yard score, putting UM up 24-21 at intermission.
In the second half, touchdown runs from De'Veon Smith and Ty Isaac helped Michigan football pad its lead and later, a 55-yard punt return from Jabrill Peppers put the win on ice.
Check out the full highlights from today's game vs. Colorado.
Full recap >> https://t.co/sdCviTPlfb#GoBlue
https://t.co/MygX19u7be

— Michigan Football (@UMichFootball) September 18, 2016
Yet, even though the Wolverines won the game, their effort was far from perfect.
Colorado quarterabck Sefo Liufau proved to be too much for the Michigan defense, as he threw for 245 yards and three touchdowns in 2.5 quarters. He left the game due to injury.
Liufau was accurate throwing deep and showed just how badly Michigan misses Jourdan Lewis, as the defense allowed two scores that covered 35 yards or more.
Speight also struggled. He may have gotten banged up on a first-quarter sack, but after that he struggled with accuracy. He managed to get the ball to receivers, mostly on short throws and screens, but his throws down the field left much to be desired.
On the plus side, Peppers was out of the this world. He had 180 combined return yards and also ran twice for 24 yards. Defensively, Peppers was all over. His best play came on a key sack that prevented Colorado from attempting a field goal.
Rashan Gary also made his presence felt and pressured the quarterback all day. The running game was also better, with 41 total runs for 168 yards and three touchdowns. Smith led the way with 11 runs for 87 yards.
Michigan football may have shown some weaknesses, but in the end, the Wolverines responded to adversity and finished the game on a 38-7 run. 3-0 is 3-0 and now UM is on to Penn State.
The Wolverines and Nittany Lions will meet in the Big House next Saturday at 12 p.m., EST.
This article originally appeared on