Michigan Football Recruiting: Key Takeaways from the 2017 Class
Chris Peterson/FanSided via GBMWolverine

Fansided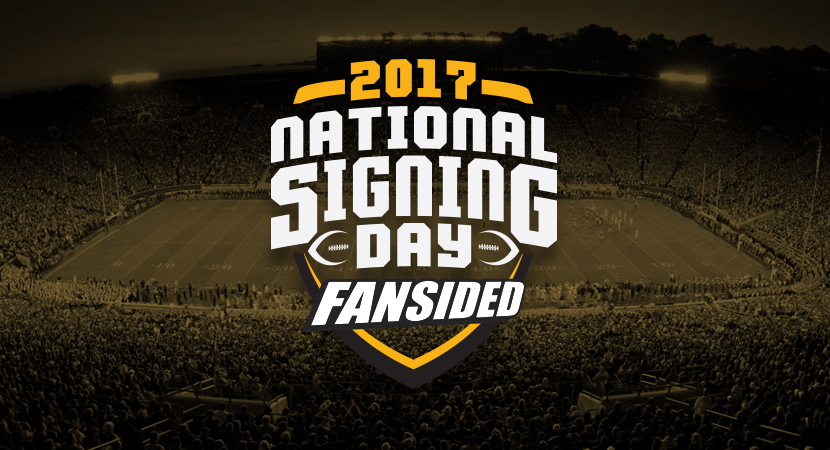 National signing day is always exciting and it brought plenty of excitement for fans of Michigan football. Here are the important takeaways.
For Jim Harbaugh and the Michigan football program, most of the recruiting work was basically signed, sealed and delivered. National Signing Day was just a formality.
However, there were some players that Michigan football was hoping to get commits from and with Aubrey Solomon and Nico Collins giving UM the thumps up, it was a good day all around.
Certainly, the Wolverines lost out on some players. But there is no doubt that the 30-man class Harbaugh reeled in, is an impressive haul.
Out of this class, there could be a lot of NFL talent. There are three five-star players, according to Rivals.com and overall the class ranks fourth.
A grand production for the grandest of programs.

"It's not a 4-year decision, it's a 40-year decision."#GoBlue » https://t.co/81gHvOlFyL

— Michigan Football (@UMichFootball) February 2, 2017
Michigan is getting a dynamic young quarterback and about a trillion four or five-star wide receivers.
The talent on the defensive side of the ball is also impressive. It starts with Solomon, who is a five-star defensive tackle. But it doesn't end there. The offensive line, which turned into an issue last season, was also addressed.
The future now looks very bright with five quality players on the horizon. Not only are the offensive lineman Harbaugh got highly touted, they are also big. As in four of the five, are 6-4 or taller, including three offensive tackles that are at least 6-5.
It's clear that Harbaugh knows how to get premier talent to Ann Arbor and in the next few slides, I'll look at the most important takeaways from his 2017 class of Wolverines.
Aubrey Solomon and Rashan Gary form a dynamic duo
Maybe the most exciting news that came out Wednesday for Michigan football was the signing of Solomon, the No. 2 defensive tackle in the nation.
The news was expected, but it was still nice to see the Wolverines beat out someone like Alabama for a recruit like Solomon.
Yet, the first thing that popped into my mind was how Solomon and Rashan Gary, the top overall defensive recruit from a season ago, are going to dominate on the defensive line for the next 2-3 years.
Like Gary, Solomon is big, versatile and athletic. He stands 6-4 and weights in at 303 pounds. And even though he probably could play some outside such as Gary, Michigan defensive coordinator Don Brown was talking about them next to each other, which seems like he stays at DT.
Dominant big men win football games. And with two studs on the defensive line like Gary and Solomon, you can see the Wolverines front wreaking havoc in the future.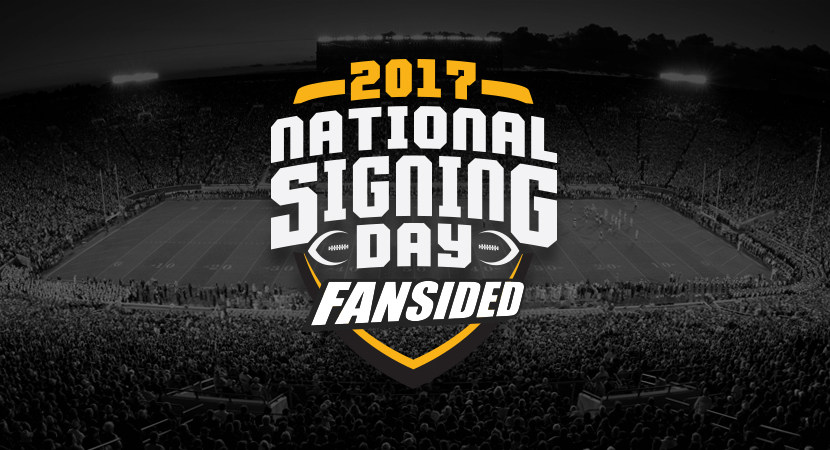 Wolverines stock full of playmakers
While Solomon was the biggest get for Michigan Wednesday, the Wolverines got more good news from the south in the commitment of Nico Collins.
Collins is a four-star wide out from Alabama and he adds to a group of skill players that features seven four-star players.
Beyond that, five of the four-stars are wide receivers. Five-star Donovan Jones-Peoples, was locked up long ago. But adding Collins to a group that also includes Oliver Martin, Tarik Black and Brad Hawkins is insane.
With those players in the fold and some like Jones-Peoples enrolling early, wide receiver shouldn't be a tremendous concern, even with the loss of Amara Darboh and Jehu Chesson.
However, the most important skill player may be quarterback Dylan McCaffrey. The 6-4, 185-pound signal caller is the seventh-ranked pocket pass according to Rivals and is the younger brother of former Stanford star Christian McCaffrey.
He certainly looks to be an exciting player, but is not enrolling early, which will hurt his chances of playing as a freshman.
Michigan football also added a four-star running back in O'Maury Samuels for good measure.
All in all, it was a good day for those who wish to see UM get more explosive on offense.
Michigan's class is big in more ways than one
One of the most impressive things about the 2017 recruiting class for Michigan football is the overall size and no, I'm not just talking about the overall number.
30 is impressive, especially when 19 of the signees rate as four-stars or better. But if look in depth at Michigan football's new recruits, you will see a lot of big football players.
And that's a good thing.
You can see the kind of football team Harbaugh wants to build. The past two seasons, Michigan football has been tough and hard nosed. And now, the Wolverines want to be the baddest bully on the block.
Michigan signed a total of seven defensive lineman and five of them stand 6-4 or taller. Four of the five wide receivers signed are 6-1 or taller and three of the offensive lineman stand taller than 6-5.
The class only has a few 300-pounders as of now, but once the strength staff gets working with some of them, there is sure to be muscle and pounds added.
But as the old adage goes, you can't coach speed and you can't coach size. And with the 2017 class, Michigan football is getting plenty of both.
This article originally appeared on