Michigan Football: Q&A With Ohio State Expert Before "The Game"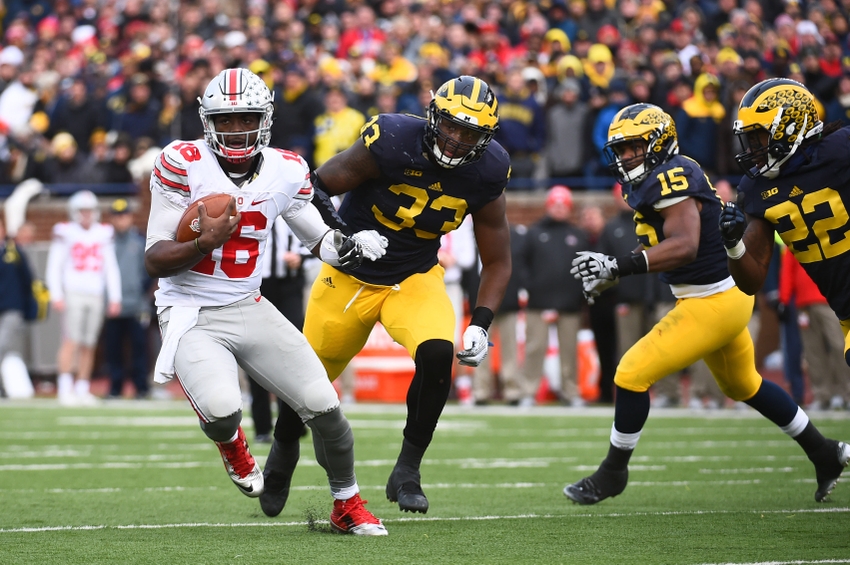 There's a lot riding on the result of Michigan football's trip to Ohio State on Saturday. To get ready, we're exchanging a Q&A with a Buckeyes expert.
It's fair to say this is the most important version of "The Game" that Michigan football has participated in in a decade.
For that reason, it wouldn't be accurate to say we're waiting and preparing for just another installment of Michigan-Ohio State. In fact, this one is going to have important consequences on the Big Ten championship game, the College Football Playoff, and possibly the other New Year's Six games.
Saturday's result is going to have a lasting impact on college football.
To help get ready for what many are dubbing as the game of the year, we're exchanging a Q&A with Ohio State expert Charlie Lockhart, who works over at Scarlet and Game.
GBMW: This is the most high-stakes game between Michigan and Ohio State since 2006. Do you think it'll live up to the hype?
Charlie: "I think it will be as good as advertised. Ohio State and Michigan are as talented as any team in the country and 'The Game' will bring out the best in the players. Also, the two coaches know just how important the rivalry is so both teams will be prepared."
Michigan Football: How To Navigate Thanksgiving Political Talk
GBMW: Do you get the sense that Ohio State fans are nervous about this game?
Charlie: "Absolutely. Too many times Michigan has stopped an Ohio State team from potentially winning a national title. I don't want to count the number of times I have seen it going back to 1969."
GBMW: What's the most important thing Michigan has to do to beat Ohio State?
Charlie: "Control the line of scrimmage on offense. If the Wolverines establish the running game they can mix in the play-action passing game. Getting into favorable down and distance situations will slow down the pass rush for the Buckeyes. It will allow Michigan to control the ball and and field position as well."
GBMW: What's the most important thing Ohio State has to do to beat Michigan?
Charlie: "Take advantage of their speed on both sides of the ball, and get Curtis Samuel involved early. When Samuel gets several touches at the beginning of the game, the Ohio State offense operates at a different level. They have to use their quickness in their front seven to get penetration and put the Wolverines in third and long situations. Then they will be playing to the Buckeyes' strength."
GBMW: Is there anything about this Ohio State team that you think Michigan fans are overlooking?
Charlie: "Probably just the overall team speed. Because Michigan has extremely talented players, they may have underestimated just how fast the players on Ohio State are, on both sides of the ball. Urban has recruited track stars who can run with pads on."
—
More from Charlie: "Hope you enjoy 'The Game', just not too much. I have family in Michigan and most root for that other team. However, I have one niece I know will be pulling for the Wolverines on Saturday."
Go Charlie's niece!
This article originally appeared on