Michigan Football: Moving Forward Without Wilton Speight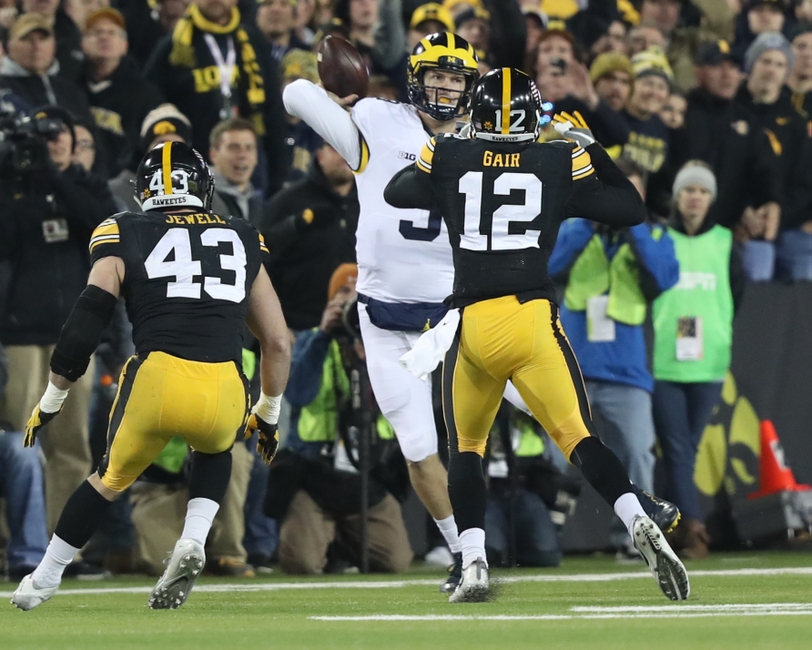 Michigan football is likely going to be without starting quarterback Wilton Speight for the rest of the season.
So, it doesn't seem like we have a full consensus on how badly injured Michigan football quarterback Wilton Speight actually is.
The Detroit Free Press says he definitely has a broken collarbone while Jim Harbaugh says those reports are untrue. The Freep seems pretty confident in their reporting, and Coach only said that "we'll see this week." More than anything, this seems like the team's policy to keep injury news either secret or frustratingly opaque striking again, so–even if it's slightly hypothetical–let's say the Freep is right and Speight is out at least until whatever bowl the team ends up in.
Speight had by far his worst game in a maize and blue uniform on Saturday. He was bad before the supposed injury and worse after. This comes after the game against Maryland in which he threw for 362 yards and accrued three touchdowns in two and a half quarters of play, a performance so impressive it had his coach saying he should be in the Heisman conversation.
He did look like he was finally putting it together for a Rudockian late season run, casually dropping dimes thirty or forty yards downfield against an overmatched Maryland secondary.
Speight had been building towards that kind of performance all season; it seemed like every game save UCF, featured him just missing on a couple throws that could have resulted in more points and many more yards and then all of the sudden he was inch-perfect on downfield throws and he looked every bit the part of a championship quarterback.
Jake Rudock, a steady if unspectacular fifth year senior, started last season out shaky but eventually progressed into an All American caliber player by the end of the season. We've been waiting all season for Speight to align himself on the Rudock trajectory because Jim Harbaugh is a uniquely qualified quarterback whisperer, which usually cancelled out concerns like "Speight was a three star recruit" and "he's only started nine games".
Expecting Speight to progress quickly and linearly from the bye week on was perfectly reasonable given this coaching staff's track record, but he was still a bit up and down by the time he was injured.
Losing Maryland Speight would be enormously unfortunate, losing first half Iowa Speight not so much. The truth is, I don't really think we know which Speight Michigan football is losing because Michigan didn't know which Speight they'd be getting when he was healthy. He played at a base level of competence, but past that he was erratic; when he was on he looked like an All American and when he was off he left a disconcerting amount of points and yards on the field.
Still, this is a guy that was quarterbacking the number three team in the country, having thrown for nearly 2200 yards, 15 touchdowns, and only four picks. The reins go to a guy that sat out last season after transferring from Houston following a tumultuous sophomore year that saw him regress considerably under a new coaching staff.
John O'Korn came to the Michigan football program to take over for a graduating Rudock. It didn't pan out that way, though, and Speight–after a months-long quarterback battle in camp–took the first snaps of the season this year. That's slightly disconcerting, but O'Korn has shown serious flashes of greatness:
So what are we getting for the next two games? As the highlights show, there's considerable upside here. I said this before the season began:
O'Korn is well suited for a chaos: he can move, he has a cannon arm, and isn't afraid to throw into traffic. Unfortunately, this offense won't be chaotic. He can open up a playbook in ways Speight simply can't, but it seems like the coaching staff decided that they don't need any more wrinkles than they already have.
The offense isn't chaotic, but the coaching staff has added a full blown read option package with Jabrill Peppers at quarterback (Speight has even run it a few times) and opened up the outside running game and downfield passing game.
Quarterbacks improve in this offense when they have time to work with Harbaugh and take first team reps in Michigan's notoriously competitive practices. The playbook expands as the year wears on. O'Korn hasn't had that luxury, and the rest of the offense will of course be playing like they've been together for ten games because they have, so he'll have to play some serious catch up.
That probably means re-calibrating our expectations of receivers, then. We've all witnessed the importance of the bond between a quarterback and his number one receiver over the past two seasons; it looked like Chesson would become a bona fide number one because of his rapport with Rudock, but Speight ended up more comfortable with Darboh, who is pacing the team with 43 catches for 746 yards and six touchdowns. O'Korn is coming in blank. To think, only a few weeks ago his biggest concern was getting a pet:
Who becomes O'Korn's go to guy is anyone's guess, but having Jake Butt is going to benefit him greatly, considering the fact that the burly tight end is pretty much the ultimate safety valve. O'Korn is going to have to figure it out pretty quickly: he goes up against Indiana on Saturday, who ranks 45th in defensive S&P+; a loss this week or next is almost certainly the difference between the playoff and the Capitol One Bowl.
His mobility will add another dimension to the offense, if nothing else. Teams have been snuffing out the Pepcat sets (eventually ten guys in the box is just insurmountable), so it'll be interesting to see if they switch it up and let O'Korn run it with Peppers as a back or in the slot in a Percy Harvin role (also, look for the inverted veer to feature heavily if they decide to go the Peppers as tailback route).
I'm having trouble picturing this as a disaster, but I don't think anyone can reasonably expect the offense to reach the heights it has at points this season with a brand new quarterback whose game is different and hasn't taken a meaningful snap since 2014 in the AAC.
This article originally appeared on