Michigan Football Midseason Awards, Part Two: Everything Else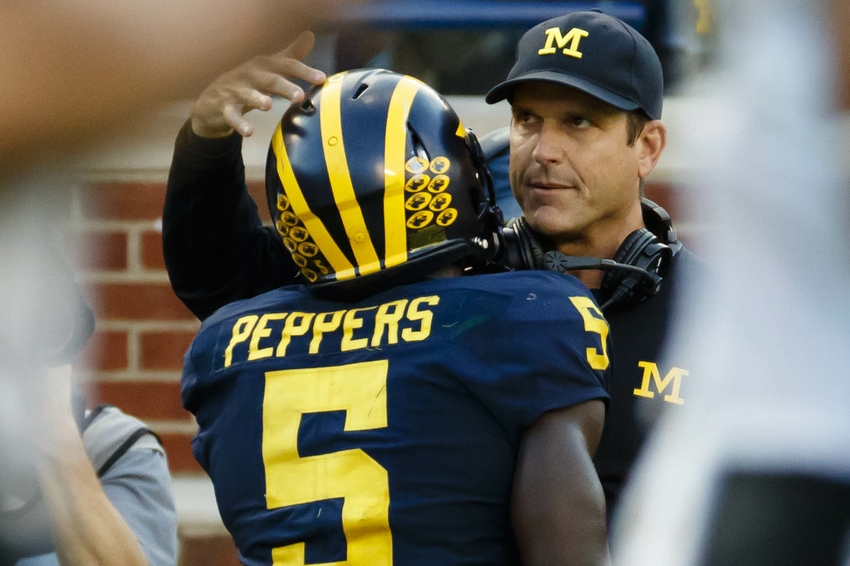 After handing out the first batch of midseason awards for Michigan football, we can hand out awards that are a little more obscure.
There's really only so much you can say about an undefeated team that has only played one close game that isn't painfully obvious or unnecessarily contrarian, so, after handing out the big awards earlier in the week, here are some unexpected ones.
Harbaughiest Moment
There were a couple strong contenders for this award, but there was a clear winner. Ann Arbor's Ruth's Chris Steakhouse offered a promotion before the Rutgers game: It would discount your meal by Michigan's margin of victory in percentage points. Michigan trounced Rutgers 78-0, so everyone would eat for 22 percent of their actual bill. (It later turned out there was a cap, but it was still around 50 percent).
So coach Harbaugh, being the obsessive advantage-seeker that he is, took the wife out for a nice dinner:
OK, so there are a few very important things going on here. First off, it looks like he went for an enormous bone-in ribeye, a good choice at a high-end chain steakhouse. A choice that was a little more questionable? The milk.
At this point, we all know coach loves milk. That's all well and good, if a little strange, but this is not good. The only saving grace is the fact that he's drinking it out of a goblet, but still. Don't drink milk with steak. Even for a good midwestern boy like Harbaugh, this amount of dairy and red meat is not OK for a Tuesday night. And they had to drive home!
Coach Harbaugh, just out here making the drive home uncomfortable for everyone with an enthusiasm unknown to mankind.
Ridiculousness aside, this moment showed a lot of what makes Harbaugh unique: his unrelenting strangeness, his affection for Ann Arbor, a keen awareness of the stories that surround the program (the Ruth's Chris thing blew up on Twitter during the game) and an understanding of how to exploit them to benefit the program (just about every major online sports outlet published something about this tweet).
Success on the field is just one of the reasons Michigan has become one of the most talked about programs in the country this season.
Most Inexplicable Play Call
The coaching staff likes to go for two when up by a lot of points against Rutgers for some reason. Having just gone up 41-16, Michigan called Jake Rudock's number and he scampered into the end zone for two to go up 43-16.
Sure.
Having just gone up 27-0 in this year's iteration of the game, the special teams unit faked an extra point and holder Garret Moores put the Wolverines up 29-0. It was . . . odd.
Maybe coach was putting things on tape to mess with future opponents? Maybe he really wanted to impress any holders he might be recruiting in New Jersey? Nothing can really account for doing it two years in a row against Rutgers up by 20-plus points, though. The case of the Rutgers two-point conversions remains a mystery.
Best Catch
Offensive Division: I'm going on memory here, but unless I'm missing something totally obvious, Jehu Chesson's diving touchdown grab against Rutgers takes the offensive division easily.
Speight is forced out of the pocket towards the line of scrimmage pretty quickly and Chesson is running a go route in single coverage, which is usually not a great combination, but Speight flings the ball towards the back of the end zone and Chesson lays out horizontally and snags it.
Hopefully we see more Speight-Chesson connections down the sidelines during the second half of the season.
Defensive Division: Jourdan Lewis made one of the best catches of the year to seal the win against Wisconsin:
If there's a prettier looking interception this year than that, please let me know. Until then, I'm saying this was the best pick of the year.
Sweetening the deal was the fact that Lewis was supposedly still a little hobbled from his early-season injury, so Wisconsin tried to attack him all game. It didn't work. The interception was the exclamation point.
Best Twittering
Coach Harbaugh's Twitter is always good for a laugh or a head scratch, but Jabrill Peppers has an unheralded presence on Twitter. He started out the season with this video of him doing things that normal people can't:
That's insane.
Better yet was his reaction to having one of the best punt return touchdowns I've ever seen called back on an extremely questionable block in the back call. The return in question:
That's the kind of play that cements your name on Heisman lists and he did it front of his hometown crowd! Alas, it wasn't meant to be, and Peppers seemed to take it in stride:
Charming! His whole account seems to be him tweeting complimentary things about his teammates, football takes, and assorted other 21-year-old kid things. One more, for good measure:
Best Instagramming
I wasn't going to do Twitter and Instagram, but this preseason post from right tackle Erik Magnuson is kind of amazing:
Proudly continuing the long line of weird and/or funny Michigan offensive linemen.
Best Honorary Captain
Michigan has welcomed the greatest basketball player of all time, the greatest quarterback of all time, and Derek Jeter as honorary captains.
Michael Jordan was an obvious choice after the program finally dumped Adidas in favor of the Jordan brand before the season. Tom Brady is the most successful NFL player the University of Michigan has ever produced. Derek Jeter once kinda sorta considered going to Michigan to play football before being lured away by George Steinbrenner and the Yankees. That whole thing and those atrocious shirts are best forgotten, honestly.
Awesome as it is that such successful, iconic athletes want to be part of the program, all of those guys are kind of dull brand-bots.
Rich Eisen isn't.
I don't think there's a more fervent supporter of Michigan football in the media than Eisen. The ESPN-turned-NFL-Network anchor got his start at The Michigan Daily when he was a student and hasn't looked back. Whether he's goofily interviewing Harbaugh on his radio show or geeking out with Charles Woodson on national television, Eisen is a fan through and through.
The quick speech he gave the team after a practice was awesome and insightful:
Eisen forever.
This article originally appeared on