Michigan Football: Key Takeaway from the Wolverines 2OT Loss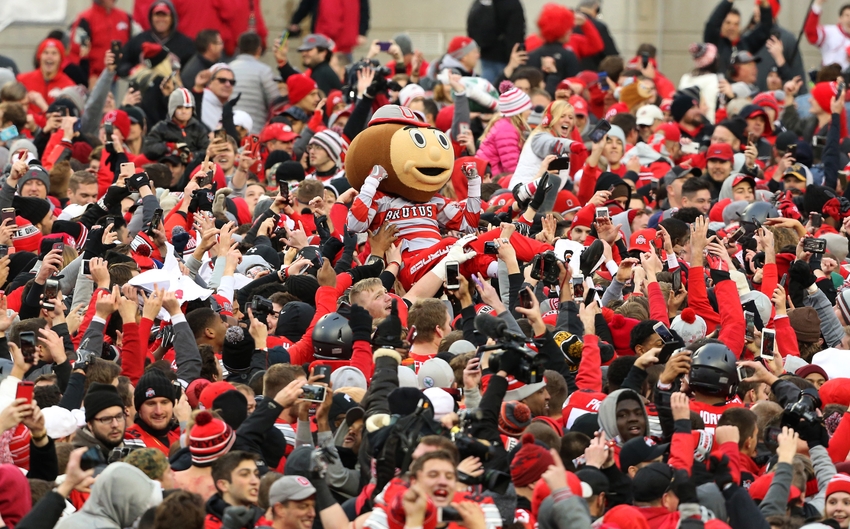 One key takeaway from Michigan football and its double-overtime loss to Ohio State, was the Wolverines lost it by being unable to run the ball.
Field goal versus touchdown, that's what defined the game between Michigan football and Ohio State.
It was a game that was an imperfectly perfect collage that highlights why college football is loved. Four hours that explained why it is known as The Game. Michigan-Ohio State ended with a crushing defeat for UM because it got field goals where OSU got touchdowns.
Michigan's offensive line, warned about in the preseason, failed its greatest test. A bowl win will be appreciated if it comes; today, the epitome of November in the Midwest in front of 110,000 Buckeye faithful will forever be the grandest stage Michigan football and its senior laden offensive line will ever play on.
The Wolverines came up short against a young defensive line that has been porous at times. Wisconsin ran for 236 and averaged over five yards per carry. Michigan managed just 91 yards on over 40 carries.
Up 10 over halfway through the third quarter, Michigan football was unable to go to the blue print that helped them dominate this rivalry in the 90's and early 2000's.
JT Barrett was flustered and was missing easy passes high. Barrett was barraged for eight sacks, more than half what OSU had allowed in the season's previous 11 games.
Michigan vs Ohio State Live Stream: Watch The Game Online
Michigan had the ball in the center of the field and couldn't find its version of Tim Biakabutuka or Anthony Thomas. An interception, a meltdown, and a touchdown later it was a one score game.
Still, Michigan had opportunities to salt it away. Speight saw a number of untouched Buckeye defenders harass and sack him until he began missing easy throws.
Then OSU missed its second chip shot field goal of the afternoon and a clock-eating running attack would be enough. but It never materialized.
OSU found its legs, returned to equilibrium. The D looked disjointed and confused for the first time all day. Tie game with a second left.
In OT, OSU scored in seconds while Michigan was forced to grind out a fourth down TD. In the second OT, Michigan football was unable to run the ball and settled for a FG. OSU answered with playmakers scrapping for every inch before running in the dagger from 15 yards out.
Touchdowns versus field goals. OSU at least had good excuses for its O-Line struggles in youth and outstanding performances from the likes of Taco Charlton. The Buckeyes still found a way to do enough.
At the end of the day, people will look at the score and miss the forest for the trees. Football is a game constrained by time which makes early leads feel more impressive than they are.
Ohio State was going to come back and win today if it had enough time. Just like Michigan State broke Wolverines' hearts last year.
The final statistics bear that out. It is a fate Alabama does not suffer from. The difference is the offensive line.
That takes time and why Harbaugh is still ahead of schedule.
This article originally appeared on