Michigan Football: Jabrill Peppers Legacy Incomplete After Ohio State Loss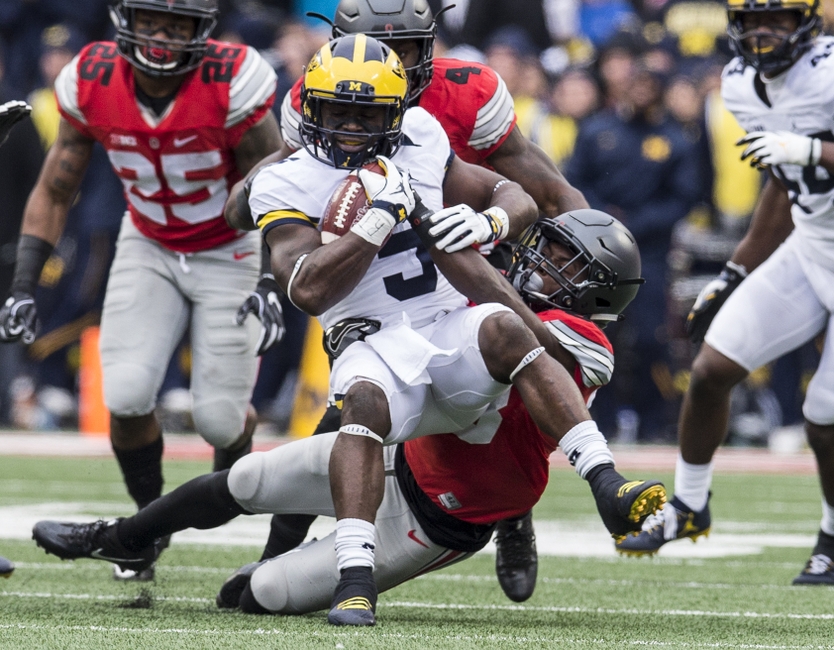 Jabrill Peppers has done a lot of great things for the Michigan football program. But one thing he has not been able to do, is help the Wolverines beat Ohio State.
Jabrill Peppers is not only a great player — he's an elite one. Yet as far as being a Michigan football legend, he has work to do.
After being on the field for another loss by Michigan football to Ohio State, one of the most painful in years, Peppers failed to do what Wolverine legends are required to — beat the Buckeyes.
And in two games against Ohio State, Peppers, an out-of-this-world talent, has a resume that leaves much to be desired.
In 2015 against the Buckeyes, Peppers made little impact. He notched some tackles, but made no real impact plays on defense. He also rushed for just 29 yards. The Wolverines lost 42-13.
Saturday in Columbus, Peppers played well. In fact, he made two huge plays for Michigan football.
The first came after Wilton Speight's pick six. With the Wolverines trailing 7-3, Peppers put together a scintillating return that got the ball out to midfield. From there, Michigan mounted its first touchdown drive of the game.
Then, early in third quarter, with Michigan football leading 10-7, he made his first career interception. The play flipped field position and helped the Wolverines build a 10-point advantage.
Unfortunately, that was the last impact play Peppers made. Too bad Michigan needed one more.
Peppers had the chance to make it too. On third down, in the second overtime, he had Curtis Samuel dead to rights for what would have been a big loss.
Michigan vs Ohio State Live Stream: Watch The Game Online
But instead of making the play or forcing him to the sideline, Peppers froze, apparently afraid of missing the tackle. Then, Samuel juked him and he lost his angle.
The misstep allowed Samuel to reverse field and after some poor tackling by some other Michigan players, he got within a yard of the first down. We all know what happened next.
Had Peppers made the tackle or just forced Samuel out of bounds, Ohio State would have faced a fourth-and-long or a long field goal attempt to force a third overtime.
Both of those scenarios would have been good for Michigan football. Instead, the Wolverines left Columbus with a loss, one of the most heartbreaking its ever suffered.
No one would blame Peppers for going pro. Heck, he is easily a top-10 pick. And really, there is no doubt that's one of the best players in the country or one of the best Michigan has had in years.
But if the measuring stick is a guy like Charles Woodson, then Peppers falls well short.
Peppers is a great player yes, but he's not a Michigan legend, at least not yet.
By coming back, beating Ohio State and maybe winning a Big Ten title, Peppers can change that, he can still write his legacy.
Cause now, he's won nothing and if he leaves, his Michigan career will always feel, incomplete.
This article originally appeared on