Michigan Football: Is Wilton Speight Up To The College Football Playoff Task?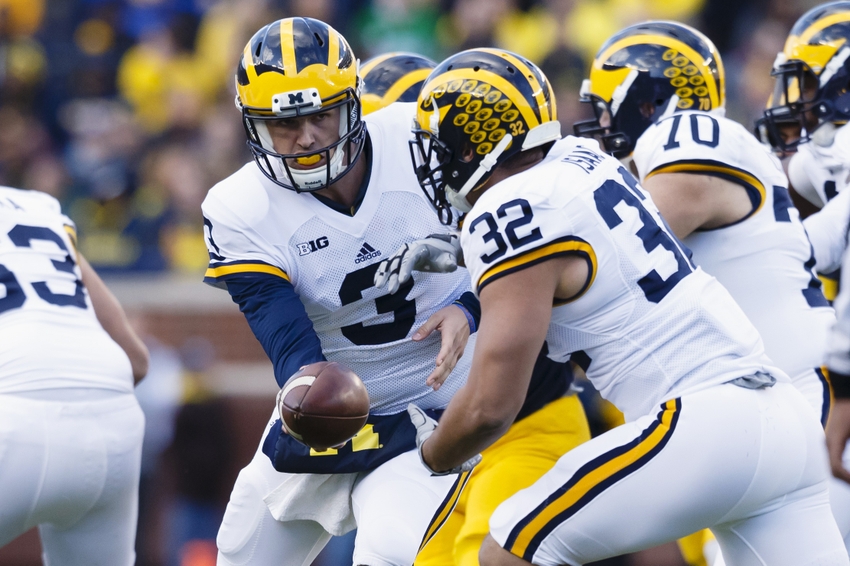 It's pretty clear now that Michigan football is in the College Football Playoff picture, but is Wilton Speight a quarterback who's at that level?
Since the latest college football rankings came out this week, which have Michigan football ranked No. 3, one thing has kept running through my mind. Well, actually two things.
The first was, "Sweet mother of God, Alabama is good!" But the second, more relevant thought is one that might, or should, be on the minds of all Michigan football fans: Is Wilton Speight capable of taking his team to the College Football Playoff?
Don't get me wrong. Speight has played well for Michigan this season. I mean, you can't do better than 6-0, right? Yeah, I get that. But when you look at the four teams at the top, does anything stick out to anybody else about this group? Here's a hint: It's the quarterback position.
Michigan Football Has Ridiculous Win Probabilities Rest Of The Season
Even in the college game, it's the quarterback who makes or breaks a team's season when the game, or season for that matter, is on the line. And by comparison, Michigan's signal-caller seems to lack some of the playmaking ability of the quarterbacks at the other schools in the top four.
You're familiar with these guys: Alabama's Jalen Hurts, Ohio State's J.T. Barrett, and Deshaun Watson of Clemson, all of whom have shown the ability to take a game over and put an entire team on their shoulders. Can Wilton Speight do that? I'm not sure.
I know, I know. Defense wins championships, and no one has a better one than Michigan. But at some point over the last few weeks of this season, especially if it finally starts to get cold here in the Midwest, one or two of these remaining games is bound to be a nail-biter.
And with that defense keeping the Wolverines in the game, a championship-level team should always be able to count on their quarterback to make a clutch play, a huge play, when the game is on the line.
Is Wilton Speight up to the task?
This article originally appeared on