Michigan Football: Is Wilton Speight Heisman Worthy?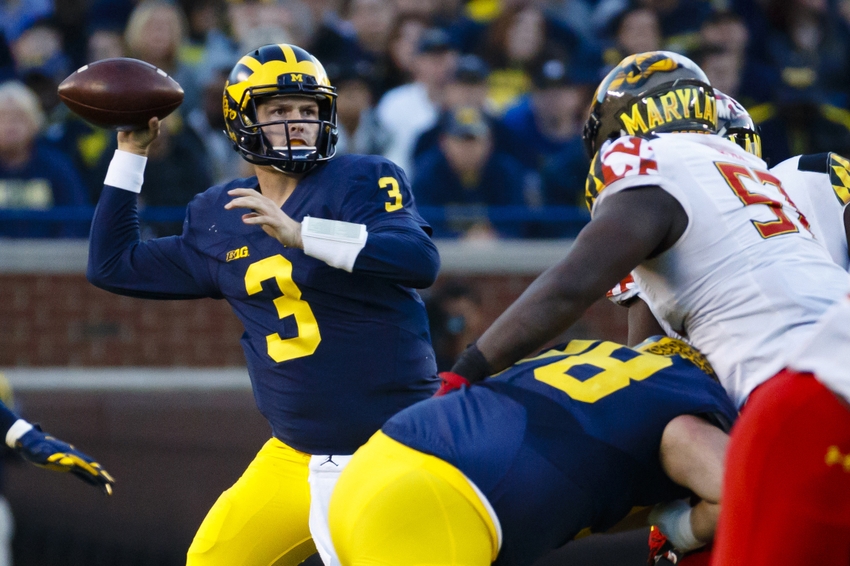 One of the great stories this season for Michigan football has been the play of quarterback Wilton Speight. But is he playing well enough to be a Heisman Trophy candidate? Jim Harbaugh says yes.
The Michigan football team pulverized the Maryland Terrapins Saturday at the Big House, 59-3. Yet, the most impressive number from the game, was Wilton Speight's stat line.
Against the Terps, Speight continued his recent trend of getting better by game and this was arguably his best so far. The first-year starter was 19-of-24. He threw for 362 yards (293 in the first half) and scored three total touchdowns (one rushing).
Simply put, Speight was dynamic. Admittedly, that's not a word I thought I'd be using when it came to the redshirt sophomore, but boy, has he proven me and many others wrong.
His ability to push the ball downfield is critical for Michigan football. And if the Wolverines are going to cash in on their championship aspirations, he will need to play a key role.
Well done, Wilton. What a game. 👊#GoBlue pic.twitter.com/hKEyr8odB8

— Michigan Football (@UMichFootball) November 6, 2016
So that's beg the question, if Speight keeps putting up monster numbers, adding to his solid season numbers of 228 passing yards per game, a completion percentage of 64.5, 15 touchdowns and just three interceptions, could he have a chance?
Here is what head coach Jim Harbaugh had to say yesterday about his potential candidacy:
"They might want to also look at the quarterback too," He said when asked about trying to get offensive chances for Peppers to improve his stock."The way he's been playing all season, it's time to throw his hat into the ring."
It's certainly an interesting statement. But it's probably too late for Speight to have a chance, in 2016 anyway.
Speight has good numbers, but you need gaudy stats to win the Heisman. Certainly, a great run at the end of the season, with wins over Ohio State and in the Big Ten title game would help, but it's still a stretch.
What's not a stretch, is his candidacy next year. Think Matt Leinhart.
Leinhart quarterbacked a great USC team to a championship, but he didn't get much pub that year until it was too late.
That's kind of what's happened to Speight. But if Michigan football finishes strong and he's a reason why, expect him to command immediate attention in the race next season.
This article originally appeared on