Michigan Football: How's D.J. Durkin Doing At Maryland?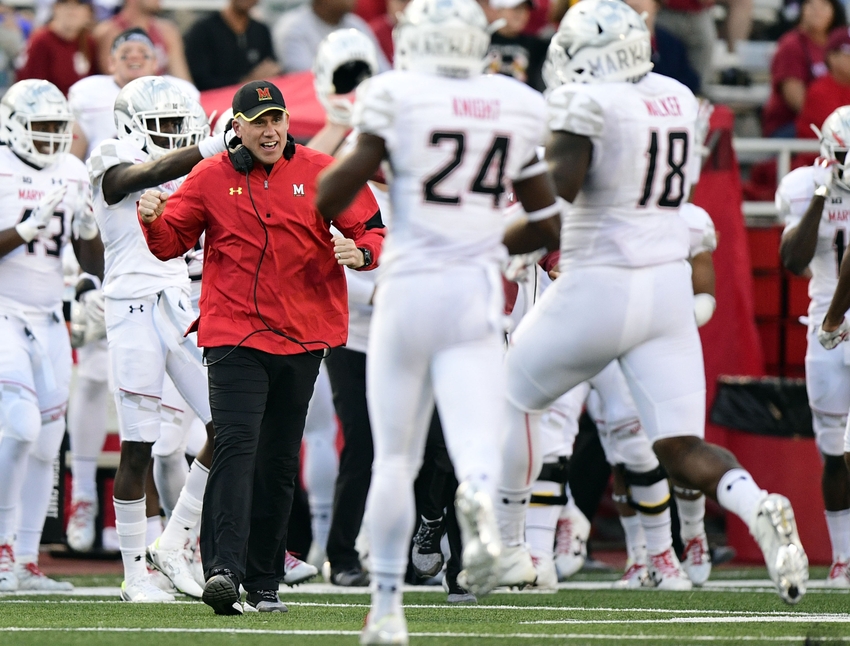 D.J. Durkin blessed the Michigan football sideline last season as defensive coordinator. Now he's the head coach at Maryland. How's he doing so far?
One of the most important hires Michigan football head coach Jim Harbaugh made in the offseason leading up to his inaugural season in Ann Arbor was defensive coordinator D.J. Durkin.
Durkin, who played defensive end and outside linebacker at Bowling Green, spent four years at Florida in a number of positions before being lured away by Harbaugh to join his staff. One of the titles he earned at Florida: interim head coach.
Durkin took over for Will Muschamp, who stepped down after the regular season, and coached the Gators to a 28-20 win over East Carolina in the 2015 Birmingham Bowl. Four days later, Michigan announced the hiring of Durkin, the first coach to join Harbaugh's staff.
Under Durkin, Michigan's defense finished the 2015-16 season ranked No. 4 in yards allowed per game (280.7), No. 6 in scoring defense (16.4 points per game), No. 11 in rush defense (116 yards per game), No. 3 in pass defense (158.5 yards per game), and No. 3 in third-down defense (27.6 percent).
Michigan Football is in Perfect Position to Make College Football Playoff
Michigan lost three coordinators after the conclusion of the regular season, and one of them was Durkin, who was announced as Maryland's new head coach on Dec. 2.
The other two were secondary coach Greg Jackson (hired by the Dallas Cowboys) and special teams coach John Baxter (hired by USC).
With 11 months and eight games under his belt, how's Durkin doing with the Terrapins?
For what it's worth, it took Durkin three games to match Maryland's win total from last season. And then it took him a fourth to pass it. The Terrapins are 5-3 with wins over Michigan State and Central Florida.
"He's done a fabulous job," Harbaugh said on Tuesday. "I've just always respected D.J. as a tremendous competitor at the highest level. I smile thinking about his competitiveness and also always happy for a friend's success."
Maryland missed out on a bowl game last season and hasn't won one since the 2010-11 season. An upset against the Wolverines on Saturday would make the Terrapins bowl eligible.
"Durkin's coaching genes are on display," said Jerry Brewer in a Washington Post column.
Maryland's initial depth chart for its season opener against Howard included one freshman: Wade Lees, the punter. Last Saturday, against Indiana, the Terrapins had three more freshman starters, and 15 true freshmen are being regularly incorporated.
Whether the biggest surprise so far this season is an offense that's scoring 32.6 points per game (No. 4 in the Big Ten), a defense that's allowing 23.3 points per game (No. 8), or a quarterback in Perry Hills who's flipped himself around to become the Big Ten's most efficient passer, this Maryland team has taken some significant strides forward under Durkin.
A major shortcoming for Maryland has been its run defense. The Terrapins are allowing 220 yards per game on the ground. Only Rutgers and Purdue have been worse this season. (On the flip side, Maryland's ground game has been exceptional, averaging 252 yards per game.)
That's perhaps the No. 1 reason to be skeptical of a Maryland upset in Michigan Stadium this Saturday.
But it's Year 1 for Durkin, not only at Maryland but for his head coaching career.
The Terrapins have a schedule nobody envies for the next three weeks: at No. 3 Michigan, vs. No. 6 Ohio State, and then at No. 10 Nebraska. Maryland finishes the regular season at home against Rutgers, making a sixth win and bowl berth more likely, but not a sure thing.
Durkin wasn't at Michigan for a decade; his ties to the program aren't deeply rooted. But the program does owe him something for being Harbaugh's first (and perhaps best) first-year assistant coach.
Harbaugh summed it up pretty well Monday on his radio show.
"We pull for him, he's been an ally."
This article originally appeared on