Michigan Football: Getting to Know the Ohio State Buckeyes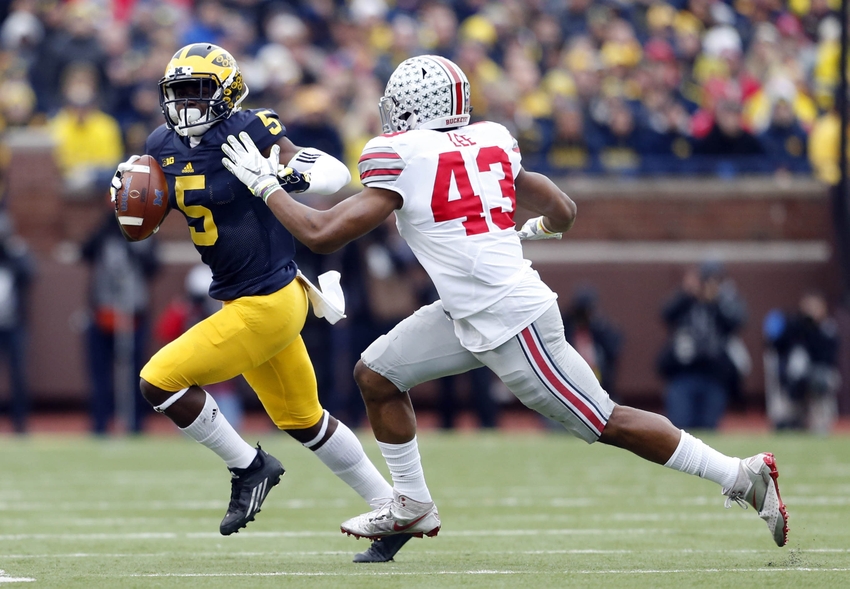 Michigan football and Ohio State will battle it out Saturday in Columbus, in what amounts to a CFB Playoff elimination game.
Hate Week is upon us! Michigan football travels to Columbus for the most meaningful iteration of The Game since 2006 as a 6.5 point underdog. As everyone has heard by now, a Wolverines victory ensures their first berth in the Big Ten Championship Game and a Michigan loss ensures Penn State a berth given they manage to beat Michigan State; if not Ohio State gets the opportunity.
Basically, Michigan football just needs to win.
The last two weeks have not inspired a lot of additional confidence in Michigan's ability to do that, but here we are.
Ohio State is a wildly talented, inexperienced, senior-quarterbacked, Urban Meyer-coached team, so they've predictably reached some dizzying heights while also tossing out some clunkers this season. There'll be time to dive deep into their team and individual stats and performances, so consider this a cursory getting to know you type post.
Key Big Ten Games Week 12: Effect on the Conference
Ohio State smoked Oklahoma in Norman 45-24 and stomped Nebraska 62-3 (!!!). They lost to Penn State at home and then squeaked one out against Northwestern 24-20. They were outgained in a game they won by a point last week because of Mark Dantonio's ill-fated two point conversion attempt.
All of that is kind of inscrutable, but any collection of stats will tell you the Fightin' Urbans are a damn good team on the whole: they're ranked behind only Alabama and Michigan in Football Outsiders' overall S&P+, 14th on offense and 7th on defense. We can safely assume that the Buckeyes are going to be on on Saturday, and they'll be every bit as scary as those scores and numbers suggest.
JT Barrett has thrown for 2305 yards, 24 touchdowns, and only four interceptions. He's averaging over seven yards an attempt and completing 63.4% of his passes. Add to that his 722 yards and eight touchdowns on the ground and you've got another All-American caliber season.
His stats do sort of belie the fact that he's still not a terribly accurate thrower and–even with all the talent OSU has on the edges–has a tendency to airmail passes. He doesn't shake easily though; the defensive line is going to basically have to sack the dude twice to bring him down based on what I've seen from Barrett this year. Another unfortunate fact? At 6'2, 225, he's bigger than Jabrill Peppers, who will hopefully spend a good chunk of the game around the line of scrimmage.
Flanking Barrett will be redshirt-freshman running back and bolt of lightning in cleats Mike Weber. He's run for 1,046 yards and eight touchdowns on 6.3 YPC. He and Curtis Samuel spend a lot of time in the backfield together, but Weber isn't really a threat to catch the ball.
He's probably the best runner Michigan football has faced this year, which is disconcerting given the team's performance against Iowa. Weber is going to test the edge all day, and it seems like McCray and company are going to have a long day.
Of course, when he and Barrett don't get the ball, chances are Curtis Samuel will end up with it. Samuel's numbers are kind of jarring: 650 yards on the ground at 7.7 YPC and 61 catches for 790 yards. Fourteen total touchdowns. He's their third leading rusher and leading receiver and the closest thing to Percy Harvin that Urban Meyer has had at OSU.
He lines up in the slot, on the outside, and at running back. Meyer can plug him in pretty much anywhere and create a matchup problem for the opposition. Again, the linebackers are going to have a long day. They love this play, which is like an inverted veer but reverted to include a lead blocker in Weber:
The backfield is going to be a problem no matter who actually ends up with the ball.
Noah Brown and Dontre Wilson are the next two leading receivers, both rangy athletes that can catch the ball in traffic.  Brown has 27 catches for 345 yards and seven touchdowns while Wilson has 26 catches for 343 yards and five touchdowns.
Both of those guys are true threats against most teams, but Jourdan Lewis and Channing Stribling should be able to stick with them effectively.
The vaunted Ohio State defense has cooled a bit from their torrid start, but they're still a top unit nationally. They're only surrendering 279 yards per game and have a staggering twenty two turnovers (seventeen interceptions).
They're 7th in defensive S&P+, fifth in passing and fourth in rushing.
Raekwon McMillan paces the team in tackles with 71, followed by Jerome Baker and Malik Hooker with 64 and 60, respectively. Hooker has had himself one hell of a season, adding five interceptions to go along with his 60 tackles. He's going to be all over the field on Saturday.
Gareon Conley is going to be out on the edge working against Amarah Darboh and that sucks for Darboh. Conley is a first round talent and has been shut down corner all season. Michigan football is going to have a hell of a hard time throwing the ball whether Wilton Speight plays or not.
Tyquan Lewis is going to make throwing even harder as he'll be in the backfield at least a few times. The junior DE has 10 tackles for loss and 7.5 sacks this season. This, predictably, is a big, fast defense that Greg Schiano has coached to new heights this season.
This article originally appeared on