Michigan Football: Get To Know The UCF Knights For Saturday's Game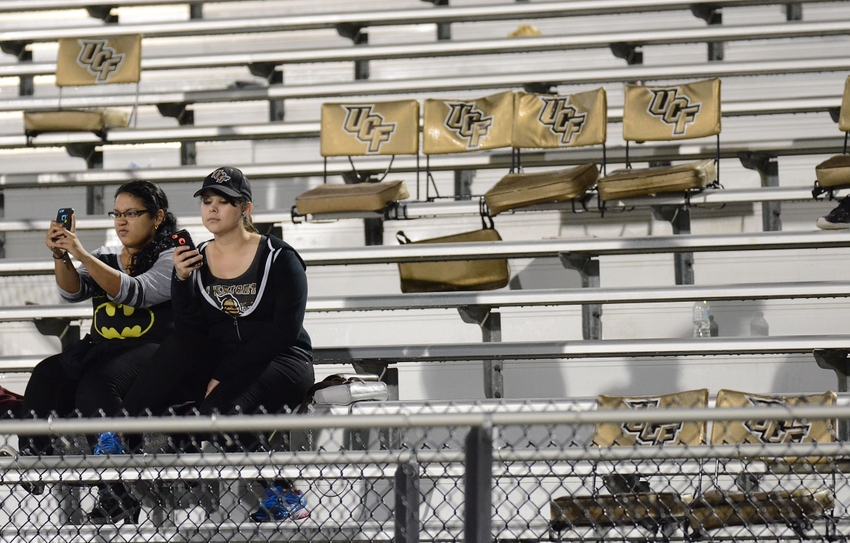 The UCF Knights didn't win a single game last season, but with a new coaching staff and better offense, Michigan football can't brush this one off.
The first thing everyone knows about the UCF Knights is that they didn't win a single game last season. The second thing you need to know—and this is important for Michigan football's defense—is that the Knights spread you out and move quickly.
UCF's offense is led by senior quarterback Justin Holman, who had a pretty good 2014 season with 2,952 passing yards and 23 touchdowns, but he fell completely off the boat last season, completing only 50 percent of his passes with a touchdown-interception ratio of 1:2.
Now under the supervision of first-year head coach Scott Frost (offensive coordinator at Oregon from 2013-15) and first-year offensive coordinator Troy Walters, Holman will have a chance to end his collegiate career in an offense that scores a lot of points. In UCF's season opener against South Carolina State, the Knights ran 91 plays on offense, incorporating a lot of read-option looks. The last time UCF ran that many plays in a game was back in 2002.
More: Game balls for Michigan's win over Hawaii
UCF has a nice mix of run and pass, and it uses a number of tailbacks to keep the attack moving. Many of those backs are young: three true freshmen got carries against SC State, along with a true sophomore. Those four combined for 54 percent of the workload and gained 117 of UCF's 197 yards.
It would be a stretch to call UCF's passing attack prolific, but the Knights do spread the ball around; 12 players had at least one reception against SC State. The favorite of them was redshirt sophomore Tre'Quan Smith, who had four catches for 65 yards and a touchdown.
While the Knights' offense is relatively young and entering a fast-paced offense that could produce 50 points or 13—that's just the nature of a fast-pace offense in its efficiency—UCF has a defense that's probably going to give Michigan at least a little trouble on Saturday.
The Knights looked good against SC State, forcing three turnovers and recording their first shutout since 2014. UCF looks especially good in the secondary, where senior cornerback Shaquill Griffin already has an interception and pass break-up to his name.
Griffin's identical twin brother, Shaquem, plays outside linebacker in the Knights' 3-4 scheme. He made six tackles, including a sack, in his first start last week. (Shaquem Griffin only has one hand  after having the fingers on his left hand amputated when he was 4 years old.)
Where the Knights do lack on the defensive side of the ball is on the line, where three starters were lost a season ago. Junior nose guard Jamiyus Pittman is the most chiseled of the lineman this season (he had one tackle against SC State), but that's an area where Michigan could really poke holes and take advantage.
This article originally appeared on