Michigan Football Drowns Hawaii: Parting Thoughts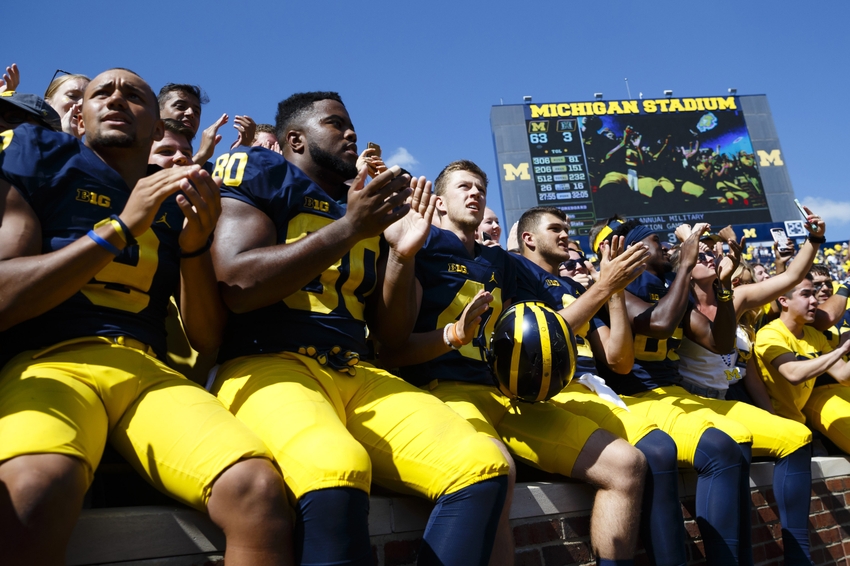 It was one of the most lopsided wins in Michigan football history, and it's hard to find anything negative in the Wolverines' performance.
Most Michigan football fans probably can't wait until next week at this point for a chance to run up the score again—this time on poor, old Central Florida—but now that we've had a night to drink a beer or two and sing "Hail to the Victors" a few thousand times, we should take one more look at yesterday's game in the sober light of day.
What did we really learn in Michigan's impressive win yesterday?
I cannot lie to you: Hawaii wasn't very good. Maybe its ill-advised travel schedule for the first two weeks of the season was a big factor. But, come on, Hawaii looked out-manned and out-gunned. I didn't exactly feel sorry for them, but… OK, I did a little. At some point in the fourth quarter, the game stopped being much fun.
And if Hawaii was just a little underwhelming, what did we learn about this year's Wolverines?  They were at home, after all, with the usual 100,000-plus in attendance (110,122 to be exact). The freshmen were hearing the roar of the fans at the Big House for the first time, something that true freshman running back Chris Evans said after the game was a factor in his play. And the team was riding the wave of its out-sized expectations. In other words, they were feeling good about themselves, and it showed.
I agree with everything I've read about Wilton Speight as the new starting quarterback. He looked good. No question. After the opening pick, he settled down immediately and looked like the leader he needed to be.
I liked Jabrill Peppers, too. I wondered how he would adjust to his new roles on defense, and he looked as though he's going to be just fine. He looked to me, in fact, as though he's headed to the NFL draft sooner rather than later.
The defense? They were everything they were expected to be—and then some. No surprises there. Michigan won without the services of All-American cornerback Jourdan Lewis and defensive tackle Maurice Hurst, who were said to be resting minor injuries. Even without those two, the defense looked exactly the way we were expecting it to look. And I suspect that defensive coordinator Don Brown held back a few of the blitzing schemes that are sure to be part of the playbook in the future.
The offense? Here's where I thought I noticed a surprise or two. DeVeon Smith and Ty Isaac were projected to be—heck, they're still projected to be—the workhorses in Michigan's running game. And then, behind them, we were hearing about Khalid Hill, who, for the record, had only one carry yesterday and gained four yards. Frankly, Smith and Isaac weren't all that impressive either. They went six for 30 and nine for 52, respectively. Weren't we expecting a little more than that?
So, the big story on offense, in addition to Speight,  had to be Evans, who led all running backs, going eight for 112. His exciting runs (one of them a dive for a touchdown) brought back memories of Denard Robinson, and I have a feeling we'll be seeing a great deal more of Evans in the weeks to come.
I have been counseling a lowered-expectations approach to this season. And after yesterday's game, it's even harder to keep expectations under control. We learned a few things against the Warriors, some really encouraging things, but Michigan's going to be playing some tougher competition soon enough. I'm looking at Oct. 28 with Michigan State on the road for what may be the first reality check.
In the meantime, bring on Central Florida.
More from GBMWolverine
This article originally appeared on