Michigan Football Being Rewarded By Late Bloomers It Played Early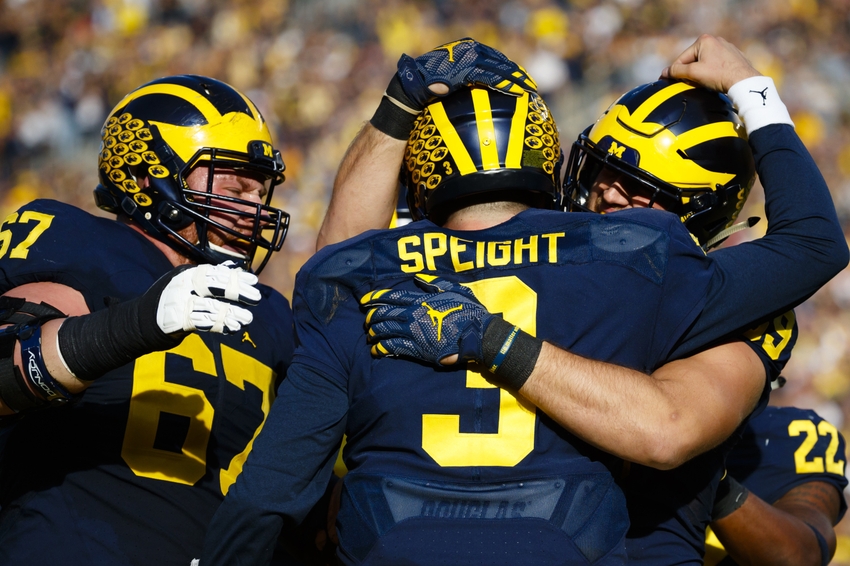 You might look at Michigan football's schedule and see only one win over a ranked team, but the Wolverines have retroactively gotten more help than that.
I'm looking at Michigan football's schedule right now on ESPN.com, and I only see one win for the Wolverines over a ranked team: No. 8 Wisconsin.
That's obviously not something Michigan has a lot of control over, but you can imagine it making an impact should the Wolverines lose one of its next three games—or the Big Ten title game. In a way that's flying in the face of what we expected to see this season, Michigan is being retroactively assisted by teams like Colorado and Penn State that are ranked in the top 15 in the College Football Playoff rankings.
So as the Nittany Lions (7-2) and Buffaloes (7-2) keep winning, so too does Michigan.
I understand this is a tricky game to play—we don't often assign extra value to wins over teams that turned out to be busts—but it's a practice that makes sense, especially in moderation.
Michigan Football: The Wolverines Offense is Better than Expected
We can make two assumptions in these situations, and they don't need to be divorced from each other.
We (including the polls) simply overlooked and underrated these teams (Penn State and Colorado in this example) early in the season.
Teams like this are getting better throughout the season.
The second point demonstrates why it might be a little foolish to say Michigan beat a 15th-ranked Colorado in the middle of September. It's been almost a full two months since then. The same applies to the Nittany Lions, who Michigan beat a week later.
But the first point takes precedence in most cases because it's so often true in sports: We're generally not great at assessing teams and players in the preseason and even early in the season. It's just a fact. Take this for example: Six of the top 12 teams in the preseason AP poll weren't even ranked in the most recent update.
Few people were making the claim that Michigan had a quality win on Sept. 17 when it beat Colorado, and there were probably fewer saying the same thing about Penn State the next week.
It's November, though. The college football landscape gets a little clearer each week, and Colorado and Penn State are teams that certainly belong in at least the top 20. (I think Penn State's 41-14 win over Iowa last weekend silenced some critics who said the polls were overreacting to its win over Ohio State.)
Colorado is the team that may end up giving the most to Michigan, even though Penn State can be assessed within the lens of the Big Ten.
The Buffaloes lost to USC on Oct. 8, three weeks after losing to Michigan. They've been on a three-game winning streak since, and two of the last three games on the schedule are against ranked opponents: No. 25 Washington State (Nov. 19) and No. 16 Utah (Nov. 26). If Colorado wins out, it'll represent the Pac-12 South in the conference championship game, likely against the winner of Washington-Washington State.
It's a long shot, but imagine Michigan having a win against a Power 5 conference champion. The ESPN Football Power Index only gives that about a 27 percent chance of happening, but it's in the cards.
This is a long-winded way of saying Michigan has wins over more quality opponents than what appears to be immediately obvious. The Wolverines beat Colorado and Penn State by a combined score of 94-38, and now they're both surging in the polls.
It's definitely ironic that a win over Penn State is doing Michigan a lot more good this season than a win over Michigan State.
This article originally appeared on