Michigan Football: 3 Reasons the Wolverines Can't Overlook Indiana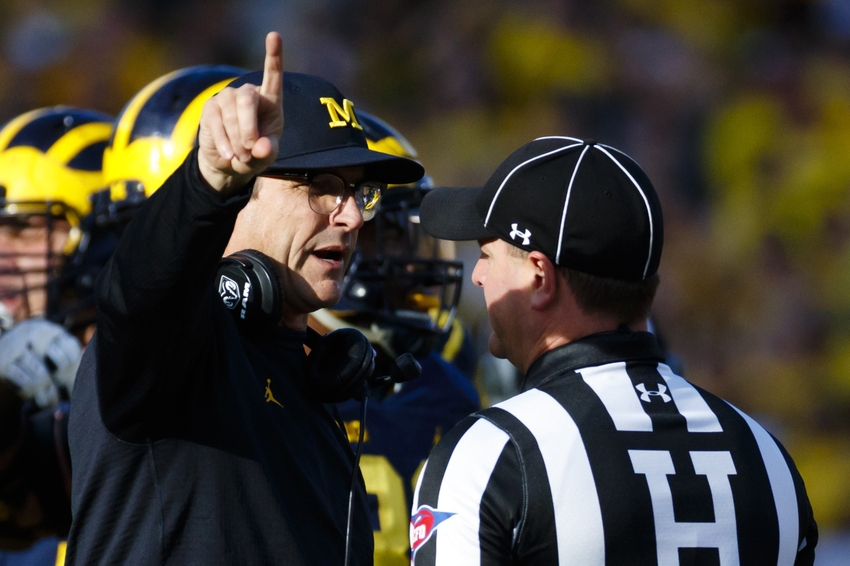 The Michigan football team can't afford to overlook Indiana this week and here are three reasons why.
Just when you thought the Michigan football team had things on cruise control, Iowa happened.
We should have known Michigan would have a tough time against the Hawkeyes. And in truth, beating Iowa, in Iowa City, in November, is never easy. Even for the best of teams.
But Michigan football, especially, has had trouble there. Like in 2011, when the Wolverines Big Ten title hopes went up in flames In Iowa City, thanks to a loss to an Iowa team that really wasn't that good.
But, the Iowa game is over. Michigan football has other fish to fry, starting with the Indiana Hoosiers, who will invade the Big House Saturday.
This game was always going to be important. But now, it's taken on even greater importance.
After ranking third in the latest edition of the College Football Playoff Rankings, Michigan is in a prime position to earn a playoff berth. The Wolverines simply need to win out.
However, that's going to be easier said than done, especially with the Ohio State Buckeyes looming. That means this game against Indiana is a must-win and not just when it comes to the Wolverines national title hopes.
But, beating Indiana may not be as easy as we once thought. Sure, the Hoosiers aren't world-beaters, but they are a solid team and they are fighting for bowl eligibility.
Whatever happens, Michigan can't afford a slip up and here are three reasons why it must take this game seriously.
The Wolverines have plenty to lose 
The Michigan football fan base has been re-energized these past two seasons with the Wolverines contending in the Big Ten and on the national stage.
Yet, a loss to Indiana could undo a lot of what Michigan has achieved this season. Last year's 10-3 mark was outstanding, but if UM is going to break into the ranks of the elite it has to win this game.
For one, a loss would probably eliminate UM from the playoff race, although maybe not entirely. It would also force Michigan to get help from Penn State, plus a win over OSU to win the Big Ten East.
Right now, Michigan controls its own destiny in the Big Ten and the race for the College Football Playoff and it needs to keep it that way.
Yet, those aren't the only things Michigan could lose with a loss to the Hoosiers. If the Wolverines lost to Indiana and Ohio State to close the season, that would be three straight losses and it would likely cost the team a New Year's Six bowl.
Beat Indiana, and Michigan will finish no worse that 10-2 and will play in major bowl, maybe even the Rose Bowl.
Indiana is a decent team, with a very good offense
Indiana isn't a great team, but the Hoosiers aren't bad either and the one thing they can do, is move the football.
In terms of yards per game, the Indiana offense averages 467.3, which ranks 3rd in the Big Ten behind only Ohio State and Michigan. The Hoosiers are also fifth in the league in scoring, with an average of 27.3.
Indiana may have just two wins in the Big Ten, beating Michigan State and Maryland, but they were competitive against Ohio State, Nebraska and Penn State into the fourth quarter.
Hoosiers quarterback Richard Laglow leads the offense and averages 286 yards passing yards a game, which is good enough for second in the conference.
Indiana also has three dynamic receivers in Mitchell Paige, Ricky Jones and Nick Westrbook. All rank in the top seven in the Big Ten in receptions per game, while Westbook is second in the conference in receiving yards with 793 and Jones (716)  is sixth.
Yet, Indiana can also run the football as running back Devine Redding is sixth in the league with 901 rushing yards. He also has five touchdowns.
Certainly, Indiana hasn't played a defense like Michigan's, but depending on the Wilton Speight situation, the Wolverines may not score as many points as usual.
Which means Indiana could hang around in this one. It also brings me to my next point.
Can John O'Korn play well enough to keep the offense going?
No matter what Jim Harbaugh says about the conflicting injury reports surrounding Wilton Speight, I think we will all be shocked if he's on the field Saturday.
Right now, it looks like John O'Korn will be the presumed starter for the rest of the season. And although, I advocated for O'Korn to start in the offseason, who knows how he will handle this situation.
There is no doubt that O'Korn can play. He was freshman of the year at Houston a few years back. But this is a much different situation.
This Michigan football team has a legit change at winning the Big Ten and if it does that, it will be in the playoff. A lot of that now depends on how O'Korn plays.
If he comes out and has a good showing against Indiana, Michigan should win and fans everywhere can rest easy for a week.
If not, Saturday's game could get tricky, which is the last thing you want as a Michigan football fan.
This article originally appeared on