Michigan Football: 3 Important Takeaways from Maryland Win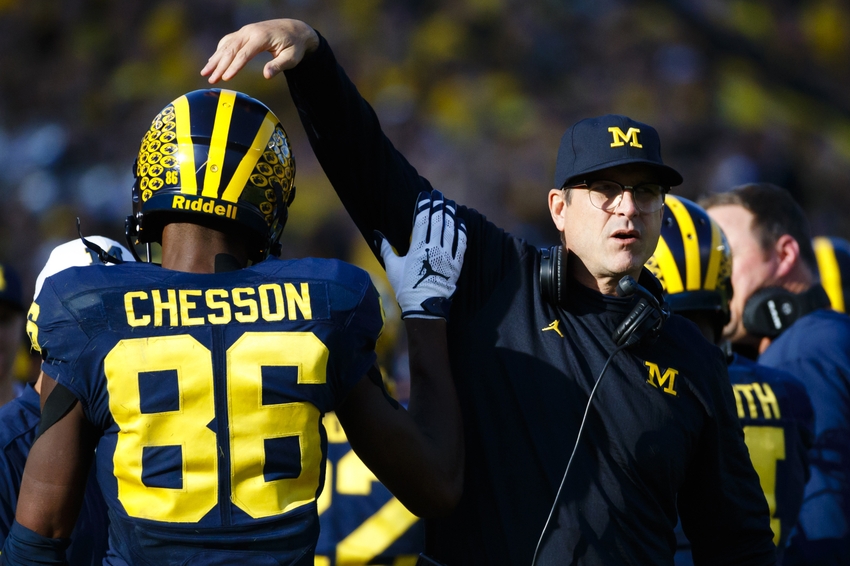 Michigan football earned its ninth win of the season and tenth overall by crushing Maryland 59-3 Saturday at the Big House. Here are three takeaways.
Michigan football pasted Maryland 59-3 today in Ann Arbor. It goes without saying that the Wolverines played well. 56 point wins against bottom dwellers in the Big Ten (and Maryland is that) do not yield the deepest of insights.
The Wolverines controlled the game from start to finish and continued their march towards a season-ending showdown with Ohio State.
Like many of Michigan's games this season, Saturday's win wasn't ultra competitive. That makes it hard to really learn anything, but at any rate, here are three takeaways from the Wolverines easy win:
Harbaugh is Magic for Quarterbacks
Wilton Speight threw for 292 yards today. Not a bad game. Oh, he did it in the first half? That is the best first-half performance in Michigan history. Any number you use to evaluate quarterback performance, Speight is at or near the top of the Big Ten.
Well done, Wilton. What a game. 👊#GoBlue pic.twitter.com/hKEyr8odB8

— Michigan Football (@UMichFootball) November 6, 2016
The redshirt sophomore has had a more consistent season that J.T. Barrett at Ohio State, thought to be the best QB in the conference in the preseason. He has been impressive as part of a balanced attack and most importantly, he has done it when the running game was stuck in neutral.
UCF forced Speight to beat them himself. He did. Wisconsin yielded little on the ground. Wilton threw a perfect bomb from midfield to break the tie in the fourth quarter.
He is making strides every week as a QB reminiscent of what Rudock did last season. It is hard to remember when media was touting the QB situation as Michigan's biggest question mark during the summer media day.
The Defense Wasn't as Good as the Score Suggests
Michigan football gave up just three points which would hint at a dominating effort. The defense was good but there were flashes where last week's disappointing effort cropped up again.
Down 14-0, Maryland's offense moved the ball all the way to the Michigan one yard line before penalties pushed the Terps back for a 29 yard field goal that was missed. Maryland attacked Michigan on the edges on the drive and was successful.
Another dominant performance in Ann Arbor. Check out the Michigan vs. Maryland highlights ⬇️. #GoBlue https://t.co/rq9MVE8uk6

— Michigan Football (@UMichFootball) November 5, 2016
;
The defense struggled to tackle in open space. Defensive back Channing Stribling provided the worst example. One-on-one DJ Moore evaded Stribling without being touched to convert on third down.
Maryland was also tackled at the one yard line on the final play of the half. The Terps had 367 yards of offense and that means UM has given up around 800 yards in the past two weeks.
It is not often that 800 yards results in only 26 points. It should be mildly concerning to Michigan fans that there is a possibility that evens out. Over the course of a season it usually does.
How Good is Michigan?
It is obvious the Michigan football team talented. Visions of a national championship are dancing in the forefront of fans' minds. Another rout and one has to wonder if things have fallen right or is Michigan possibly the country's best team?
Michigan destroyed Penn State but they were starting walk-on practice squad members at middle linebacker. The Nittany Lions had lost to Pitt already, giving up 40+, and nearly threw a game away against Temple the week before visiting The Big House. Michigan obviously got Penn State at the right time.
Wisconsin came to Ann Arbor on the latter half of consecutive Big Ten road games. They didn't play well offensively. If the schedule were different could the results of a tight game have changed?
Michigan State's year has collapsed beyond anyone's wildest dreams. What was thought to be a tough road test in East Lansing at the inception of this year doesn't seem particularly impressive now.
Alabama, Clemson, and Washington have not had things align so perfectly. Does that mean something in the case UM faces those squads in the College Football Playoff?
Honorable Mention
Congratulations to Jake Butt. The senior tight end broke the Michigan career receiving yards record for his position. He has had an outstanding career wearing the Maize and Blue. It is a testament to his abilities that he isn't taken for granted.
This article originally appeared on