CFB AM: Michigan donor buys 2,000 shirts to help students get AD fired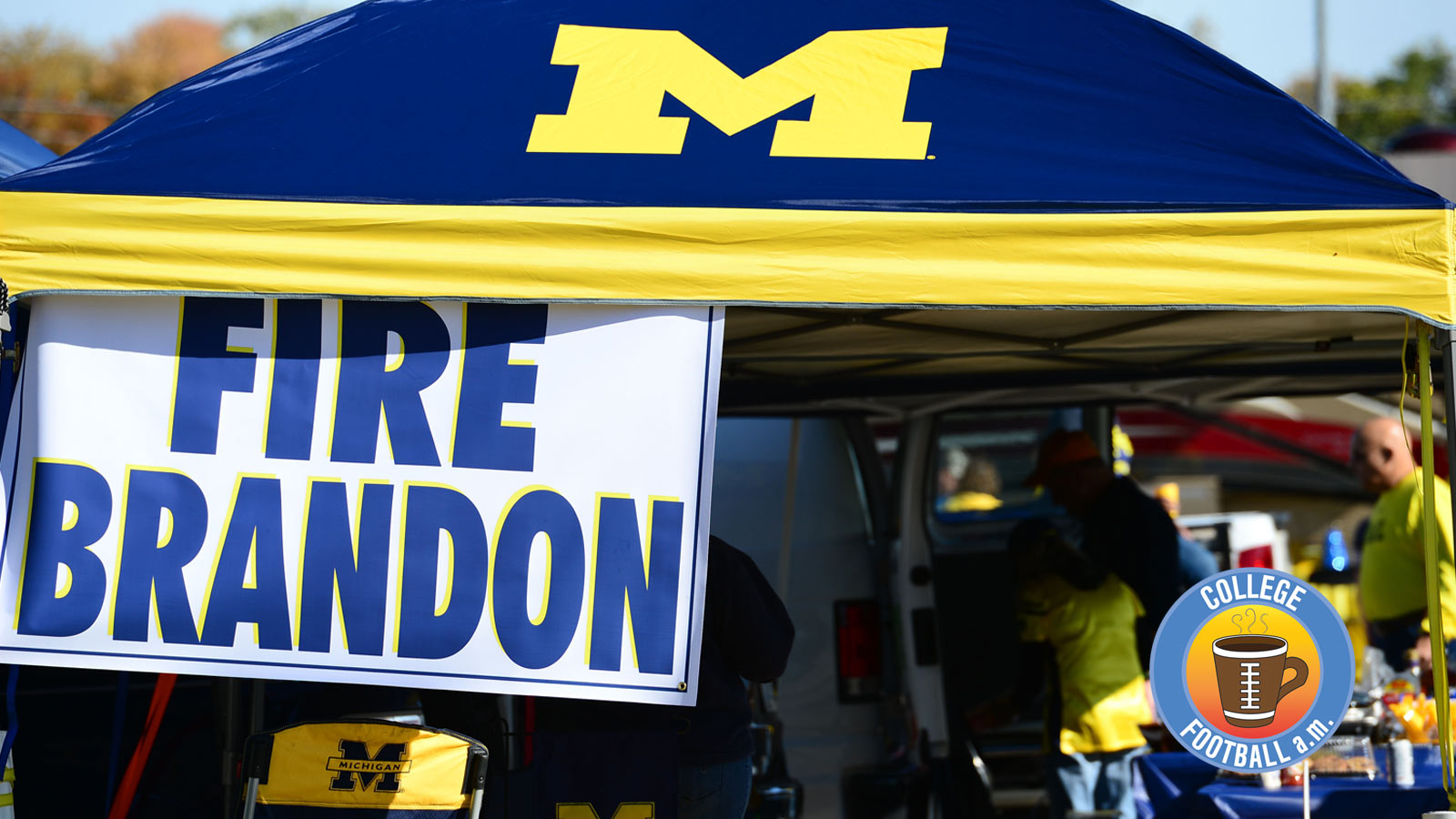 Michigan coach Brady Hoke has taken a lot of heat this season for the Wolverines' struggles, and he's not alone.
Athletic director Dave Brandon's job is in the crosshairs as well, and now the temperature inside his own home is turning up.
A Michigan donor has reportedly purchased 2,000 #FireDaveBrandon T-shirts for students to wear this Saturday when the Wolverines host Indiana.
Senior Craig Kaplan, who led a "Fire Brandon" protest on campus in September, said he was contacted by the donor, who wanted to remain anonymous, and the shirts will be distributed to student organizations this week. The goal is to have enough of the student section wearing them at the game this weekend that the message is visible on TV.
"We support the team. That's the crucial part," Kaplan told the Michigan Daily. "We want to see the best for them. Dave Brandon is not the best for them. That's the message we're trying to get across."
More Kaplan: "The Athletic Department routinely deflects responsibility. You see that with the Shane Morris case, you see that with the Brendan Gibbons case. (Brandon) has his priorities completely off the wall. I think everyone deserves the ability to have a second chance. Unfortunately, he's on his fifth or sixth."
Here's a look at the T-shirt:
A donor has purchased 2,000 #FireDaveBrandon T-shirts for students to wear Saturday: http://t.co/cz5YM90D42 pic.twitter.com/gF1d4zdUyY

— Alejandro Zúñiga (@ByAZuniga) October 26, 2014
THREE THINGS YOU NEED TO KNOW
1. Our latest FOX Four rankings came out Sunday night, with Oregon moving up to No. 3 and Alabama returning to the playoff field at No. 4. Notre Dame, No. 8 in our top 10, continues to be the most divisive team among the committee members, with votes ranging from No. 3 to outside the top 10. I can't wait until Tuesday evening when the committee releases its first top 25 poll. It's going to be a complete mess no matter how the teams line up, which will make for a lot of fun debate through the remaining month-plus of the season.
2. Speaking of polls, the latest AP Top 25 dropped Ole Miss from No. 3 to No. 7 after it lost at LSU (and bumped LSU from 24th to 16th), and the new coaches poll dropped the Rebels to No. 9. One other note about the coaches poll: It currently has three SEC teams in its top four. I can only imagine all the fans outside the South getting cold chills right now at the mere thought of three SEC teams getting into the playoff, even if any scenario where that actually happens is pretty much unfathomable.
3. After Michigan State's beatdown of Michigan on Saturday, Mark Dantonio addressed the Wolverines planting a stake in the Spartans' field before the game and acknowledged his team tried to score an extra touchdown at the end of the game to rub it in. Here's video of Dantonio's postgame remarks:
I love Dantonio's honesty here. It's not really surliness or even tough talk, but rather just a matter-of-fact statement. Michigan State is tired of being treated like an inferior opponent, especially when they've owned Michigan in Dantonio's time in East Lansing. On Sunday, Wolverines coach Brady Hoke apologized to Dantonio and MSU for the stake-planting thing.
THREE THINGS YOU SHOULD KNOW
1. This is great: TCU's revamped offense has been so explosive this weekend that in the process of scoring 82 points against Texas Tech last weekend, the Horned Frogs blew through the supply of celebratory fireworks for the entire season. What are they going to do when they score points in their final two home games of the year? Bottle rockets? Sparklers?
2. I'm not a gambler, but I wouldn't be a good friend if I didn't relay this information to you: Vegas Insider currently has Texas Tech as a 24.5-point favorite over Texas this weekend. Did Vegas' TVs not get the TCU game this past weekend? The one in which, you know, the Red Raiders gave up 82 points? Get it while the gettin's good, you degenerates.
3. Some unfortunate news for USC: The Trojans lost left tackle Chad Wheeler for the rest of the season after he tore his ACL against Utah. Apparently Wheeler tried to play another seven or eight plays after injuring his knee and finally had to pull himself out of the game and tell the medical staff he was injured. Good luck, Chad, and get healthy for 2015.
THREE THINGS YOU MAY WANT TO KNOW
1. Kudos to our friends over at SB Nation for this brilliant Lane Kiffin Beats by Dre mashup with the video of him entering Neyland Stadium on Saturday surrounded by cops. Nice work.
2. Hey, I thought we talked to Les Miles about illegal parking, no?
Heaven's Bus pic.twitter.com/KKEr8Iv2RN

— Pod Katt (@valleyshook) October 26, 2014
3. Big Ten referees responded to two blown calls in the Ohio State-Penn State game that could have cost the Nittany Lions a win.
LASTLY
* Here's a nice Michigan-Michigan State story: The bands came together on the field after last week's game to support Lloyd Carr's 4-year-old grandson, who's battling an inoperable brain tumor. Stay strong, Carr family.
* Cool photo here of Mississippi State, on the team plane after beating Kentucky, responding to the captain asking what their ranking is.
* What a great week ahead: We enter the thick of college football's season and conference races, we officially get the College Football Playoff era started with the first poll, the calendar turns to November, colors change around the country, Thanksgiving on the horizon … love this time of year. This is how I woke up today:
Have a great Monday, all.
Teddy Mitrosilis is an editor and writer for FOXSports.com. Follow him on Twitter @TMitrosilis and email him at tmitrosilis@gmail.com.