Michigan Dominates Penn State, but Lasting Story may have Cccurred before Kickoff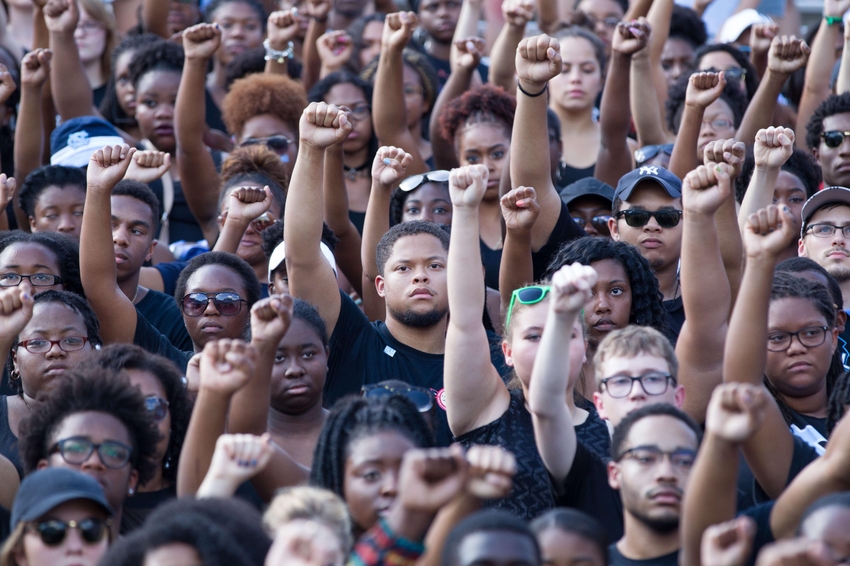 Michigan football beat Penn State, but there were also some other big story lines from the Big House Saturday.
One of the most interesting stories about yesterday's Michigan football game wasn't the return of Jourdan Lewis to the Wolverines' defensive backfield or even the suffocating play of the defense.
Both were great stories and made for an enjoyable game.
The most interesting story from yesterday wasn't even the claim by quarterback Wilton Speight that the Michigan offense ran the same running play eight or nine times in a row during the third quarter against a demoralized Penn State defense, though this one might deserve an honorable mention. After the game Speight said, ""The lineman were getting so excited because I would call the same play and I think we were getting like 9 or 10 a pop,"
I think one of the most interesting stories from yesterday was about something that happened before kickoff – namely, the protest by Michigan players during the national anthem.
At least five players – including Khalid Hill, Mike McCray, Devin Bush and Elysee Mbem-Bosse – participated, but the biggest name by far was Lewis, who was First-Team All-Big Ten and First-Team All-American in 2015. All of the players could be plainly seen with their fists raised as the Michigan marching band played.
This is not a new story, of course. It began August 14 when San Francisco 49ers quarterback Colin Kaepernick first remained seated for the national anthem before a preseason NFL game, but the protest went mostly unnoticed even when it happened again the next week.
It was on August 26 when someone finally noticed and began asking questions, and it was August 28 when Kaepernick first spoke publicly about his protest: "I'm going to continue to stand with the people that are being oppressed," he said. "To me, this is something that has to change. When there's significant change and I feel that flag represents what it's supposed to represent, and this country is representing people the way that it's supposed to, I'll stand."
No In-Editor Preview for CINE Videos
Video Details
ID: fansided-college-ncaa/juliano-should-psu-be-embarrassed
Source: CINE
Not surprisingly, that statement (he said a lot more) received a rapid response, much of it negative.  The 49ers organization, however, stood with him – or more accurately, they defended his right to protest, while stating their belief in the flag and the anthem and what they represent.
Because Kaepernick was head coach Jim Harbaugh's quarterback when Harbaugh coached the 49ers (and because the two have had a strained relationship since Harbaugh's departure), Harbaugh was naturally asked for his response to the protest. At first Harbaugh was quick to say that he didn't "respect" Kaepernick's actions. But within a day Harbaugh was walking that opinion back and was more or less backing Kaepernick's right to protest.
Since late August the issue has grown. Everyone from the President of the United States to Mike Ditka has expressed an opinion. And not only has the issue grown, but the number of players participating has grown as well. Last week the entire Indiana Fever WNBA team knelt during the national anthem, and they were joined that night by two members of the Phoenix Mercury.
And now this week the protest includes the Michigan Football program and one of its key players – at a time when the Michigan Football program is ranked no. 4 in the polls and is in the hunt for the national championship for the first time in more than a decade.
Impressive performance in our conference opener!

HIGHLIGHTS » https://t.co/uHKTbckiNK#GoBlue

— Michigan Football (@UMichFootball) September 25, 2016
After the game, Harbaugh supported his players, while making clear his own point of view: "I can tell you what I believe, but I've been thinking a lot about this over the last four, five, six weeks. Because I'm the football coach, that doesn't mean I can dictate to people what they believe. I support our guys," Harbaugh said. "This is something that's not going away. It's going to keep happening. It's not something that's going to keep them out of heaven. I'm not going to worry about something that doesn't keep somebody out of heaven, speaking their minds."
It's important to remember that Harbaugh subscribes to the old Bo Schembechler mantra – "the team, the team, the team." And clearly the protest will have an effect on this year's team. Harbaugh is probably right at this point to declare his own position ("I'll tell you what I believe in. I believe in God, I believe in country, I believe in family, I believe in rules of law and following rules"), while also supporting his players.
Let's remember that these players are university students – student-athletes – who are exploring big ideas. They read the news, and they can be expected to think about the issues of race relations for themselves and about what their response should be. They are also of course unpaid employees in the multi-million business of college football, so their actions have consequences far beyond the classroom.
This issue will likely grow in the weeks ahead as more and more players feel the need to support teammates and friends who are protesting. From a football point of view, the issue to watch is how all of this affects the team and the respect that team has for its coach. I thought playing Wisconsin next week was big, but now there's this. Stay tuned.
This article originally appeared on