Miami Hurricanes Suspend Willis and Bruce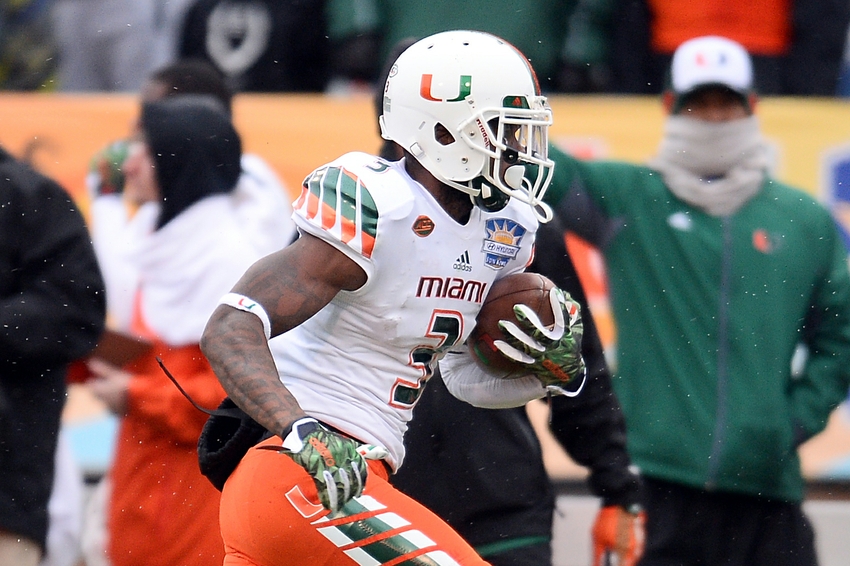 Less than a week after the dismissals of Jermaine Grace and Quan Muhammad, the Miami Hurricanes have handed out more suspensions. Defensive Tackle Gerald Willis was suspended for yesterday's win over Florida A&M and highly touted freshman wide receiver Sam Bruce has been suspended for three games.
Willis will return for the Hurricanes next week against Florida Atlantic. Bruce's three-game suspension will take him through the Appalachian State game on September 17. The 'Canes are off September 24. Bruce is slated to make his Miami debut on October 1 at Georgia Tech. The suspension according to the school was a "violations of team rules"
Willis sat out last season after transferring from Florida after being dismissed following a turbulent freshman season in Gainesville. He got into a fight with former Florida backup Quarterback Skyler Morningweg who has since transferred to Colombia. Former Florida Head Coach Will Muschamp currently at South Carolina called the fight a misunderstanding.
Later that season Willis was issued a personal foul penalty for shoving Florida State Quarterback Jameis Winston while he was out of bounds. He was sent to the locker room after the play by the Florida coaching staff.
Willis was a four-star recruit from Edna Karr high school in New Orleans. Injuries dismissals and suspensions have impacted the Miami defensive line. Willis' return will be a big help.
The speculation about Bruce's dismissal has centered around a picture that surfaced earlier this year of Bruce holding a gun. He was dismissed from St. Thomas Aquinas for the incident. Bruce finished the year, and graduated from Westlake. CBSMiami is reporting that "Bruce used the photo as an intimidation tactic during a dispute with an older, already-graduated St. Thomas Aquinas student over Bruce's now ex-girlfriend"
Want your voice heard? Join the Canes Warning team!
Bruce and Willis were not the only Hurricanes with off the field issues this week. Walk-on quarterback Tucker Beirne was arrested and charged with a DUI and possession of cocaine. He was arrested near Key Largo by Monroe County Sheriffs. Beirne transferred to Miami after one season at FCS school Bryant. He did not appear in any games with the Bulldogs last season.
Bruce is a four-star receiver who is the 82nd ranked player and 11th best receiver in the class of 2016 by 247Sports. He is the nephew of former Rams pro-bowl receiver Issac Bruce. Bruce and classmate Ahmmon Richards are being counted on to contribute as freshmen.
Miami's highest rated recruit, Richt discussed his talent with the Palm beach post and said: "I would say he has pretty good ball skills. He has great quickness and speed. He has not unbelievable speed, but he has very good game speed
"I would say he has pretty good ball skills. He has great quickness and speed. He has not unbelievable speed, but he has very good game speed."
Bruce's presence will be important for the Miami offense once they get into ACC play. He gives Brad Kaaya another big name receiver. His is one of four new receivers out of eight on the Miami roster.
More from Canes Warning
This article originally appeared on