Miami Hurricanes Punter Justin Vogel Part of Success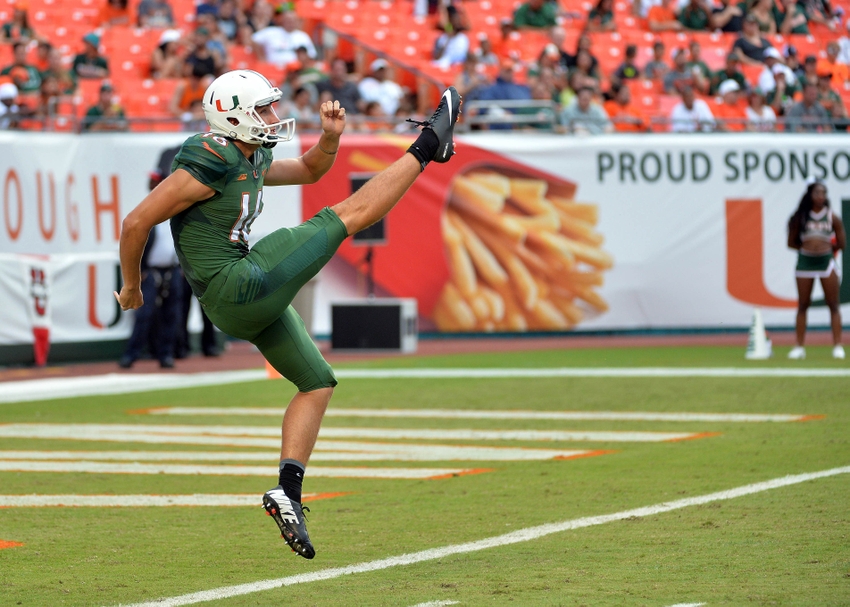 Miami Hurricanes punter Justin Vogel was the only 'Canes player selected first team pre-season All-ACC. Vogel earned 100 points in the voting. Virginia's Nicholas Conte was second with 60.
Football is arguably the ultimate team sport. All aspects of the game need to complement each other for a team to succeed. The Hurricanes have clicked on all cylinders through their first three games this season.
The number one ranked defense has led the way. They have given up 23 points in three games for an average of 7.7 points per game. The punter is a huge part of the defense and field position. A good punter greatly helps a good defense and is the beginning of the change of possession on downs.
Vogel has lived up to his ranking in the ACC at the beginning of the season. He has only punted ten times in the first three games. but his 45. 3 average is second in the ACC to North Carolina State's A.J. Cole who is punting for a 46.5 average.
Vogel has improved by almost three yards per punt over last season and 2.5 yards per punt over his sophomore season. Vogel spent his first two seasons at Florida including redshirting as a freshman.
After not seeing any playing time as a Gator, Vogel transferred to Miami as a walk-on. His walk on status gave him immediate eligibility. He contributed immediately and was named  third-team All-ACC in his first season with Miami in 2014, he did not receive All-ACC recognition in 2015.
Only two of Vogel's ten punts this season have been returned. The Hurricane punt return teams have allowed only six yards on the two returns.
Vogel is and has been such an integral part of the Hurricanes success that Head Coach Mark Richt choose Vogel as the defensive representative at the ACC Kickoff.  Vogel was asked what the conversation is amongst the kickers during a long practice. Vogel discussed the need to focus when called upon.
Justin Vogel: "You can be all fun on the sidelines, but when it comes your time to play, you have to realize it's one of four kicks you'll have in the game and that will determine your season. You have to be able to lock in and focus on the task at hand."
Vogel hasn't punted enough to qualify for the national rankings. He would be ranked 13th nationally if he had enough punts to qualify. One of the most important stats for a punter is how many they get inside the 20. Vogel has landed five, or half of his punts in the opponents red zone this season.
Vogel was named to the pre-season watch list for the Ray Guy award. Ray Guy is the only punter in the Pro Football Hall of Fame. Vogel is one of 13 seniors on the watch list. He is also just only one of two ACC Punters on the list, Pittsburgh Junior Ryan Winslow is the other.
More from Canes Warning
This article originally appeared on