Miami Hurricanes Post Highlight Reel Day in Win Over Pittsburgh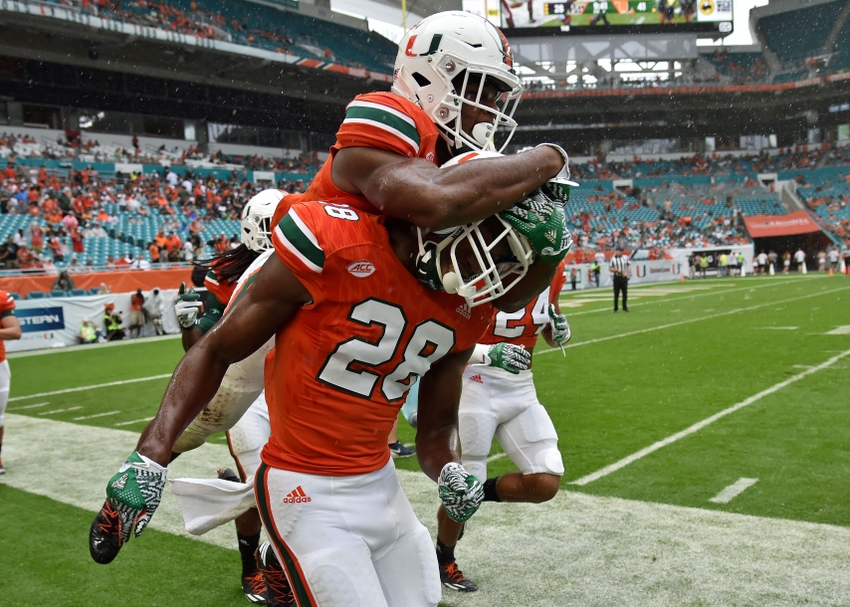 The Miami Hurricanes were explosive in a 51-28 homecoming victory over Pittsburgh Saturday. The 'Canes had an excess of highlight reel plays, with tight end David Njoku, Wide Receiver Ahmmon Richards and Running Back Mark Walton all getting #mustseeACC attention.
Miami got on the board quickly with a 12 yard Brad Kaaya to Njoku touchdown pass. Njoku was a national champion high jumper in high school and showed off his skills on a flip into the end zone.
Njoku had six catches for 86 yards and two touchdowns against the Panthers. He has emerged as one of Kaaya's most reliable targets. Njoku is a freakish athlete that has completed in the high jump for UM Track and Field and has run a 4.49 40 yard dash.
Ahmmon Richards has had an exceptional freshman season. He has become Kaaya's favorite deep threat. Richards leads the Hurricanes with 632 receiving yards and 20.4 yards per catch. In spite of his explosiveness he only has one touchdown.
Richards came to Miami in the shadow of his recruiting class classmate Sam Bruce. Bruce was the 11th rated receiver in the Class of 2016, according to 247 Sports while Richards was 28th. Bruce had numerous off the field problems, both as a Senior in High School and early in his tenure at UM.
Bruce suffered a broken leg playing basketball in September. UM football players are not permitted to play pickup basketball. The injury that was going to sideline him for the season. Bruce allegedly missed study halls and rehab sessions for his broken leg and was eventually dismissed from the team.
Richards is the leading freshman receiver in the country with 632 yards and 20.4 yards per reception. His yards per catch ranks 11th nationally overall.
Richards has had several highlight reel catches this season, perhaps none better than a spectacular one-handed catch to set up the Hurricanes for a score Saturday.
Walton was the breakout star of the Miami Offense early in the season. He had 401 yards and was averaging 8.35 yards per carry after three weeks. This included an 80-yard touchdown run on Miami's first play from scrimmage at Appalachian State.
Walton has struggled since the 'Canes commenced ACC play against Georgia Tech October 1. In the five games that preceded the victory over Pittsburgh, Walton had 248 yards rushing for an average of just 49.5 yards per game.
He finally reasserted himself Saturday with 125 yards on 14 carries that included a spectacular 55-yard touchdown run. Walton's run through the Panther defense resembled a Tim Hardaway Sr. crossover. The touchdown run eclipsed his rushing yardage total for four of the previous five games and his average rushing yards in those games.
With games left against two of the ACC's worst defenses in the final three weeks, the Hurricanes should have plenty more highlight reel plays the rest of this season. NC State, Virginia, and Duke are a combined 2-13 in the ACC.
The Hurricanes travel to Raleigh and Charlottesville before returning home to finish the season against Duke.
This article originally appeared on