Miami Hurricanes Offense faces Crucial Challenge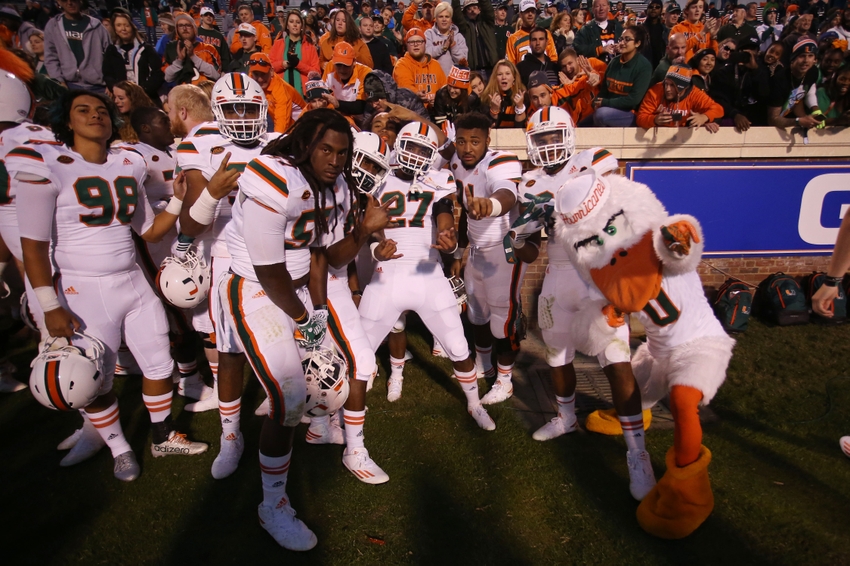 The Miami Hurricanes travel to North Carolina State for their final road game of the season. After two impressive performances, the Hurricane offense looks to continue their momentum. The Wolfpack offer a stout challenge with their front seven and experience.
Two Impressive Offensive Performances
Miami's offense has come back to life by protecting Brad Kaaya and running the ball. In the wins over Pittsburgh and Virginia, Miami only allowed two sacks, ran the ball for over 100 yards and gave Kaaya time to throw.
The offensive line is starting find their rhythm. Last week, Miami rolled out a new lineup on the left side of the offensive line due to injuries of Trevor Darling and Nick Linder. The new line is KC McDermott at left tackle, Tyler Gauthier at left guard, and Alex Gall at center.
Miami had their best performance on the ground since they rushed for 279 yards week two against Florida Atlantic. Mark Walton, Joe Yearby, and Gus Edwards ran for a combined 222 yards.  With Trevor Darling back from injury this week, he will be back at Left Tackle and McDermott goes back to Left Guard according to the Miami depth chart.
OT Trevor Darling practicing at 2nd team left tackle for @CanesFootball

— Susan Miller Degnan (@smillerdegnan) November 15, 2016
The resurgence in the run game has given Kaaya more time to pick apart opposing defenses. Kaaya threw for 6 touchdowns and one interception in the last two weeks. Against Virginia, he was inaccurate, completing 48 percent of his passes. This week, Miami needs Kaaya and the offensive line to step up against the toughest challenge yet.
The Stout NC State Defense
The Miami Hurricanes face a crucial challenge in this upcoming game because of a variety of factors. The Wolfpack will become bowl eligible with a win. This game could shift Miami into a strong finish to the up and down season with a decent bowl game ahead.
The NC State defense is led by defensive end Bradley Chubb. Chubb is one the best defensive ends in the ACC. He will offer a stiff challenge to the Miami offensive line. Chubb ranks fifth in the ACC in with eight sacks and first with 18 tackles for loss.
The NC State defense ranks fourth in the nation in rush defense, allowing 99.4 yards per game and 3.0 yards per carry – statistics ominously similar to the 'Canes losing streak in October.
Miami will need to air raid the NC State secondary to loosen the pass rush of the stout front seven. NC State ranks 84th nationally in passing yards allowed. Kaaya will need protection from his offensive line so he can get the ball out to his weapons, David Njoku, Stacy Coley, and Ahmmon Richards.
This article originally appeared on