Miami Hurricanes Number One Fan South Beach Sansa is a Sensation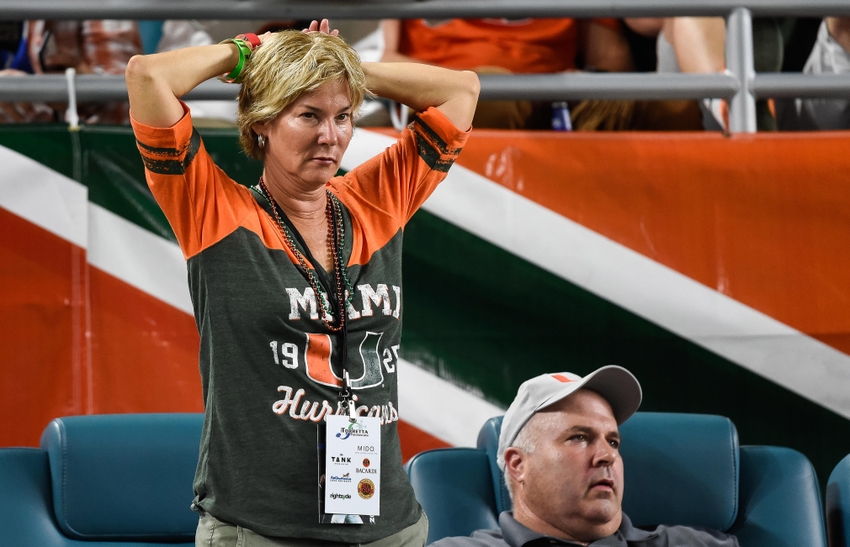 University of Miami Junior Neuroscience Major Mackenzie Mayhew has been dubbed the "South Beach Sansa" because of her resemblance to the solemn to Game of Thrones character Sansa.
Mayhew had a stoic look on her face after the losses to Florida State and North Carolina. Her 15 minutes of fame has lasted through all six games this season. She is clearly a dedicated fan. According to her Twitter feed, Mayhew is six for six with TV appearances this season.
To reach that number, Mayhew also had to travel to road games at Appalachian State in Boone, NC and Georgia Tech in Atlanta. Her T.V. appearances have also included face time at UM basketball games as well.
According to the Game of Thrones Wiki, Sansa has been a character since the show's premier Episode "Winter is Coming" in 2011. Sansa is played 20-year-old British Actress Sophie Turner. Turner's IMDB profile indicates she has been in four released movies with three on the way. The most notable of those was in X-Men apocalypse as Jean Grey.
Things we learned about #SouthBeachSansa:

1) She doesn't watch @GameOfThrones
2) She loves @CanesFootball

WATCH: pic.twitter.com/nRzgk58sPY

— ACC Digital Network (@theACCDN) October 18, 2016

She is tuned in. She's not just someone who attends the games. Mayhew spoke with SB Nation's College Football:
"I was not an Al Golden fan," she said. "I'm really glad that we have Mark Richt. I think that we have a young team, so inevitably there's room to grow. I like where the program is going, and I like Mark Richt and what he's doing. I like that we're trying to get an indoor practice facility. I think overall the team is headed in the right direction, but it might be awhile. … I have some patience, I'll stick with em."
Mayhew is hoping for happier times for the Miami Community and their fans saying: "Hopefully that's the end of sad Sansa."
She might be the most popular student at the U right now. The @Canesfootball Twitter account acknowledged the blonde beauty earlier today.
@theACCDN we appreciate you havin' our back no matter what, @MackMayhew. #ItsAllAboutTheU

— Canes Football (@CanesFootball) October 18, 2016
Many of the Miami fans will also be happy to learn the Lakeland resident grew up a 'Florida Gators fan but switched once she decided to take her talents to South Beach, er Coral Gables.
Anotha one pic.twitter.com/oNHogNuknW

— Mackenzie Mayhew (@MackMayhew) January 10, 2016
Based on her major Mayhew is clearly a bright young woman and she is just as proud of the U's academics as she is of their sports teams.
Miami is one of the best universities in the country and THE best in Florida.

Period.

: https://t.co/bE8n5c3UpF pic.twitter.com/52XO909FdN

— Miami Hurricanes (@MiamiHurricanes) September 14, 2016
Here is a look at Mayhew's academic side.
Watching neurons in action may teach scientists how #Zika causes #microcephaly | https://t.co/8vGnFCMDbX pic.twitter.com/iBtyoMGl74

— Columbia Med School (@ColumbiaPS) August 31, 2016
Nerd tweet, it was a fun Friday #BasilarArtery pic.twitter.com/XJ3WZPp94E

— Mackenzie Mayhew (@MackMayhew) July 15, 2016
Despite the FSU fans dubbing her the South Beach Sansa, Mayhew definitely had fun with this and seems to have a great, happy and outgoing personality. Hopefully, we will get to see Mayhew being happy Sansa the next time we see her getting some face time.
This article originally appeared on