Miami Hurricanes Joe Yearby Intends to Enter NFL Draft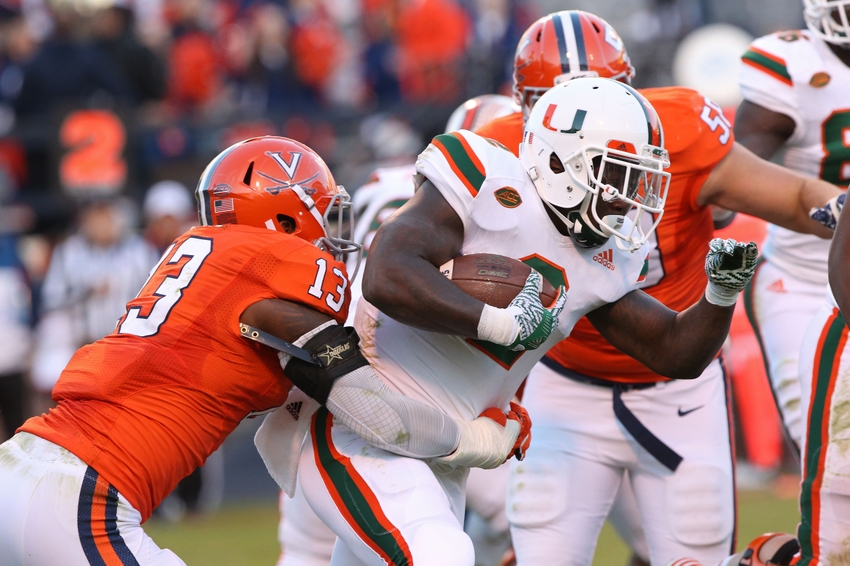 Miami Hurricanes Junior Running Back Joseph Yearby who led the team with 1,002 yards rushing and was Honorable Mention All-ACC in 2015 will enter the NFL Draft according to Multiple reports.
Yearby began the speculation when he posted a picture of himself with Brad Kaaya and Offensive Lineman KC McDermott that said "Last home game as a 'Cane." Yearby later deleted the post. He has not spoken to the press or released a statement regarding his intentions or discussing the post.
Yearby lost his starting job before the season to Sophomore Mark Walton. Yearby began the season with consecutive 100 yard games against Florida A&M and Florida Atlantic. He outplayed Walton in the middle of the season when the sophomore starter failed to reach 100 yards in six consecutive games.
The low point of Yearby's season came when he lost carries to Gus Edwards in the season's final two games. He had only three carries for 17 yards in the regular season's final two games against North Carolina State and Duke.
Edwards had 16 carries for 77 yards against the Wolfpack and Blue Devils. Earlier this season Miami Offensive Coordinator Thomas Brown said he regretted not playing Edwards more.
Edwards playing time trended up over the last few weeks of the regular season. In the seven games from Florida Atlantic to Pittsburgh, Edwards had 15 carries for 30 yards. The last three weeks he had 27 carries for 130 yards and a touchdown.
Yearby's last significant workload came in the Hurricanes win over Virginia November 12. He finished with nine carries for 53 yards and a touchdown.
Not only did Yearby take down the post about Saturday being his "Last Home Game As A Cane" in his own words, he he also made his account private. He does have 14.4 thousand followers however.
Miami Head Coach Mark Richt spoke to the media on Sunday. Asked about Yearby he said:
Mark Richt: "I didn't know anything about that…but if that's what he wants to do, then I'm not going to stop anybody from doing what they think is in their best interest. But I've not had a conversation with him and I didn't know about that until you mentioned it…I haven't heard anything about it. I'm not going to hold anybody from doing what they think is best."
Yearby ran for 592 yards on 99 carries with seven touchdowns this season, averaging a career high six yards per carry. He also had 65 yards receiving on ten receptions.  For his career, Yearby has 2,103 yards and 14 touchdowns on 376 carries.
This article originally appeared on