Miami Hurricanes Drop to 16 in AP, 17 in Coaches Poll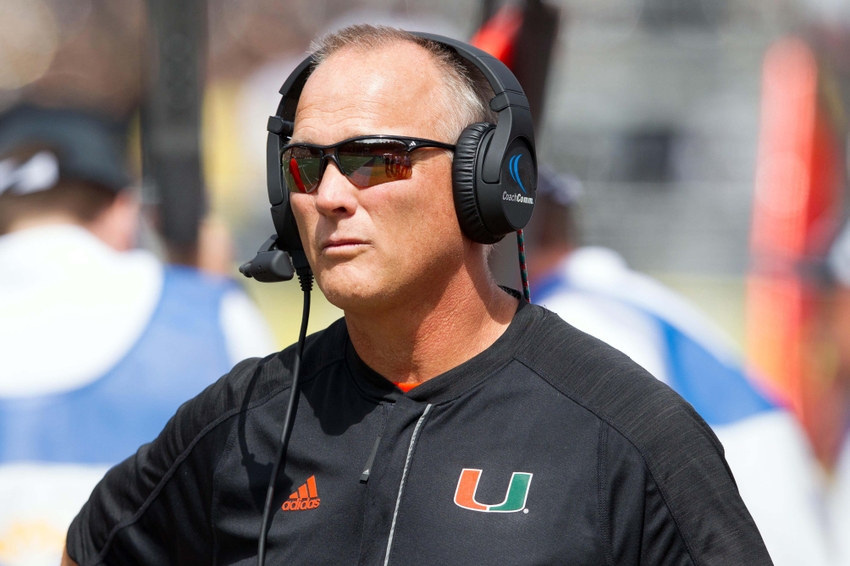 The Miami Hurricanes fell six spots in the AP poll from 10th to 16th and seven spots in the Coaches Poll. The 'Canes fell after the heartbreaking 20-19 loss to Florida State Saturday.
Despite the loss and the slight tumble in the standings, the Hurricanes still have their goals in front of them. They are now 1-1 in the ACC and one game behind Virginia Tech in the Coastal Division. The Hokies smashed North Carolina 34-3 in Chapel Hill on Saturday. The 'Canes host UNC Saturday and travel to VA Tech October 20.
The Hurricanes were an extra point and overtime away from breaking their six-game losing streak to Florida State, but the Seminoles blocked the extra point and escaped with the win. The rankings are not as important as they were in the Bowl Championship Series Era.
Saturday's game against North Carolina has basically become an elimination game in the Coastal. The loser will drop two games behind Virginia Tech if the Hokies take care of business Saturday at Syracuse.
Want your voice heard? Join the Canes Warning team!
Florida State moved up to 14 after their win. UNC completely dropped out of the Top 25 after being ranked 16/17 last week and Virginia Tech moved up to 17/19. North Carolina was among the team listed as others receiving votes in both polls.
The Hurricanes don't want to leave anything to chance. They could have an outside chance of getting to the ACC Championship game with two conference losses, but it would be extremely tough with a loss in either of the next two games.
Miami wants to avoid history repeating itself. The last time the 'Canes were ranked was in 2013. The Hurricanes started that season 7-0 and were ranked seventh in the country and were throttled 41-14 at number three Florida State.
After the loss to FSU, Miami fell to 14th in the rankings. They would plummet out of the rankings two weeks later after losses to Virginia Tech and Duke. The Hurricanes won their last two games of the regular season to finish 9-2, before losing 36-9 to Louisville in the Russell Athletic Bowl.
Just like the Hurricanes played their last game against an ACC opponent before joining the conference, so did the Cardinals.
More from Canes Warning
This article originally appeared on