Miami Hurricanes Defensive Coordinator Manny Diaz Tweets Displeasure With All-ACC Teams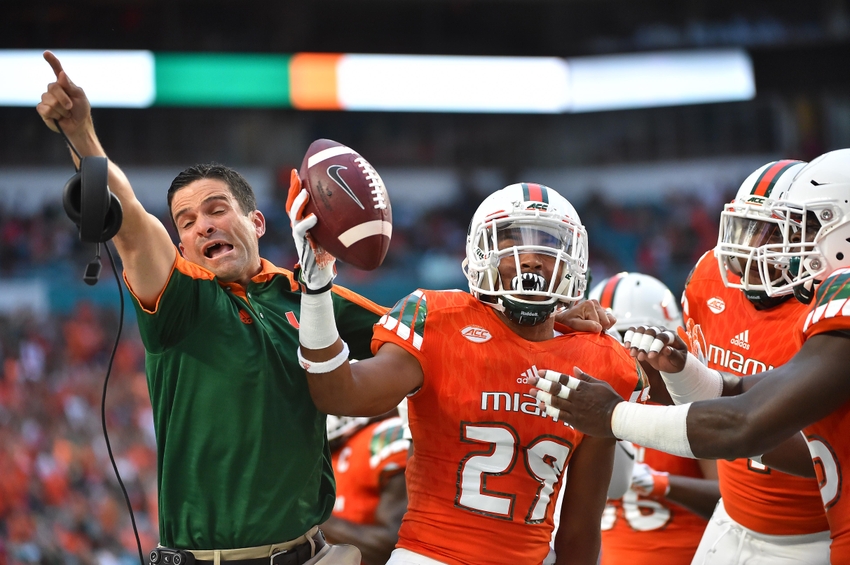 Miami Defensive Coordinator Manny Diaz took to Twitter to voice his displeasure with the ACC's First three all league defensive teams. Hurricanes Cornerback Corn Elder was the only Hurricane to earn All-League honors.
Miami's defense improved significantly in Diaz' first season. The Hurricanes ranked in the top 20 nationally in several defensive categories. Freshman Linebacker Shaquille Quarterman and Safety Rayshawn Jenkins received honorable mentions to the All-ACC team.
Diaz' tweet read "13th in Nation in yds/play, 14th in scoring D & only 1 guy on 1st, 2nd and 3rd team all ACC only 1 Hnr (honorable) Ment (mention)? Come on people pay attention."
Quarterman and Backup Defensive End Joe Jackson both received votes as the ACC Defensive Freshman of the Year. Quarterman finished fourth with five votes and Jackson sixth with one. Clemson Defensive Tackle Dexter Lawrence won the award.
Jackson's 7.5 sacks tied him for eighth in the ACC and his two fumble recoveries tied for sixth best. Elder finished tied for fourth in the ACC with 12 pass breakups.
Diaz likely won't have to worry about which 'Canes will make the ACC's all defensive team next season. The Hurricanes return eight starters on defense, including the front seven. Diaz and Head Coach Mark Richt will have to rebuild the defensive backfield.
13th in nation in Yards/Play, 14th in scoring D, & only 1 guy on 1st/2nd/3rd team All-ACC? Only 2 Hnr Ment? Come on people, pay attention🙄

— Manny Diaz (@Coach_MannyDiaz) November 28, 2016
Safety Jaquan Johnson and Cornerback Sheldrick Redwine will be the cornerstones of next season's defensive backfield. Freshman Romeo Finley is the early favorite to earn the starting Free Safety spot that will be vacated by Jenkins.
Richt has used his radio appearances in the last few weeks to reach out to highly skilled safeties to attend UM based on the uncertainty with the losses the Hurricanes will have after this season. Miami has two three star safeties pledged to the 2017 recruiting class.
Billy Gibson from Southridge in Hialeah and Amari Carter from Palm Beach Gardens are pledged to the Hurricanes Class  of 2017. There are dozens of safeties that have yet to declare where they will attend college that are ranked in 247Sports top 100 in the Class of 2017. Five of those players are from the state of Florida.
A.J. Deshazor from Lakeland, the nation's 70th ranked safety in the class of 2017 is listed as having Miami as a potential college choice. 247 has Indiana and Virginia Tech as the co-favorites to land him.
This article originally appeared on