Miami Hurricanes Brad Kaaya Plays Valiantly in Loss to Notre Dame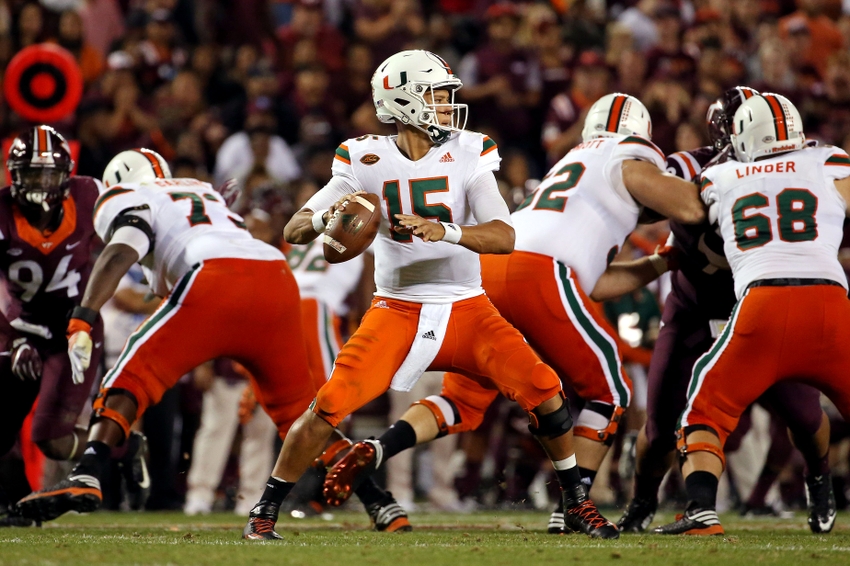 Miami Hurricanes Junior Quarterback Brad Kaaya continues to get crushed by opposing defenses. Kaaya has been sacked 13 times in the last two games after Notre Dame got to him five times.
The Miami offensive line's inability to protect Kaaya against even the poor defenses has hindered drives and at some point is going to take its toll on Kaaya. Notre Dame came into the game against the Hurricanes with six sacks in seven games. That ranked 125th out of 128 teams in the country.
Miami is 91st in the country, allowing 2.5 sacks per game. They have allowed 20 sacks in eight games this season, but 65 percent of those have come in the last two weeks. Add on hits, hurries and pressures and Kaaya is one of the most attacked Quarterbacks in the country.
The poor offensive line play and lack of a running game during the four-game losing streak has forced Kaaya to carry the offense.  In the first four games, which were Miami wins, Kaaya had 99 pass attempts. In losses in the last four games, he has attempted 144.
Kaaya was exceptionally efficient the first four weeks of the season. He had 385 yards at Appalachian State and 241 at Georgia Tech. He threw for 967 yards in their wins and 1,049 in their losses. That comes out to about 25 yards more per game.
More important than the yardage has been the dropoff in the efficiency of the passing game. Kaaya is being pressured too often and teams are able to play the pass and not worry about the run.
The 'Canes averaged 14.87 yards per completion and 8.87 yards per attempt during their four-game winning streak. In the losses, Miami is averaging 12.48 yards per completion and 7.28 per completion.
A good running game is essential. It brings the linebackers and safeties into the box and allows the passing game to open up. Without it, teams can tee off on the Quarterback and have the safeties and some linebackers assist in pass coverage.
Want your voice heard? Join the Canes Warning team!
Legendary Texas Coach Darrell Royal said in his book Darrel Royal talks football "three things can happen to you whenever you throw the football, and two of them are bad. You can catch the ball, you can throw it incomplete, or have it intercepted."
While that doesn't apply as much anymore in the era of Quick Release passes in the Spread and West Coast offenses, it still holds true to a point. Add in sacks, hurries, pressures and hits, having a good offensive line is essential to keeping a Quarterback upright throughout the season.
Miami now has two-thirds of their season complete. By any measure, they had an easy first four weeks to the season and a gauntlet of games the last four weeks. Their next four games are against teams that are somewhere in between.
Pittsburgh, Virginia, North Carolina State and Duke will be competitive games, but the 'Canes should likely go 3-1 down the stretch to finish 7-5 and get a bowl berth.
More from Canes Warning
This article originally appeared on