Miami Hurricanes Brad Kaaya and David Njoku Have Big Decisions to Make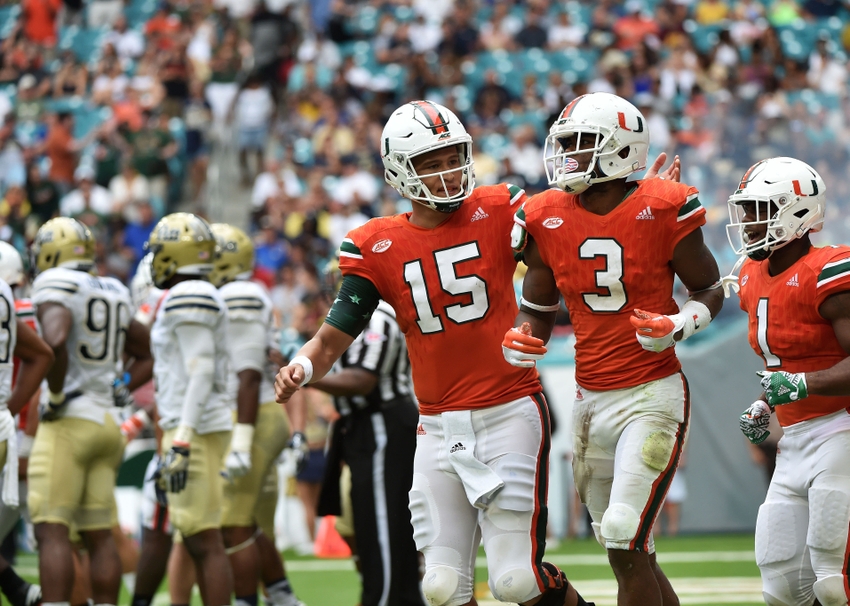 The Palm Beach Post's Matt Porter reported earlier this week that Kaaya's seams ready to say goodbye Felicia to the U. His mother Angela Means was seen with tears in her eyes in the stands.
Njoku reportedly was a part of the Senior class photo after the game. Before that he was seen grabbing a fistful of the Hard Rock Stadium grass.
Kaaya has one year of eligibility left and Njoku, a redshirt sophomore has two left. According to multiple reports, Junior Running Back Joseph Yearby has made up his mind to enter the draft.
After starting as a true freshman with his stardom skyrocketing, the reports on Kaaya have been mixed this season. Some scouts and executives laud his intelligence, ability to make quick decisions and his accuracy, while others question his arm strength and athleticism.
Former NFL Scouts Daniel Jeremiah and Bucky Brooks who host the Move the Sticks Podcast were told by what they referred to as a "high-ranking NFL official" that there are concerns about some of Kaaya's skills.
From the Move the Sticks Podcast: (There are concerns about) Kaaya's athleticism, poise and awareness… Kaaya (was described) as "slow-footed" and "non-athletic" as a playmaker from the pocket. In addition, he (the NFL official) questioned his pocket awareness by suggesting that he is an "average quarterback" who "needs a clean pocket to throw" from.
Brooks dissented slightly from the unnamed Executive saying:
"He (Kaaya) displays enough of the necessary traits to succeed as a mailman (distributor) for a team loaded with established playmakers on the perimeter… The Canes' star quarterback remains an intriguing prospect to follow despite the executive's opinion."
Kaaya spoke to the media about his future after Miami's regular season concluding win over Duke on Saturday
NFLDraft Scout lists Njoku as the third best Tight End prospect in this year's draft. He is an exceptional athlete that was a national high jump champion in high school. He has an average 40 time of 4.64.
Asked about his intentions, Njoku said: "I am just focused on the bowl game right now…I am sure I will figure that out afterwards."
Speaking to the media Mark Richt clarified the process he uses to help his players make the best decision they can when decision to return or enter the draft.
"I will talk to them soon…The first thing is just trying to get a feel for what they are thinking…I am going to educate them the best I can with the best information. I want to let guys know how the NFL views them…We will explain things to them and give them all the information and let them do what is best for them and their family…I want what is best for all the guys..It if it is in the best interest for him to move on, then that is what i want for (them)."
Njoku has the versatility to play inside or split out wide as a receiver. He compares favorably to former UM Tight Ends Greg Olsen and Kellen Winslow Jr. The biggest question will be his ability to block on the next level.
Miami Offensive Coordinator Thomas Brown said of Njoku: "He is a very versatile player…He can play out in space like a wide receiver and he can be a mismatch. He is big enough to overpower most defensive backs matched against him and fast enough to run past any linebacker. He is doing a good job of developing as an attached tight end too."
One factor working in Miami's favor regarding Njoku's possible return is that his brother Evidence is a part of the 2017 Miami recruiting class as a Wide Receiver.
This article originally appeared on