Miami Hurricanes Bowl Projections Before Conference Championship Week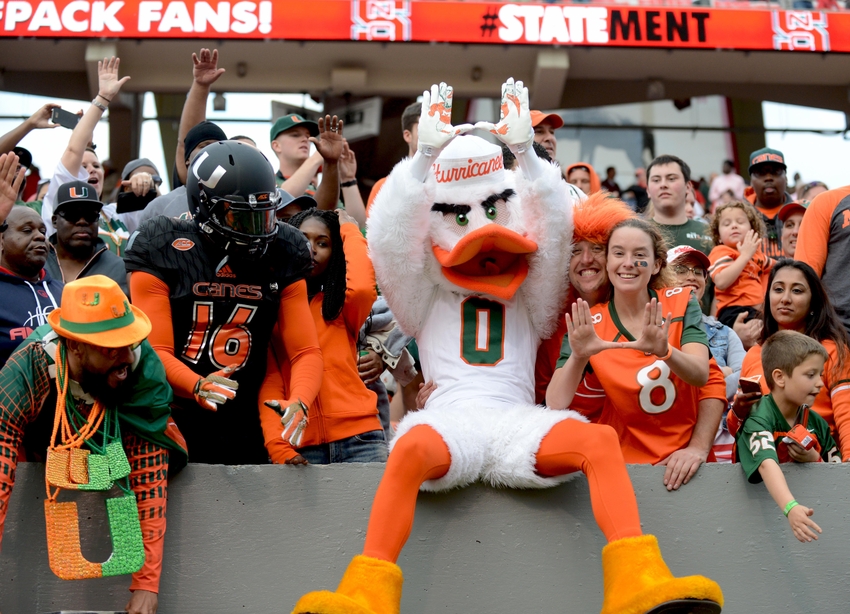 After completing the regular season 8-4 with a four game winning streak, the Miami Hurricanes will now wait until Sunday to find out their Bowl fate.
The Miami Hurricanes completed an 8-4 regular season with a 40-21 victory over Duke at Hard Rock Stadium on Senior Day. The Hurricanes now await the results of Conference Championships and the few remaining regular season games to see which Bowl Game they will play in.
Their win over Duke was an important one that has seemed to solidify their spot in an ACC Tier one Bowl.
The Taxslayer or Russell Athletic Bowl are the most prestigious and closest projected bowl games geographically for the 'Canes. Add in potential match-ups with Florida or Georgia in the Taxslayer Bowl  in Jacksonville or former Big East Foe West Virginia in the Russell Athletic and Miami would have a good postseason challenge for Mark Richt's young team.
The two most intriguing are the potential games against Florida or Georgia. Facing the Gators less than 90 minutes from Gainesville would be a big challenge.
Conversely, Richt against Georgia in Jacksonville, where he faced the Gators every year in the World's Largest Outdoor Cocktail party would be sure to evoke many memories for the Hurricanes first year Head Coach.
Orlando Citrus Bowl, Orlando, Florida
Dec. 28, 5:30 p.m. (ESPN)
ESPN:
Schlabach 
McMurphy
Miami Four Appearances: 2-2
Vs. West Virginia
All-Time Series: Miami Leads 16-3
Last Meeting: Miami Won 22-20 in 2003
Vs. Georgia
All-time series: Georgia leads 7-4-1
Bank of America Stadium, Charlotte, North Carolina
Dec. 29, 5:30 p.m. (ESPN)
Would be Miami's First Appearance
Vs. Arkansas
All-Time Series: Miami (FL) 3-0-0
Last meeting: Miami won 31-3 in 1991
Vs. South Carolina
All-Time Series: Miami leads 8-6-2
Dec. 31, 11 a.m. (ESPN)
Tie-ins: Tie-ins: ACC/Big Ten vs. SEC
Vs. Tennessee
All-Time Series: Tennessee Leads 2-1
Last Meeting: Tennessee Won 10-6 in 2003
Postseason Meeting: Tennessee won 1986 Sugar Bowl 35-7
Sports Illustrated: Colin Brett
Vs. Arkansas
All-Time Series: Miami (FL) 3-0-0
Last meeting: Miami won 31-3 in 1991
Vs. Florida
All-time series: Miami leads 29-26. Last Meeting: Miami won 20-14 in 1963,
Last Meeting: Miami won 21-16 in 2013
Postseason Meetings: Miami Leads 2-0
With all the off-season attrition and players that have been out or lost to injury, getting to a first tier Bowl Game would be a good accomplishment for Richt's first season in Miami. If they win out, including their bowl game the Hurricanes would exceed Jimmy Johnson 8-5 record in his first season in 1984.
This article originally appeared on