Miami Hurricanes Bowl Projections After Week 11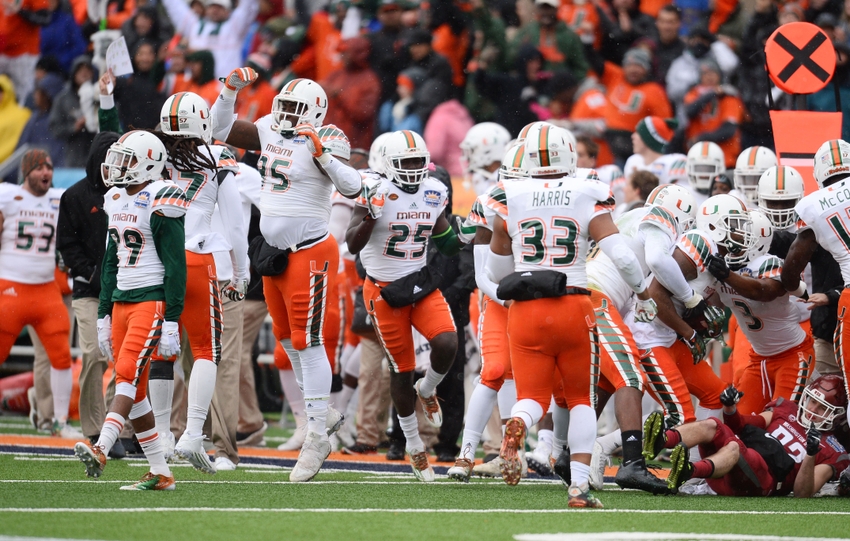 The Miami Hurricanes will play their final game of the regular season on Saturday when they host Duke. They will then wait eight days until December 4 to find out which bowl they will be heading to.
Miami enters Saturday's game having turned their season around with three consecutive wins against Pittsburgh, Virginia and North Carolina State. This is the third game in a row against one of the ACC's bottom feeders. The Cavaliers, Wolfpack, and Blue Devils are a combined 4-17 in the ACC.
The newest list has some interesting potential matchups as Miami readies for their last game of the 2016 regular season. The marquee matchups on this list would be Mark Richt facing Georgia in the Belk Bowl in Charlotte for the first time since being relieved at the end of last season and Miami's first meeting with Florida since 2013.
TaxSlayer (Gator) Bowl, EverBank Field, Jacksonville, Florida
Dec. 31, 11 a.m. (ESPN)
Tie-ins: Tie-ins: ACC/Big Ten vs. SEC
ESPN: Schlabach: Vs. Florida
All-time series: Miami leads 29-26. Last Meeting: Miami won 20-14 in 1963,
Last Meeting: Miami won 21-16 in 2013
Postseason Meetings: Miami Leads 2-0
Yankee Stadium, New York
Dec. 28, 2 p.m. (ESPN)
Vs. Minnesota
All-Times Series: Would be first meeting
Bank of America Stadium, Charlotte, North Carolina
Dec. 29, 5:30 p.m. (ESPN)
Would be Miami's First Appearance
Vs. South Carolina
All-Time Series: Miami leads 8-6-2
Vs. Georgia
All-time series: Georgia leads 7-4-1
Vs. Arkansas
All-Time Series Miami (FL) 3-0-0
Last meeting: Miami won 31-3 in 1991
Orlando Citrus Bowl, Orlando, Florida
Dec. 28, 5:30 p.m. (ESPN)
Miami Four Appearances: 2-2
Vs. West Virginia
All-Time Series: Miami Leads 16-3
Last Meeting: Miami Won 22-20 in 2003
Hyundai Sun Bowl
Sun Bowl Stadium, El Paso, Texas
2 p.m. Dec. 30 (CBS)
Vs. Stanford
All-Time Series: First Meeting
New Era Pinstripe Bowl
Yankee Stadium, Bronx, NY, 2:00 ET, ABC
ACC vs. Big Ten
Miami vs. Northwestern
All-Time Series: Tied 2-2
Last Meeting: Miami Won 28-7 in 1968
Ford Field, Detroit
Dec. 26, 2:30 p.m. (ESPN)
Vs. Maryland
All-Time Series: Maryland leads series, 9-8-0
Last Meeting: Maryland won 32-24 in 2011
The projections about where the Hurricanes will wind up in December and who they will play is literally all over the place. There are teams and locations on the list from North, South, East and West.
The most curious projection is a return to the Sun Bowl in El Paso. That would be the Hurricanes second straight trip there and third in seven years. The way things sit now, it appears that the Belk Bowl in Charlotte is the most likely destination.
This article originally appeared on