Miami Hurricanes 2016 Season Review: Culture Change Was Key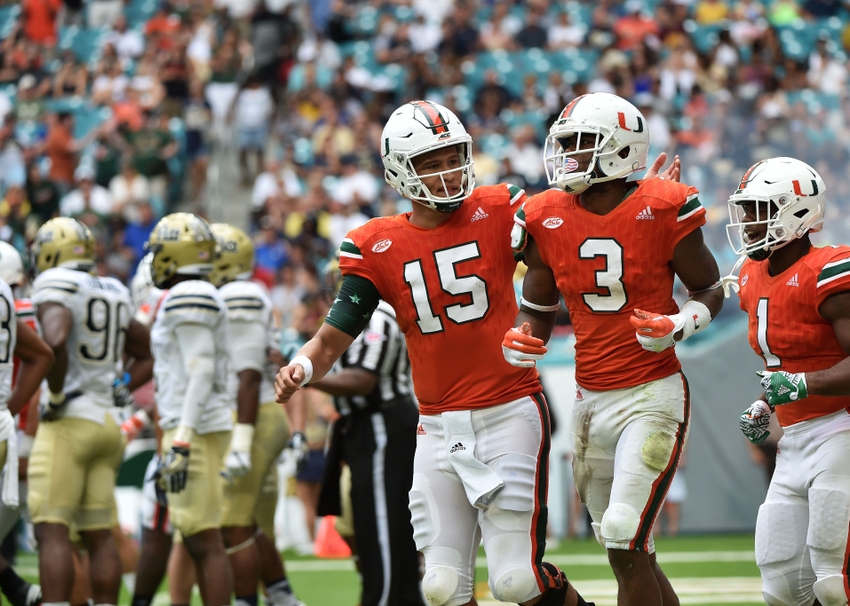 The Miami Hurricanes began season with high hopes with the advent of the Mark Richt era. A 4-0 start and Florida State coming to the Rock had fans talking about a Coastal Division Championship.
In his final post-game press conference of the season, Miami Hurricanes head coach Mark Richt shared his sentiments of the 2016 season and said, "I really felt like we could win the Coastal when the whole thing started."
Anyone who follows the Miami Hurricanes closely could agree. The 'Canes started out hot with three wins to beginning the season against non-conference foes Florida A&M, Florida Atlantic, and Appalachian State. Although the games came against teams from non-power five conferences, the fan base could sense and see the staple of a Mark Richt culture that influenced the team.
They then added an ACC opening win at Georgia Tech after a bye week. Florida State came to Hard Rock Stadium week six what seemed to be a showdown and potential deciding game in the Coastal Division.
The team has evolved and changed significantly in Richt's first year. The culture of the team, a different attitude on defense, Richt taking control of the offense and more confidence are evident attributes in the Richt regime.
Change of Culture
Richt taking over the reigns of the Miami Hurricane football program made operations feel like as they should be. It provided Miami Football with a sense of relevancy that hadn't been there since UM joined the ACC.
In just over a year, Miami and Richt managed to announce a overdue indoor practice facility to be built, welcomed former players and alumni back to campus in last summer's Paradise Camp, and began building a football program that showed mental and physical toughness, perseverance, and actual player development.
This new era of Miami football has been long overdue. An 8-4 finish to the regular season gave the 'Canes the same record as they had in 2015. In spite of that, the culture change from years past is evident.
What has changed the culture? Richt's hiring of Manny Diaz as Defensive Coordinator and Craig Kuligowski as Defensive Line coach changed the defense to a more attacking style 4-3 system, Richt taking over as the play caller on offense, and a greater accountability off the field.
Defense
The defense was the biggest improvement on the field since last season. One of Richt's first orders of business was to implement a 4-3 defense, a stable of Miami's historic greatness.  The hires of Diaz and Kuligowski had a tremendous on the 2016 season.
We'll just leave this right here… pic.twitter.com/ThBgCm78Cl

— Canes Football (@CanesFootball) November 28, 2016
The assistant coaches deserve some recognition. Miami was forced to start true freshman linebackers Shaquille Quarterman, Michael Pinckney, and Zach McCloud this season. All three players exceeded expectations and performed at a high level despite their youth.
Quarterman led the Hurricanes in tackles, Pinckney was fifth and McCloud tenth.
The 'Canes coaching staff also made strides developing players such as Corn Elder. Elder delivered big hits and locking down his side of the field in coverage. Elder was selected by ACC coaches as a First Team All-ACC cornerback. Elder's development alone showed the exceptional coaching job the defensive staff did this season.
The projection for the 'Canes defense bodes well for next season. They are likely to return the entire front seven for the 2017 season. They could be a dominant force in the ACC.
Here are some more defensive stats from NCAA.com.
Pass Defense – 60th
Rush Defense – 31st
Red Zone Defense – 34th
1st Down Defense – 41st
3rd Down Defense – 58th
Growing Pains on Offense
To the surprise of many, the offense struggled mightily at times this season. With Richt calling the plays, fans expected an automatic improvement from last years offensive performance due to the head coach's track record.
The 'Canes found out they had major issues on the offensive line during their four game losing streak in October. Brad Kaaya got hit left and right and the 'Canes struggled to run the ball against Florida State (62 yards rushing), Virginia Tech (42 yards), and Notre Dame (18 yards).
Want your voice heard? Join the Canes Warning team!
The Majority of Miami's problems were that Richt did not understand what kinda talent he had on the team until they got into their meat of the schedule. He focused on the offensive phenomena of the run pass option (RPO's). That got picked up quickly by opposing defenses due to the immobility of Kaaya.
Miami wrestled to find an identity. Then, Pittsburgh came into town and faced a Miami team looking for an answer.
The 'Canes had their best offensive performance all year against the Panthers due Richt's play calling and offensive line play. Miami had to switch things up on the offensive line against the Panthers due to some injuries. They moved KC McDermott to Left Tackle, Tyler Gauthier to Left Guard, and inserted Alex Gall at Center. Miami seemed like a different team on the offensive side of the ball.
Kaaya had a phenomenal game against Pittsburgh.  He threw for 396 yards and four touchdowns and started to utilize tight end David Njoku and freshman Ahmmon Richards more. Richards leads freshman wide receiver nationally in yards and yards per catch (46 receptions, 886 yards,and two touchdowns).
Since the Pittsburgh game, Richt has utilized different run blocking schemes, short, quick passes, and max protection blocking schemes to get the most out of the offense. Mark Walton had consecutive 100 yard rushing games against Pittsburgh, North Carolina State and Virginia to finish the season with over 1000 rushing yards.
The Miami offense did improve in some areas from last season:
2016 offense vs. 2015 offense:
Scoring offense: ⬆️
Points scored: ⬆️
TDs: ⬆️
Yards per play: ⬆️ pic.twitter.com/rgEc1qZwAN

— Canes Football (@CanesFootball) December 8, 2016
What's Next ?
The 'Canes finished the regular season on a game four game win streak and earned their spot in the Russell Athletic Bowl against the 14th ranked West Virginia Mountaineers on December 28th.  Miami has not won a bowl game since the 2006 season. A win against West Virginia will generate momentum for recruiting and into next season.
With a month of preparation, Miami should by able to perform well against WVU in Orlando. Meanwhile, Brad Kaaya and David Njoku mull their decision on returning for another season or head to the National Football League.
Despite another loss to Florida State this season and a lack of an appearance in the ACC title game, Miami can turn this season into a major positive with a victory in the bowl game. A culture change is evident in the Miami program.
This article originally appeared on