Memorable Season For USC Football In 2016 Continues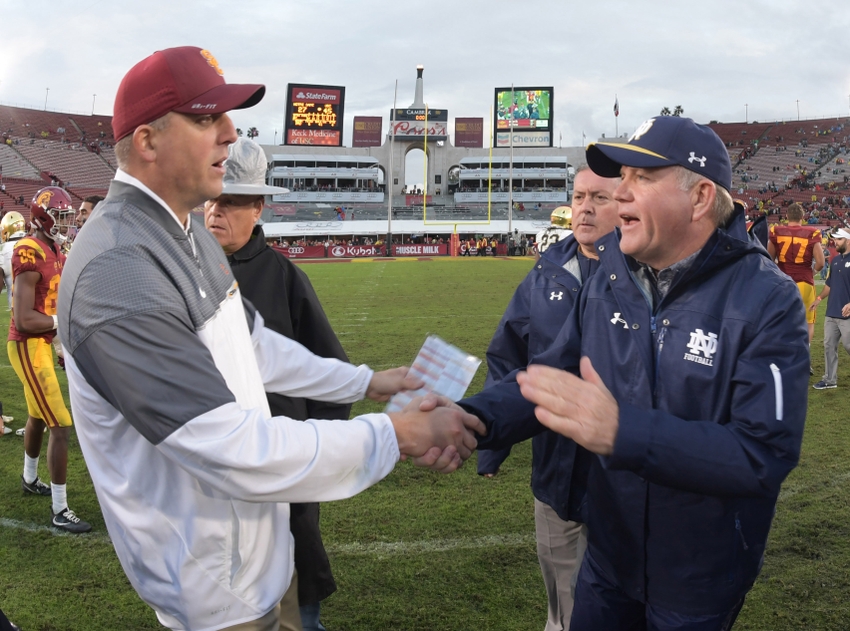 USC football's 2016 has been memorably unique. Capped by a rivalry victory over Notre Dame, the season can end on an even bigger high in a premiere bowl.
It's been a truly unique year for USC football in 2016.
Between a first year head coach digging himself out of a hole, a mobile freshman sensation at quarterback and now an eight-game winning streak with wins over both UCLA and Notre Dame, you just do not see that combination very often in Troy.
There have been great years with double-digit wins, sure. But with a freshman quarterback that can really move and win? Not so much.
Then there's the eight-game winning streak after a 1-3 start. Around USC, the tendency is to have a great year with some bizarre loss that should have been a win or, lately, a decent but disappointing seven- or eight-win season capped by a second tier bowl game.
This year, even with the rocky start, a premiere bowl game is right around the corner.
Now that the Trojans have taken care of business against the Irish, all sorts of bowl opportunities are possible. An epic win-out October and no-loss November have likely lead to a prestigious bowl berth with a Big 10 powerhouse.
If USC wins that New Year's day bowl game, then a Top 5 ranking could be the reward. It has been too long since USC football finished the year among college football's Top 5 teams.
That scenario didn't seem possible after that dreary Week 4 loss in rainy Salt Lake City. But this 2016 Trojan football team took college football's best shot and got back on its feet.
After clearing the cobwebs, they began an impressive comeback. Like Confucius said, "strength, character and wisdom are forged on the anvil of adversity."
The grit it took to accomplish an eight-game winning streak is remarkable. The move to start Sam Darnold at quarterback was gutsy and brilliant. The combination has the Trojans standing as the one three-loss team nobody wants to play.
This will be the football team that many Trojan fans will remember years from now.  The team that picked itself up, regrouped and surged forward, led by a freshman quarterback and a tenacious defense.
At this point no one knows how the final chapter to this storybook 2016 season will read. However, you can bet many USC football fans will be eagerly waiting for just a little more Adoree' Jackson magic to cap of this most memorable season.
This article originally appeared on