Maryland vs. Purdue: Markell Jones could cause problems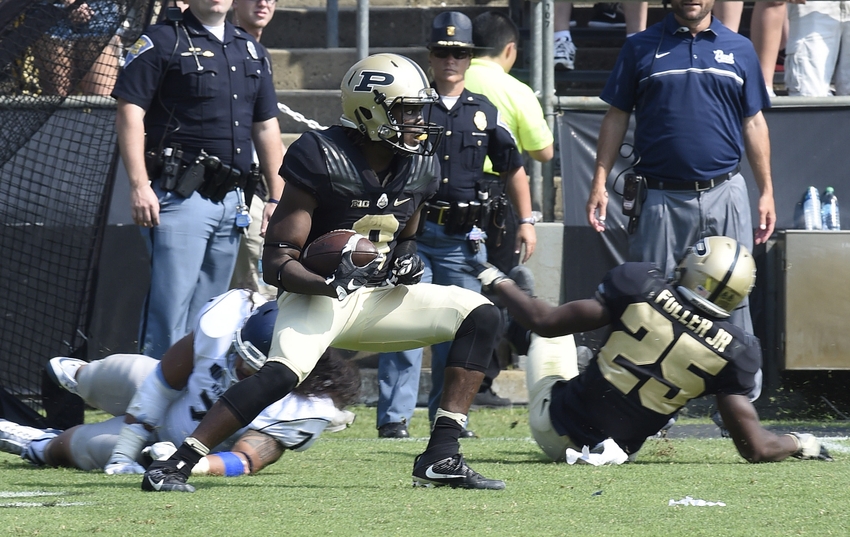 Markell Jones has been one of the top running backs in the Big Ten this season.
Maryland hasn't exactly had a ton of success stopping the ground attack through three games. With that in mind, Jones could be a huge factor in Saturday's game.
On the season, Jones has rushed for 316 yards and two touchdowns on 61 carries (5.2 yards-per-carry). In fact, his 105.3 rushing yards-per-game rank third in the Big Ten behind just Robert Martin (Rutgers) and Mike Weber (Ohio State).
After injuring his shoulder against Cincinnati, Jones was ready to go against Nevada and it showed. He ended up having a phenomenal afternoon in which he rushed for 124 yards and a touchdown in a 24-14 Boilermaker victory.
Good running backs grow on trees, but what exactly makes Jones so special?
Jones is the perfect combination of size and speed at the position. He can blow by any defender while also possessing the ability to run right through contact.
In the above run against Nebraska, Jones displayed tremendous power and perseverance. He ran straight up the middle into a pile of Cornhusker defenders and still managed to bull his way free.
Jones ended up going from a gain of just a yard or two to a 20-yard pickup. It's the type of run that you just don't see every day.
Nebraska quarterback Tommie Frazier broke off a similar run in the 1995 Fiesta Bowl against Florida. Frazier bounced it to the outside before meeting a wall of Gator defenders that failed to bring him down.
Frazier ended up taking it to the house for a 75-yard touchdown.
Jones is a north-south runner that has tremendous vision. Despite the line of scrimmage usually being crowded, the sophomore tailback can hit the hole hard and shoot through the little gaps in the defense.
The Boilermaker back ripped off 50-plus yard touchdowns runs against the likes of Michigan State (68) and Virginia Tech (60) as a freshman in 2015.
As dangerous as Jones is on the ground, he can also do some damage as a receiver.
In 2015, he caught 34 passes for 239 yards and a touchdown. The Boilermakers have used him down around the goal line as a pass catcher in the past.
For example, Purdue used the play-action to get Jones free. Former Boilermaker Austin Appleby rolled out and hit Jones in the flat for the easy five-yard touchdown.
Jones is clearly an extremely talented running back that affects the game in a multitude of ways.
He's able to use his 210-pound frame to punish defenders in order to gain extra yards. On the other hand, he has the hands to get it done through the air.
As talented as quarterback David Blough is, having an extraordinary tailback like Jones helps a ton. Maryland is going to have to account for Jones on every play on Saturday if they want to keep the Boilermakers from breaking any big runs.
More from Terrapin Station
This article originally appeared on