Maryland vs. Minnesota: Learning about new quarterback Conor Rhoda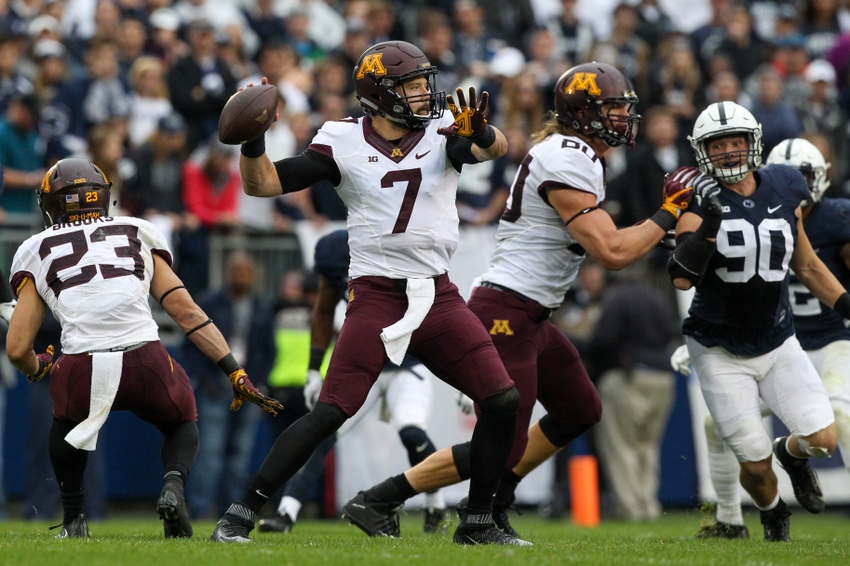 Conor Rhoda isn't exactly a household name.
However, with Minnesota senior quarterback Mitch Leidner suffering a concussion this past weekend, Rhoda will be forced into the starting job.
Rhoda has only thrown two passes in three games during his three-year career with the Golden Gophers. He originally arrived in the fall of 2013 after making the team as a walk-on.
During the 2015 season, Rhoda was named the Offensive Work Team Player of the Year and also earned a scholarship for his efforts. He's going to be the first quarterback not named Leidner to start a game since the 2014 season.
Sophomore Demry Croft was ahead of Rhoda on the depth chart last season, but Rhoda outplayed him throughout much of the season and earned the promotion.
Now that you know a little bit of background information about Rhoda, what kind of player is he on the field?
Obviously, there isn't a ton of film to dissect when it comes to his game.
In the below video, it's evident that Rhoda can throw the deep ball when he has to. He has the ability to let it fly and that's something that Maryland may not be ready for early in Saturday's game.
Other than that, there isn't a ton of collegiate film of Rhoda, but there is plenty of high school tape to look at.
One of the first things that jumps out is that Rhoda is very mobile.
Whether it's a designed running play or he's just tucking it down, he's not afraid to run. He's not the quickest guy in the world, but he can be pretty elusive in the open field when he needs to be.
Rhoda also has a very strong arm and is pretty accurate. With one flick of the wrist, he can put the ball right where it needs to be, even if it is 50 yards down the field.
He's got great size at 6'3/215 lbs., so he can absorb a good amount of punishment either in the pocket or running the ball.
It obviously is going to be hard for Maryland to game plan against Rhoda because there isn't a ton to go off of. It also allows Rhoda to surprise the Terps with some of the things that he's able to do.
While Rhoda doesn't have a ton of experience, you truly never know what to expect when a quarterback has nothing to lose.
More from Terrapin Station
This article originally appeared on