Maryland vs. Michigan: Running game will be key for both teams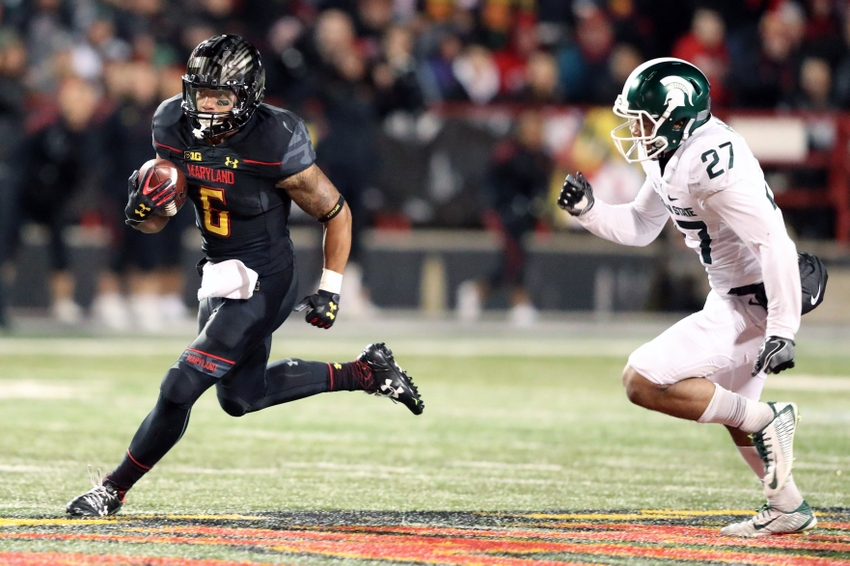 Maryland has really relied on the running game throughout the 2016 season.
On Saturday, Michigan will look to slow the Terrapins' ground attack down and continue to formulate their own.
This game features two of the top three rushing teams in the Big Ten. The Terrapins are second with 252.0 yards-per-game on the ground and the Wolverines average 249.0 per contest.
The teams get it done in very different ways.
The Wolverines don't have a tailback that ranks in the top 10 in rushing in the conference. Sophomore Ty Johnson ranks 10th in the conference with 78.0 rushing yards per contest.
Johnson averages 10.4 yards-per-carry. which is tops in the Big Ten.
Maryland has run the ball a ton, especially when quarterback Perry Hills was out. Only four teams in the conference have more carries (351) than the Terps.
Lorenzo Harrison is the lead back that gets more carries, but Johnson provides the home run threat that offensive coordinator Walt Bell loves. On the season, Johnson has broken off touchdown runs of 66, 48, 21, and eight yards.
Johnson is a lightning out of the backfield and he showed it against Indiana last Saturday. The former Fort Hill (Md.) standout took a handoff out of the shotgun and bounced it to the outside. He was able to blow by a pair of Hoosier defenders and broke a tackle in his journey down the sideline.
Another big takeaway from the Indiana game was the abysmal run defense from Maryland.
The Terps allowed three different Hoosiers to top the century mark. Michigan presents a lot of the same challenges that Indiana did.
Senior De'Veon Smith is different than many of the speedy backs that Maryland has faced this season. He's a guy that runs between the tackles and can absorb a lot of contact.
Smith has the ability to bounce it to the outside when he has to. However, he really can be like a battering ram in the open field against would-be tacklers.
While he doesn't get a ton of carries, the Wolverines do possess one of the most dangerous playmakers in college football in Jabrill Peppers.
Peppers has been used quite a bit in offensive packages by Jim Harbaugh. He's taken direct snaps and turned them into big gains.
The linebacker-by trade can also run the read-option, which he did against Michigan State last Saturday. Peppers could be a tall task for Maryland to try and defend.
Simply put: both teams depend on the running game quite a bit to do their damage. If Maryland wants any chance of upsetting No. 3 Michigan, they're going to have to have a lot of success on the ground.
More from Terrapin Station
This article originally appeared on