CFB AM: Terps' 1.5-pound cheesy crab pretzel will slow your heart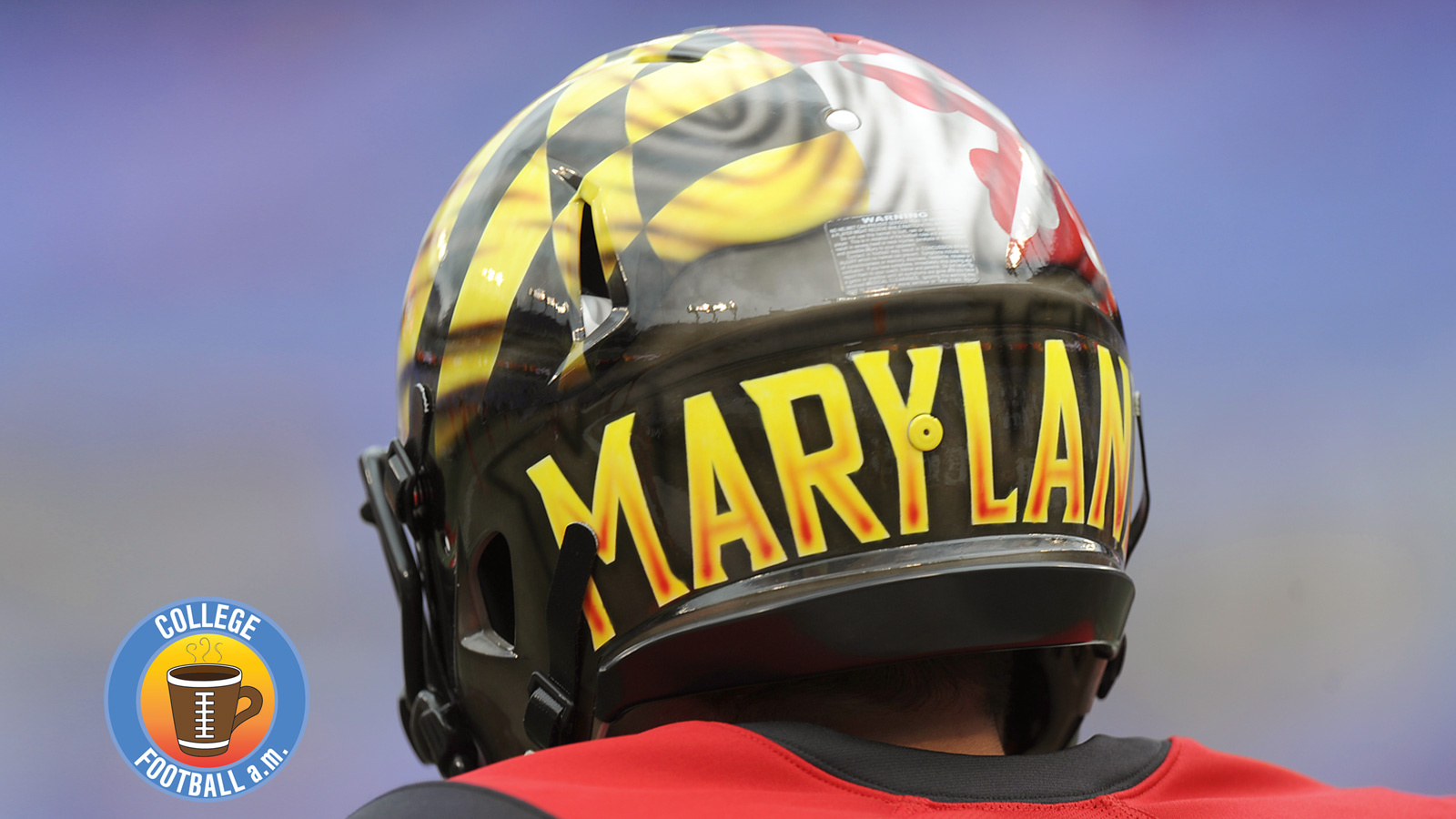 Consider this a simple warning, friend to friend.
With the season kicking off tonight and in full this weekend, many of you will find yourselves enjoying fall Saturdays at college football stadiums across America.
And when at the game, you'll be tempted to explore what the concessions have to offer.
If you're doing this at Maryland, oh Lord please help you.
The Terrapins released their Gameday Guide this week, and on it was a new concession item called the "Chessie." What is this, you ask?
The Chessie is a "gigantic soft pretzel baked with back fin crab dip and melted cheese (serves 4)." Yes – this is a pretzel designed to feed four presumably normal-sized human beings.
More precisely, it's 24 ounces – or 1.5 pounds – of soft pretzel dough smothered in the crab dip and melted cheddar and then dusted with Old Bay. With the Terps joining a new conference this season, Maryland said the Chessie's intent is to welcome Big Ten fans to "warm Maryland Hospitality and cuisine." The pretzel will cost $17.50, which is only 1/100th of what you might spend on medical bills after devouring it.
Here's a photo, with crab nachos – another new item – next to it just because why not:
Ermergerd, Maryland's 1.5 pound cheesy crab soft pretzel being served at Byrd Stadium http://t.co/8SM5pBcF10 pic.twitter.com/B1vChU6WYt

— Gamedayr (@Gamedayr) August 28, 2014
My heart … is slowing … down … as we … speak.
(h/t DC Sports Bog)
THREE THINGS YOU NEED TO KNOW
1. One of the weirdest stories we've seen in a while has come to a sad end. USC senior cornerback and captain Josh Shaw admitted the story about how he suffered two sprained ankles last weekend was a complete lie. Shaw initially claimed he hurt himself by jumping from a second-story balcony in an attempt to save his 7-year-old nephew from drowning. He came clean on Wednesday and obtained legal counsel.
"We are extremely disappointed in Josh," USC coach Steve Sarkisian said. "He let us all down." Shaw has been suspended indefinitely from all team activities. Shaw said in a statement through his lawyer, Donald Etra, that he injured himself "in a fall," but neither he nor USC offered more explanation on what specifically happened on Aug. 23.
This is an opportunity for all to learn. It's incredibly embarrassing for USC, as this became a story to begin with because the Trojans tried to spin this unconfirmed fairy tale for some quality feel-good PR by releasing the initial story on their website on Monday afternoon. Now they, and all other schools, must solidify their process for vetting, packaging and publishing their own stories. It's also a chance for fans to understand why some skepticism – don't confuse that with cynicism – is healthy in news coverage and all the places in the flow of information from school to media to readers where issues can occur.
We all consume content instantaneously now through social media, oftentimes without spending any time to question the veracity of what we then share with others. This is the sharp side of the high-powered machine we've created. The hope here is schools become more thorough in publishing their own news to prevent errors like this but not necessarily shy. There are truly good people and stories at each program, and those should still be revealed and celebrated.
2. We had FBS football last night, with Georgia State playing FCS Abilene Christian and the fourth quarter was so sloppily wonderful that you have to relive it in this funny Rodger Sherman post. There's really no other way for the season to begin than a meh-on-paper game in a meh-in-reality dome giving us an exhilarating finish. Fact of the day: The state of Texas is now 0-2 in 2014 (FCS Sam Houston State lost last Saturday). I'm surprised nobody's found a way to blame Mack Brown yet.
3. After months and months, we've finally arrived. It's the official, if not literal, opening night of the 2014 college football season. Take a moment to reflect on the offseason, because tonight begins the four-plus month spiritual journey we call the fall, culminating in the first-ever College Football Playoff. Oh, and if you need some help getting out of work to watch the first game of the evening – Texas A&M at South Carolina (6:30 p.m. ET) – Aggies coach Kevin Sumlin would like to help.
Need to leave work early tomorrow for #TAMUvsSC? Don't worry, @CoachSumlin has you covered #12thMan pic.twitter.com/1Cyw6REmjE

— Texas A&M Football (@AggieFootball) August 27, 2014
THREE THINGS YOU SHOULD KNOW
1. North Carolina suspended four players — sophomores Des Lawrence and Brian Walker, redshirt freshman Donnie Miles and true freshman M.J. Stewart – for the season-opener against Liberty after an alleged hazing incident left a redshirt freshman walk-on with a possible concussion. What a mess.
2. Alabama linebacker Trey DePriest – a senior who was a third-team All-SEC pick last year — won't play Week 1 against West Virginia due to an undisclosed NCAA infraction. He'll be available for Week 2.
3. In case you were wondering when Les Miles was going to announce who's starting at QB for the LSU Tigers against Wisconsin on Saturday, here's his plan:
Les Miles just announced when #LSU will reveal its starting QB. Do NOT ever change, Les! pic.twitter.com/vWYcuEugKW

— Pete Roussel (@coachingsearch) August 27, 2014
THREE THINGS YOU MAY WANT TO KNOW
1. I'm not sure how to describe this – "pure insanity" might fit – but The Oregonian has an interactive piece where you can dress a Duck with uniform combinations Oregon has used. Considering 24 helmets, 51 jerseys, 20 pants and 32 shoes, that makes for more than 783,000 possible combinations.
2. Rick Neuheisel has some musical talent, and he debuted a new song on the radio called "Stairway to Playoffs." Rick's a beauty.
3. The Sporting News' Matt Hayes cites two sources who say there's a strong chance the NCAA lift's the final year of Penn State's postseason ban, making the Nittany Lions eligible for a bowl in 2015 (go to item No. 4). In other Penn State news, this is a fun behind-the-scenes look from Josh Moyer on how and what PSU packed for its trip to Ireland.
LASTLY
* Virginia Tech signed head coach Frank Beamer to a two-year extension on Wednesday, which runs through the 2019 season.
* Expectations have been raised for Louisville's upper-class receivers with DeVante Parker missing Monday night's game against Louisville (and beyond) with a foot injury.
* Georgia is preparing to see hyped Clemson freshman QB Deshaun Watson at some point on Saturday, although senior Cole Stoudt will start.
* During fall camp recently, Clemson took a day to spend at the lake. Looks fun. Enjoy this video as an official farewell to summer. It's officially football season.
Have a great Thursday, all. Enjoy opening night.
Teddy Mitrosilis is an editor and writer for FOXSports.com. Follow him on Twitter @TMitrosilis and email him at tmitrosilis@gmail.com.