Maryland Football: Terps look to put offensive struggles behind them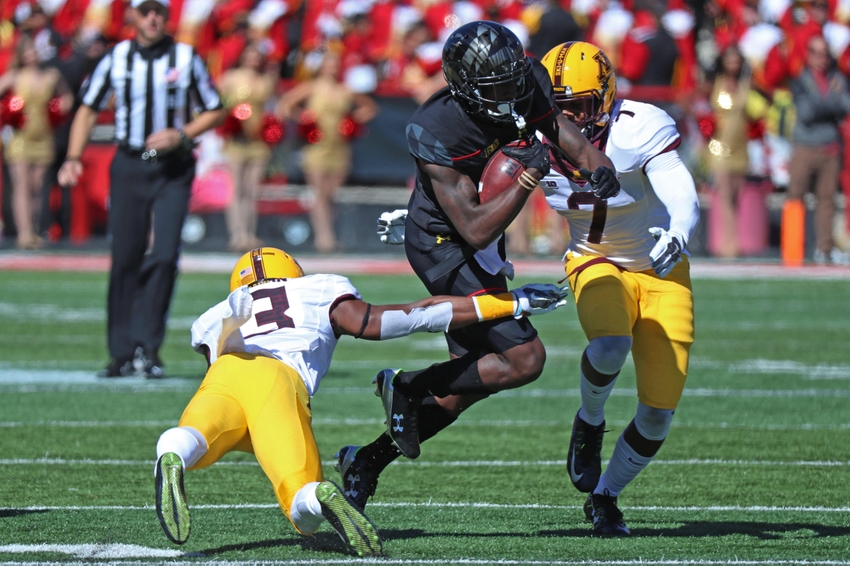 The Maryland football team has been very stagnant on the offensive side of the ball lately.
The Terrapins will look to put those struggles behind them against Michigan State.
Over the past two games, Maryland has scored just 24 total points. The Terps have also put up just 561 yards of total offense in addition to turning the ball over six times.
Quarterback Perry Hills only played in two of those eight quarters after reinjuring his shoulder against Penn State. True freshman Tyrrell Pigrome was forced to start against Minnesota due to the severity of Hills' injury.
However, quarterback play hasn't been the only reason for the offensive inefficiencies.
"It's hard to put your finger on just one thing," coach D.J. Durkin said. "I wouldn't just hang it all on the quarterback situation. When a true freshman comes in, there's definitely a learning curve there. It's not all on Piggy [Tyrell Pigrome] to get it right. There are other guys who need to play better, too."
Pigrome has played in every game this season, but Saturday was his first start. He completed 18-of-37 passes for 161 yards to go along with a touchdown and a pair of interceptions.
The former Clay-Chalkville (Ala.) standout has only completed 50 percent of his passes.
"We have to snap out of this funk and get our rhythm back," Durkin added. "Injuries are a part of the game of football. It matters who responds best to those injuries. As a collective team, we all have to get back into our groove."
The most deflating area for the Terps has been penalties.
Over the past two games, Maryland has committed 14 penalties for 100 yards. Five of the team's penalties against Minnesota were of the holding variety.
In fact, all five penalties wiped out running plays of five yards or more. The Terps had a 3rd-and-20 conversion by tailback Lorenzo Harrison taken off the board due to a holding penalty from wideout D.J. Moore.
"Penalties hurt, you can't really do them," offensive lineman Michael Dunn said. "Sometimes they might happen whether you're poor fundamentally or just being overly aggressive."
Maryland's offense has had enough trouble moving the football on their own accord. Penalties cause drives to stall and can really change the tide of a game.
"They take us out of position and are definitely drive killers," Dunn said. "It's tough to make up for penalties but you have to keep pushing. We definitely want to eliminate penalties next week."
The Maryland football program definitely needs to clean up their offense with a win-starving Michigan State team coming to town. With the schedule getting progressively tougher in the coming weeks, the offensive struggles need to be put in the rearview mirror.
More from Terrapin Station
This article originally appeared on