Maryland Football: Shaun Hill could start for Minnesota Vikings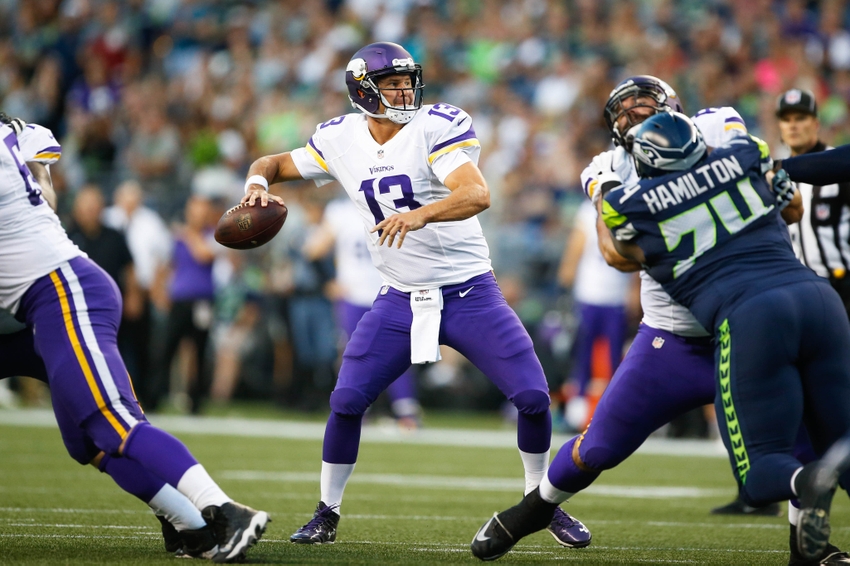 Shaun Hill could be a starting quarterback in the NFL once again.
After Teddy Bridgewater suffered a torn ACL during Tuesday's practice, Hill rose to the top of the depth for the Minnesota Vikings.
The injury really couldn't have come at a worse time for the Vikings. Taylor Heinicke injured his month last month and will miss two months after a bizarre off-the-field injury.
Before Bridgewater went down, Minnesota had waived quarterback Brad Sorensen. The Vikings did elect to re-sign Sorensen late Tuesday night.
Sorensen and former Wisconsin quarterback Joel Stave are the backups to Hill at the moment.
In his 10 NFL seasons, Hill has played for four different teams. The former Maryland signal caller signed a two-year contract with the Vikings on March 10, 2015.
During the 2015 campaign, Hill completed just two-of-seven passes for 15 yards in limited playing time.
Despite limited playing time last season, Hill does have plenty of experience as a starting quarterback in the NFL. In four different seasons, the former Terrapin has started at least six games.
Hill spent the 2014 season with St. Louis Rams and started eight games. He originally replaced Sam Bradford, who suffered a torn ACL in the preseason.
However, Hill was benched in favor of Austin Davis in Week 2. After Davis struggled in November, Hill was brought back as the starter.
Hill completed 63.3 percent of his passes and tossed eight touchdowns and seven interceptions. The Kansas native led the Rams to a 3-5 record during his time under center.
His best season came in 2008 when he was with the San Francisco 49ers.
Hill completed 62.8 percent of his passes while tossing 13 touchdowns and a career low eight interceptions. He led the 49ers to a 5-3 mark during his eight games as the starter.
While he's not quite as mobile as Bridgewater, Hill still possesses many positive attributes that could make him successful with the Vikings.
Hill has the veteran mentality of a game manager and has several playmakers at his disposal.
He'll be able to lean on the likes of former Maryland wideout Stefon Diggs and Adrian Peterson. With some of the most talented playmakers in the game helping him out, there certainly shouldn't be a ton of pressure.
Hill has a gunslinger mentality and isn't afraid to let it fly. With his experience, the Vikings still have the potential to win the NFC North.
More from Terrapin Station
This article originally appeared on