Maryland Football: Perry Hills remains the starter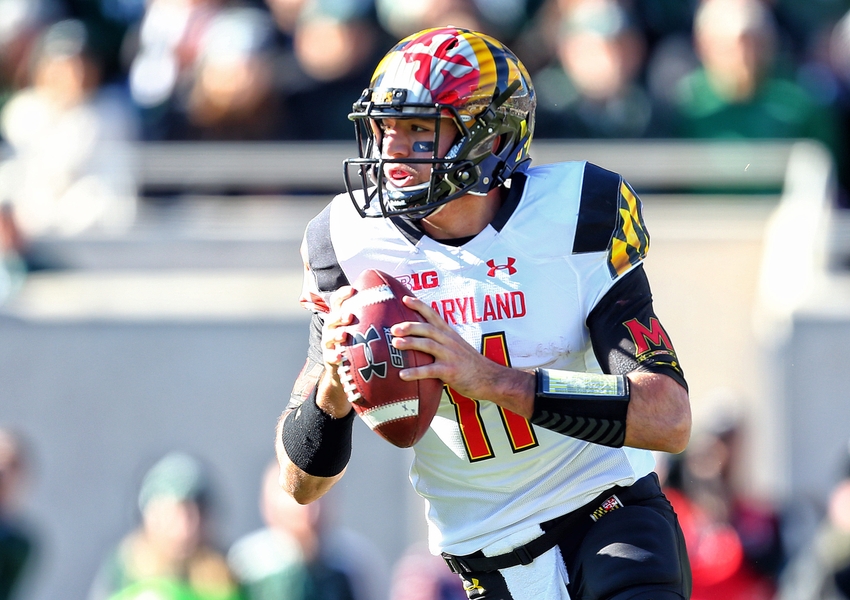 Perry Hills and Tyrrell Pigrome both turned in phenomenal performances in Maryland's season opener last Saturday.
However, offensive coordinator Walt Bell confirmed that Hills will remain the starter going forward despite Pigrome's strong outing.
Hills completed 14-of-19 passes for 126 yards in one half of work against Howard. On the other hand, Pigrome went 4-of-6 for 60 yards in three drives.
Pigrome also rushed for 53 yards and a touchdown on seven carries.
"Perry [Hills] is the starter," Bell said. "He'll be the starter until he proves himself to not be the starter. I think one of the things that is really important is to play confidently."
Hills certainly looked the part of a big-time Big Ten quarterback. He looked very comfortable in the pocket for the Terrapins.
Hills worked to quicken his release under former Washington Redskins quarterback Gus Frerotte's tutelage this past offseason. Frerotte is the quarterbacks coach for Hills' alma mater, Central Catholic (Pa.).
"I think the biggest thing, everyone who pays attention to Maryland football, last year was the turnovers," Bell added. "I think for him, to go out and play clean is huge from a confidence standpoint."
Hills looked more confident running the offense and didn't make any questionable decisions. The senior signal caller didn't turn the ball over once.
In eight games last season, Hills threw at least one interception in every contest. In two of those games, he tossed multiple interceptions.
"I'm not saying he's going to go out there and never turn the ball over but hopefully it's a new offense for him," Bell said. "It was very refreshing to see him go out there, smile, have fun and just go play."
Hills also left himself less vulnerable to injury throughout Maryland's season opener.
He only ran the football once and that came on the first drive of the game. Instead, Hills depended on a variety of running plays from the tailbacks that were largely run out of the shotgun formation.
Hills didn't throw the ball down the field a ton. In fact, his longest pass was a 19-yard completion to Teldrick Morgan.
While Pigrome definitely impressed in his collegiate debut, Hills was equally productive in the Terps 52-13 victory. If Hills can continue to run the Maryland offense with precision, he'll likely be the team's starting quarterback during the 2016 campaign.
More from Terrapin Station
This article originally appeared on